The number of patients with Covid-19 in hospitals is down to 59, according to the Health Service Executive. This is the lowest number in almost nine months.
At the peak of the "third wave" on 18 January last, there were 2,020 people being treated in hospital with coronavirus.
HSE Chief Executive Paul Reid said the reduction in numbers was a "remarkable benefit of our strong vaccination programme" and public support overall.
In a post on Twitter he noted: "Covid-10 patients continues an amazing decline. Down to 59 cases with 23 of those in ICU."
This is the lowest number of people with the disease in hospital since 13 September, 2020, when there were 54 Covid in-patients.
Earlier, the Department of Health was notified of a further 398 cases of Covid-19.
Professor Philip Nolan, who chairs the Irish Epidemiological Modelling Advisory Group, said on Twitter that "we are continuing to see an improvement" in the situation with Covid-19 in Ireland.
He said that the daily case numbers, numbers in hospital and the number of patients in ICU is decreasing.
In the past fortnight, there have been nine admissions to intensive care, he said.
Prof Nolan described the incidence of the disease in Limerick as "very high", but said that public health interventions appear to be bringing the situation "under control". Case counts are declining in the rest of the country, including in Dublin, he said.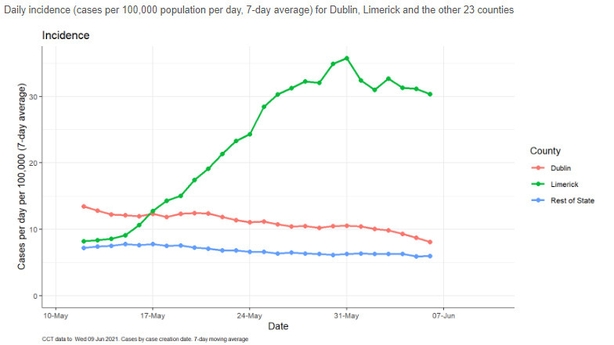 ---
---
He said: "The vaccination programme is having a very clear impact." He pointed to an incidence of less than 10 cases per 100,000 people per week in the vaccinated age groups as encouraging going forward.
"Incidence is now starting to fall in those aged 55-64 years as their vaccinations take effect, and the recent increase in incidence in those aged 19-24 may be stabilizing. We are doing really well.
"If we follow public health advice (self-isolate & get a test if symptomatic, meet outdoors, avoid crowded spaces, distance, masks, hygiene, ventilation) while we protect the wider population by vaccination, we can contain and then suppress the disease in the coming weeks."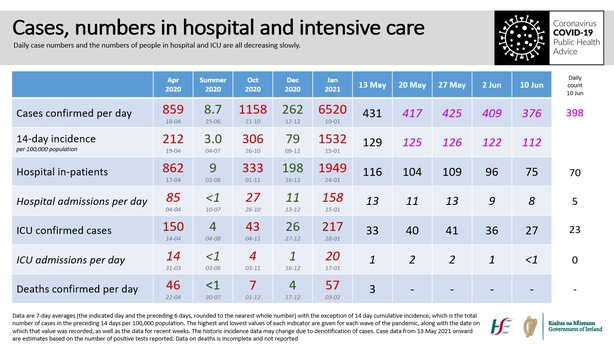 At today's HSE Covid-19 briefing, HSE Chief Clinical Officer Dr Colm Henry said 64% of cases have been in the under 35s.
He said this showed the huge protective impact of the vaccine programme.
Mr Reid also told the briefing that they were not in a position to say yet when vaccination registration will open for people aged 30-39 years.
He said they should be in a better position by the end of next week to confirm when it will start, adding that vaccination will open first for those aged 35-39.
Earlier, it was confirmed that there were no Covid-19 patients in St James' Hospital in Dublin for the first time since March 2020.
Chief Operating Officer Anne O'Connor described as "huge" the impact of having no Covid-19 patients at St. James's hospital on services there.
On the vaccination programme, Mr Reid said the 'did not attend' rate for vaccinations has been around 4.2% since early May.
He said it was slightly higher in the last week due to the bank holiday effect and said it was also affected by issues around the transfer of GP records due to the cyber attack.
We need your consent to load this rte-player contentWe use rte-player to manage extra content that can set cookies on your device and collect data about your activity. Please review their details and accept them to load the content.Manage Preferences
Meanwhile, Chief Medical Officer Dr Tony Holohan received an Honorary Fellowship from the Royal College of Surgeons in Ireland.
They said it was a recognition of his outstanding leadership during the Covid-19 pandemic.
In Northern Ireland, there were no further coronavirus-related deaths, with 109 new cases recorded in the region during the past 24 hours.
There are 19 people being treated in hospital with Covid-19 with none in ICU.
However, political leaders in Northern Ireland have expressed concern about the Delta variant of Covid-19, originally found in India.
Stormont Health Minister Robin Swann said that normality remains "some way off", with up to 25% of new cases there linked to the Delta variant.
Separately, the Health Information and Quality Authority (HIQA) claimed that only one-in-three travellers are availing of free testing to reduce their quarantine time.
Speaking on RTÉ's Drivetime, HIQA's Chief Scientist, Dr Conor Teljeur, said that it is "quite concerning that uptake is so low".
The HIQA data relates only to travellers from non-designated countries.
Passengers from these countries must quarantine for 14 days, but can take a free test on the fifth day. If this is negative they can leave quarantine early.
Dr Teljour said: "They'd be countries such as the Netherlands or Portugal. For those people that have to quarantine at home.
"It's important to remember that quarantine is a legal obligation. It is in law, and it is important that passengers travelling into the country are aware of their obligation.
"But they also need to know that they can access free testing to exit quarantine early and there may be a lack of understanding that the testing is free."