Tánaiste Leo Varadkar has said he expects the "vast majority" of people who are in receipt of the Pandemic Unemployment Payment to be back in employment by September.
Speaking on RTÉ's Prime Time, he said the Government expects that the number of people in receipt of PUP by the end of the year will be between 100,000 and 130,000.
Mr Varadkar said the decision behind the reduction in the payment was for it not to end in June as previously planned, but rather for it to extend it until February.
He also said the Employment Wage Subsidy Scheme has been extended.
Mr Varadkar said that when the PUP was brought in during his time as Taoiseach, it was envisaged it would only last for 12 weeks but will now be in place for almost two years before it ends in February 2022.
He said there was a division between people in receipt of PUP and those on jobseeker's allowance, with the latter group receiving much less.
Mr Varadkar said there were 150,000 and 200,000 people on jobseeker's allowance before the pandemic.
"We have an anomaly now where we have a large number of people who may have been unemployed from the same sectors, they just happen to be made unemployed before the pandemic, and they are on a much lower payment.
"Of course, in an ideal world you'd like to level all those payments up but at a time when we're borrowing eighteen thousand million per year, that's not practical," he said.
He said it is better to offer people other employment, training, or education possibilities rather than continue into a third or fourth year offering PUP.
Earlier, Taoiseach Micheál Martin said the pandemic had a "swift and unprecedented" impact, the largest outside the world wars.
"There is enormous damage to be undone," he said, as he set out the Government's Economic Recovery Plan at Dublin Castle.
The country must now move forward, and as well as generating jobs, address "urgent societal issues", he added.
The plan includes "more than €3.5bn in spending supports" and "just under €1bn" from the EU's recovery fund, Mr Martin said, which will "help kick start a jobs-led economy".
"Clarity and certainty" will be provided over worker supports, to avoid a cliff edge.
Minister for Finance, Paschal Donohoe, and Minister for Public Expenditure and Reform, Michael McGrath, have indicated that the cost of the Economic Recovery Plan will add upwards of €3 billion to the budget deficit this year.
This will bring the deficit closer to the €20.5 billion forecast at Budget time last October, rather than the €18 billion outlined in the Stability Programme Update last month.
We need your consent to load this rte-player contentWe use rte-player to manage extra content that can set cookies on your device and collect data about your activity. Please review their details and accept them to load the content.Manage Preferences
The Pandemic Unemployment Payment will continue at its current level until September, when gradual reductions will begin.
Owners of new homes built since 2013 will now have to pay property tax as part of a new Economic Recovery Plan.
Commercial supports "will be extended until the end of the year" and "businesses may apply for enhanced reopening payments", Mr Martin said. Eligibility for businesses is also being broadened.
He said the Covid Restrictions Support Scheme is being extended until the end of 2021 with "an enhanced restart payment of three weeks at a double rate".
In September, a new business resumption support scheme is being introduced. The commercial rates waiver is being extended for three months.
The 9% VAT rate for the tourism sector will continue until September 2022.
Mr Martin said that there are several supports for the live performance sector, as well as a pilot scheme to guarantee a basic income for artists.
The Taoiseach said Ireland had secured €950m in a first round of EU recovery funding and has submitted the resilience plan to avail of that funding.
The plan rests on four principles: Helping people back to work, rebuilding sustainable businesses, a balanced recovery, and sustainable public finances.
Mr Martin said he hopes to see 2.5 million people in work by 2024, many in jobs in "new areas of opportunity".
A new pathways to work plan is also being developed, he said. This includes "increasing the capacity for public employment service enabling it to help 100,000 more each year".
There will be a focus on "young people at greater risk of long term unemployment".
The Employment Wage Subsidy Scheme (EWSS) "will be extended until the end of the year" and "businesses may apply for enhanced reopening payments".
Mr Martin said while GDP is important in measuring progress, we need a "more holistic" approach.
The Government's Wellbeing Framework "will broaden the manner in which we measure our overall progress as a society", he said.
The Government will talk to the social partners to see how working from home can be facilitated "in the longer term".
Asked what happens if there is a fourth wave of Covid -19, the Taoiseach said "we have shown already our capacity already to respond".
He also pointed to the success of the vaccination programme, but advised vigilance, especially in relation to the variants.
2.5m in work in 2024, 'setting a new record'
Meanwhile, Tánaiste Leo Varadkar said that, as this is the first day of summer, he believes that summer 2021 "is one that we can look forward to".
He said he believes that the economy is going "to take off like a rocket in the months ahead" with this plan to restore old jobs and create new ones.
In aiming to have 2.5m people in work in 2024, it is "setting a new record", he added.
Addressing business people, he said "we have your back for the period ahead", and so the EWSS will be extended until the end of the year, with Q3 at current rates, and Q4 to be determined.
More businesses will qualify, as it will now "be based on your turnover this year relative to 2019", he added.
For businesses reopening in June and coming off the Covid Restrictions Support Scheme (CRSS), "there will be a bullet payment on reopening", as "a double payment for three weeks up to a maximum of €30,000".
The commercial rates holiday will be extended until Q3, with a decision on Q4 in the Budget.
Mr Varadkar said tax warehousing is being extended until the end of 2021. The new Business Resumption Support Scheme will help those still struggling in the autumn, with turnover 75% lower than it was in 2019, and who will get a further grant of up to €15,000.
A "special scheme for the events sector" is worth up to €50,000 per company.
He said the largest single allocation out of almost €1bn in EU funds will go to education and research, with €250m going to the Department of Further Higher Education, Research, Innovation and Science.
There is "a major investment in climate action", retrofitting a greener business fund worth €55m.
The Department is investing €85m in digital transformation.
The Tánaiste said that he is "full of confidence" about the future of our economy, and believes that the recovery will "be rapid".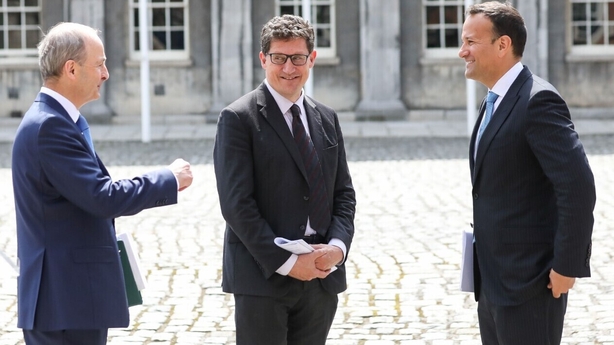 Minister for the Environment, Climate and Communications, Eamon Ryan, said the plan is a path to "going green, going digital and investing in the skills of our young people".
In funding a Cork suburban rail project, the plan will lead to a "transformation of the city". The commuter line will lead "from Midleton to Mallow", he said.
There are 30,000 houses zoned along the route, and it points to "transport-led development", Mr Ryan said.
The Government will also underwrite the first quarter of loans for retrofitting. He predicts 20,000 loans each year under the plan.
Minister Ryan said the Government is investing in over 1,100 primary schools to get broadband in quickly.
The Government is spending €155m "particularly in the Solas Greenskills Programme", he said.
Ireland needs to deep retro fit 50,000 houses a year, Minister Ryan said.
This can pay for itself, he said, as the value of the house goes up, heat bills go down and quality of life improves.
Minister Ryan said private financing will be needed, which is being re-risked by today's loan guarantee scheme.