Tánaiste Leo Varadkar has said that local lockdowns remain an option for Government, should there be a spike in Covid-19 infections.
He said while there have been mixed results in the past, local lockdowns "... are a policy option. They are in the Government's plan."
Mr Varadkar said he acknowledged that local lockdowns "probably aren't as effective as they might be in other countries" because the country is so small.
He said: "We've had mixed results with them in the past unfortunately, the one in Kildare and the midlands worked, others didn't really."
However he added: "They are a policy option if we have an outbreak in a particular area" but added "... hopefully we won't have to."
Tanaiste @LeoVaradkar says local lockdowns remain a policy option for Govt, should there be an outbreak of #covid19 infections in an area - but added, hopefully they would have to introduce it. @rtenews pic.twitter.com/49GwOygGt1

— Paul Cunningham (@RTENewsPaulC) May 30, 2021
Earlier, immunologist Professor Luke O'Neill said there is more risk of Covid-19 spreading in dense crowds and that the next three or four weeks are critical.
It comes following reports from around the country of people gathering in large numbers while taking advantage of the weekend sunny weather.
Chief Medical Officer Tony Holohan said he was "absolutely shocked" by crowds that gathered in parts of Dublin city centre yesterday.
Galway City Council also closed off a popular area by the River Corrib, after large crowds gathered there in recent days.
A clean-up was under way in parts of Cork this morning after large crowds gathered at a number of locations in the city centre, including at Kennedy Quay and on the Grand Parade as well as on Oliver Plunkett Street.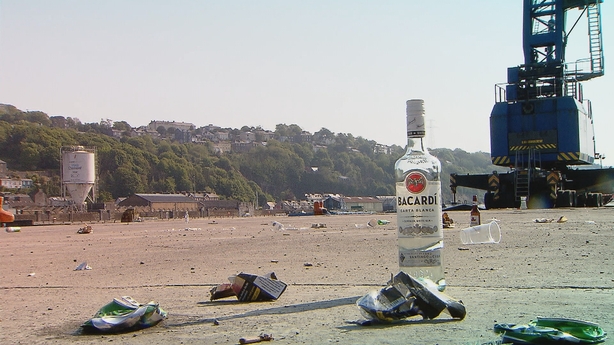 Dr O'Neill, who is Professor of Biochemistry at Trinity's School of Biochemistry and Immunology, said: "We don't know what is going to happen with the variant that originated in India.
Speaking on RTÉ's Brendan O'Connor programme he added: "If we see an increase in severe disease from the Indian variant in the UK, it might be time to slow down the reopening slightly here."
Prof O'Neill said the next three or four weeks are critical. "We have a race now to get the vaccine out. Once Israel had reached 70% of people having the double shots, then they opened up more.
"We should be getting the double shots out as quickly as possible."
Mr Varadkar said the scenes in Dublin city centre were "not the kind of scenes we want to see but I do understand that people have had a tough few months".
Speaking on RTÉ's This Week, he said: "The weather is good and I would rather see people outdoors than indoors."
Asked about the risks posed by the variant first identified in India, he said a new variant led to the third wave after Christmas and there was a risk of a fourth wave.
"What is different now is the vaccines, and they work against all variants. But only 20% of the population have been fully vaccinated, we want to get that to over 60% by the end of July."
Mr Varadkar said the epidemiological situation will be reviewed at the end of June before the Government gives the go-ahead for further easing of restrictions in July.
"We will look at cases, the R number, variants of concern, the vaccine programme and also, crucially, where we are with our hospitals."
Independent councillor Mannix Flynn, who represents Dublin's southeast inner city, said he witnessed what he described as a "free for all" on the capital's streets last night.
"I was in town myself and the atmosphere was quite hostile in places. People were not drinking lemonade, there were slabs of beer, bottles of whiskey and alcohol everywhere.
"As for takeaway pints we need to take away those takeaway pints. The alternative is to allow pubs to open now so they can manage the crowds. I'd be in favour of that."
Mr Flynn accused Dublin City Council of not having a proper plan in place for managing crowds in pedestrianised streets.
"It's not just about providing bins and toilets, although they are needed of course, but it's about having a proper management plan to control the situation."
He said he felt sorry for people who lived in the area and felt it was unsafe to leave their homes.
"Those drinking on the streets may have felt like there was a party atmosphere but that was not the case for residents. It was a foreboding situation for them."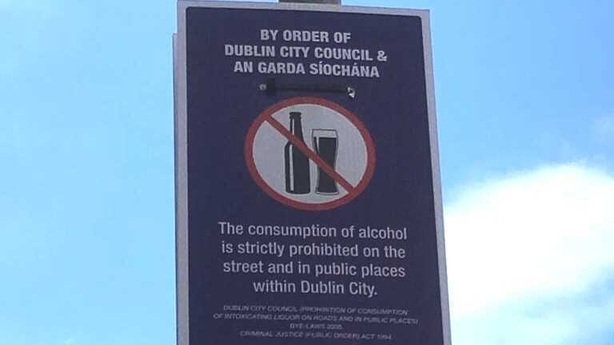 Social Democrats Councillor and Deputy Lord Mayor of Dublin Mary Callaghan said: "People have been locked down for months and, naturally, many want to get out and socialise in the good weather.
"It is very disappointing to see so much rubbish and there needs to be more consideration by those involved.
"The council also needs the foresight to deal with an outdoor summer in terms of organising activities and providing even more amenities like bins and toilets.
"However, the most important thing is that we must remember that Covid-19 is still with us, and it is crucial we remain vigilant and stay within the public health guidelines."
Independent TD for Wexford Verona Murphy said she was "surprised" at the Chief Medical Officer's reaction to crowds on Dublin streets.
Speaking to RTÉ's The Week in Politics, Ms Murphy said: "I don't know what he expected to see after we have endured the longest lockdown in the EU, somewhere in excess of 240 days."
Independent TD @VeronaMurphyIND says she's surprised at the reaction to CMO Tony Holohan's reaction to scenes in Dublin city last night.

She adds that "we can't continue with the only measure to deal with this virus as lockdown".#TWIP pic.twitter.com/fnoV9ep1rO

— The Week in Politics (@rtetwip) May 30, 2021
She said: "We can't continue with the only measure to deal with this virus being lockdown.
"I want to see, from Government and NPHET, how we propose to deal with further waves. We certainly need systems in place than do not include lockdown."