The Cabinet has approved measures that will allow for the reopening of the hospitality sector this summer.
From 2 June, hotels can reopen, followed by outdoor service at restaurants and pubs from 7 June.
On 5 July, bar and restaurants will be able to serve customers indoors again.
In a speech this evening, Taoiseach Micheál Martin said he was conscious of the challenges faced by sectors that have been closed longest and have suffered the most.
He said: "Pubs and bars that do not serve food have paid a very heavy price over the last year.
"To help them reopen successfully and safely, the Government has introduced a one-off grant scheme."
Taoiseach Micheál Martin says from 5 July we will see the return of indoor services in restaurants and bars. | Read more: https://t.co/3OTVaQamNY pic.twitter.com/mrQAEAxG1E

— RTÉ News (@rtenews) May 28, 2021
Minister for Tourism, Culture, Arts, Gaeltacht, Sport and Media, Catherine Martin this evening announced new outdoor service supports for the hospitality industry.
The minister said the aim of the plan is to equip premises so they can better cater for customers, including outdoor seating and weatherproofing.
The minister said: "The Outdoor Service Enhancement Scheme will provide much needed assistance to businesses who in many cases been unable to open since March 2020.
"Our pubs and bars are an important social outlet and a popular element of our tourism and hospitality offering.
"Along with the Outdoor Dining Enhancement Scheme businesses will receive assistance to transform appropriate outdoor spaces as welcoming vibrant places helping businesses to recover and people to return to work."
The department said: "It is expected that eligible pubs will be able to apply for up to €4,000 each, a similar amount which is being given to food-serving businesses.
"All applicants will be required to comply with planning codes, legislative requirements and other compliance requirements. Details will be finalised in the days ahead."
Further details of financial supports available to business will be outlined on Tuesday when the National Economic Recovery Plan is published.
---
Read more: Latest coronavirus stories
---
However, the Restaurants Association of Ireland has criticised the decision to allow indoor dining to resume in hotels before it can in restaurants, pubs and cafés.
RAI Chief Executive Adrian Cummins said: "This decision is baffling, and without proper reasoning on medical or scientific grounds from Government, we have no choice but to take this as discrimination of standalone restaurants, cafes and gastropubs.
"The Government this week confirmed the decision to restrict businesses other than hotels from indoor dining for the vital first few weeks of summer, is a 'practical' and not a scientific one.
"We have followed all of the health guideline and regulations since March of last year, however the decision today to permit indoor dining in a range of settings, including hotels, B&Bs and indeed cinemas weeks before standalone restaurants, cafes and gastropubs can only be seen as an arbitrary, unjust and discriminative one."
Tánaiste Leo Varadkar said he and the Taoiseach would meet the RAI Wednesday.
He said: "We understand where they're coming from but the rational of all of this is a phased reopening.
"The whole point is we can't reopen everything at the same time so we're going with outdoor before indoor."
He said they will point out that hotels are allowed serve in dining rooms, but that has always been the case.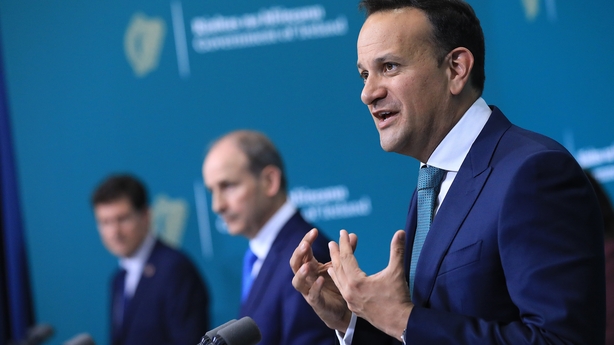 The Vintners' Federation of Ireland said that the "end of our trade's 15-month nightmare is now in sight".
However, it appealed to the Government to bring forward the opening date to 1 July to allow members trade for an extra weekend.
VFI Chief Executive, Padraig Cribben said: "Reopening in time for the traditional summer season is a big boost to the trade who can now plan with confidence for a busy July and August.
"However, there are only nine weekends in that short season so to remove one of those crucial weekends by reopening on a Monday is a blow the Government can avoid by simply moving the date forward by four days to 1st July.
"It would be a small concession with a big impact."
The Licensed Vintners Association noted that one third of the pubs in Dublin have not been able to open their doors since 15 March last year.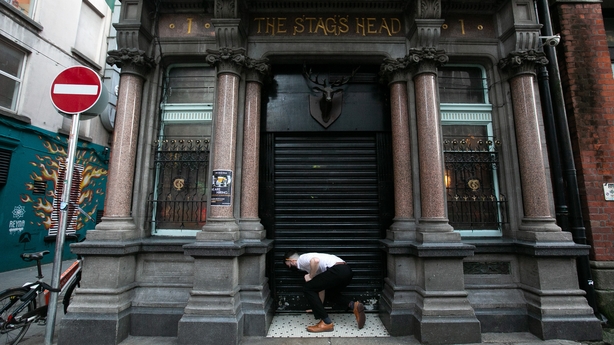 "It has been a long time coming, but this is a time for hope and optimism," said LVA Chief Executive Donall O'Keeffe.
"The 5th July will mark the beginning of the recovery for pubs and other hospitality businesses.
"Many pubs will not be in a position to offer outdoor service, so confirmation of the date for reopening indoors was vital."
The Irish hotels federation has welcomed the return of indoor dining for non-residents, international travel and the easing of guest number restrictions on weddings
IHF President Elaina Fitzgerald Kane said: "Today hotels and guesthouses across the country have been given much-needed clarity that will help their business planning for the peak tourism season.
"This is another important step in the right direction for the tourism and hospitality industry. However, we still have a long road ahead of us."