France is re-introducing tighter rules on arrivals from UK who are not French residents to curb the spread of Covid, notably its Indian variant, the foreign ministry said.
Britons and other non-EU arrivals will again have to prove that they have a "compelling reason" to enter France, it said.
France had relaxed that requirement in March for the UK, as well as a number of other non-EU members.
But from Monday "compelling reasons will be required for non-EU foreigners who are not residents in France and who come to France from the United Kingdom", the ministry said in a statement.
It said in addition those visitors would have to self-isolate for seven days on arrival.
Sweden announces plan to ease virus restrictions
Sweden's government has announced a plan to ease restrictions designed to curb the spread of Covid-19, starting on 1 June but without a firm date for a complete reopening.
"We are starting to glance the beginning of the end," Prime Minister Stefan Lofven told a news conference.
The easing of restrictions would be done in five stages, and depend on the level of infection, the stress on healthcare and rollout of vaccines, the government said.
"I want to emphasise that the removal of restrictions is being done responsibly and with the preparedness to handle a situation where the rate of infection potentially increases again," Mr Lofven said.
The Scandinavian country has never imposed the type of lockdown seen elsewhere in Europe, controversially relying on mostly non-coercive measures.
It has however gradually tightened restrictions since November, including a ban on alcohol sales after 8pm and on public gatherings of more than eight people.
Since March, cafes, bars and restaurants have also been required to shut by 8.30pm.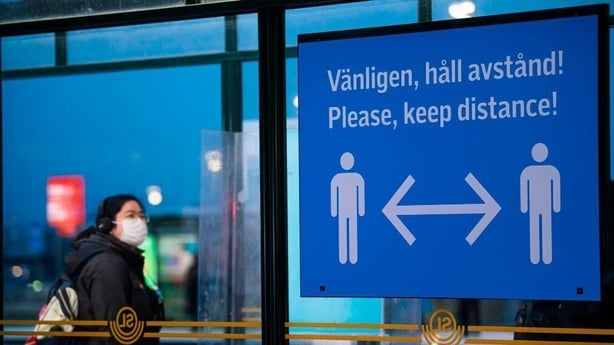 The first step of the reopening would see restaurants being able to stay open until 10.30pm, and the resumption of some sporting activities and in-person teaching for adult students.
The second stage, planned for 1 July, will include a higher cap on private and public gatherings, and allowances for larger audiences for sporting and cultural events, as well the removal of a recommendation to only interact with people within a close social circle.
Stages three and four are currently planned for 15 July and September respectively.
They would first see the removal of restrictions on seating on public transport and how many people can be inside stores followed by the complete lifting of restrictions on the number of people at private and public gatherings together with audience restrictions at events.
A date had not yet been set for the last stage, which would see the complete lifting of all restrictions, Mr Lofven said.
Johan Carlson, director of Sweden's Public Health Agency, noted that the number of new cases had fallen by 30-40% in parts of the country but urged people "to continue to persevere and follow the recommendations that are still in effect".
The Nordic country of 10.3 million inhabitants reported a total of 1,068,473 confirmed cases of Covid-19 today and 14,451 associated deaths.
Last week, Sweden topped the EU for the number of new cases per capita, according to the European Centre for Disease Prevention and Control (ECDC).
India scraps local Covid trials to fast-track imports
India has scrapped local trials for "well-established" foreign coronavirus vaccines to fast-track imports as it battles a devastating second wave of the pandemic that has killed tens of thousands of people.
India recorded its highest Covid-19 death toll since the pandemic began last year in May, accounting for just over a third of the overall total.
India has been inoculating its people with the AstraZeneca vaccine produced locally at the Serum Institute, Covaxin made by local firm Bharat Biotech, and has begun rolling out Russia's Sputnik V.
But supplies are far short of the millions of doses the world's second-most populous country needs.
The government said it was in talks with Pfizer for "earliest possible" imports of its shots and that it had also had discussions with Johnson & Johnson and Moderna.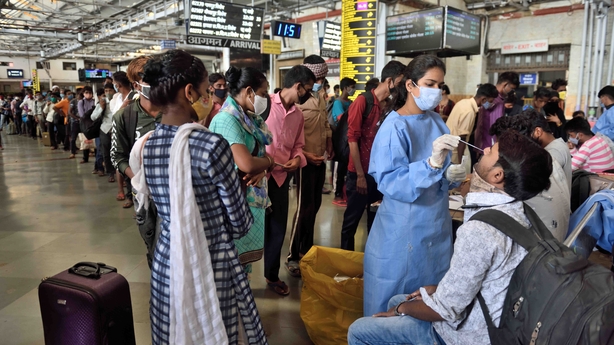 Last month, India pledged to fast-track approvals for foreign vaccines but its insistence on local trials was a key reason for stalled discussions with Pfizer.
"The provision has now been further amended to waive the trial requirement altogether for the well-established vaccines manufactured in other countries," the government said in a statement.
None of drug makers has sent in applications for approval with India's drugs regulator, it said.
---
---
"We reiterate our request to all international vaccinemakers to come and make in India – for India and for the world."
Just about 3% of the country's 1.3 billion people have been fully vaccinated, the lowest rate among the 10 countries with the most Covid-19 cases. Officials have said that 98% of the population remains susceptible to infection.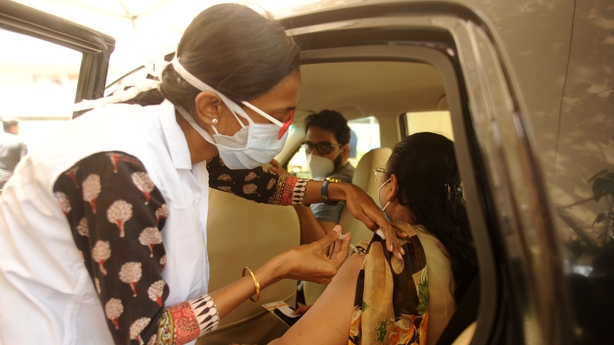 The country reported 211,298 new infections today, still the world's highest daily rise, but nearly half the daily infections it recorded earlier this month.
The overall case load is now at 27.37 million, while deaths stand at 315,235, according to health ministry data.
But experts believe that figure grossly underestimates the actual toll as only people who have tested positive are counted, whereas many victims were never tested.
Desperate Indian states are launching global tenders or seeking expressions of interest from firms including Pfizer and Moderna, but vaccine makers said they would only talk with the federal government.
The government said supplies were tight.
"The fact that global tenders have not given any results only reaffirms what we have been telling the states from day one: that vaccines are in short supply in the world and it is not easy to procure them at short notice," it said.
Japan medical groups warn over Olympics
A Tokyo medical group has warned that the Olympics should be held without spectators because of virus risks, while a doctors' association urged outright cancellation, warning of potential "disaster".
Several parts of Japan are under virus states of emergency over a surge in infections, and the public is largely opposed to holding the Games this summer.
Medical groups have warned the massive event could introduce new variants to Japan and strain medical resources as the country battles a fourth virus wave.
The Tokyo Medical Association, with over 20,000 members, has not called for an outright cancellation.
But its chairman Haruo Ozaki said that "holding the Games without spectators is the bare minimum given the current situation".
"This is the Olympics in a time of emergency," he said at a press conference.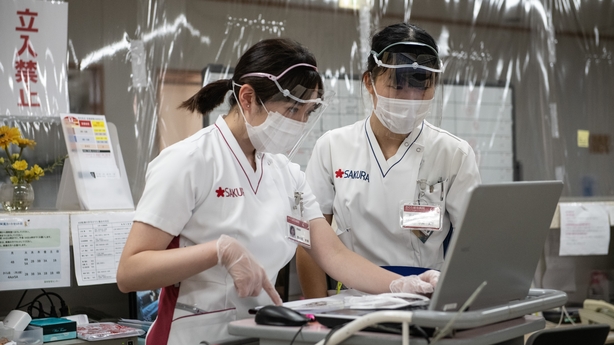 Organisers have already barred overseas fans from the Tokyo Games, an unprecedented decision for the Olympics.
A decision on domestic spectators is expected in late June.
The virus states of emergency in several regions, including Tokyo, are expected to be extended this week until 20 June.
Tokyo's current virus restrictions allow venues to have up to 5,000 fans or 50% capacity, whichever is fewer.
Olympic organisers say extensive rulebooks with virus countermeasures will keep participants and the Japanese public safe.
The measures include daily testing for athletes and a ban on using public transport.
But Naoto Ueyama, chair of the Japan Doctors Union, said bringing tens of thousands of athletes, staff, media and officials from around the world posed a real "danger", particularly of spreading variants.
"Initially the Tokyo Olympics was dubbed a games to showcase reconstruction from the 2011 earthquake and tsunami disaster, but the Tokyo Olympics could generate another disaster," he said.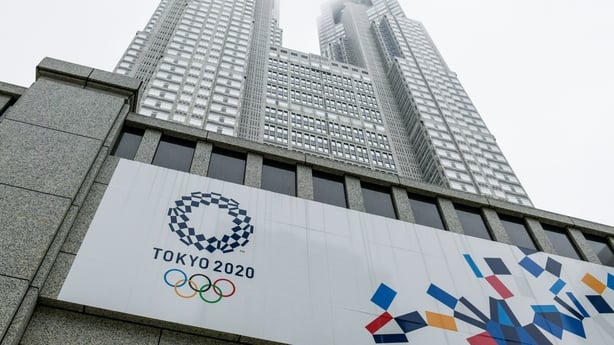 "A new variant might arise and may be called the Tokyo Olympic strain, and the criticism that the games were a great act of folly by humankind may stalk us for the next 100 years to come," he added.
"Some people are acting almost like dictators and asking people to make sacrifices in order for the Olympic Games to go ahead."
Olympic organisers have insisted they will not create additional pressure on Japan's healthcare system, with the International Olympic Committee offering to bring in medical staff to ensure the Games do not prove a burden.
Calls from organisers for volunteer nurses caused an uproar, but a request for volunteer doctors actually ended up attracting nearly double the required specialists.
Around 80% of people in Japan want the Games either cancelled or postponed for another year, polls show.
But Japan's government and Olympic organisers say the show will go on, and the first athletes are expected to begin arriving for training camps from next week.