A number of nationwide protests took place at maternity hospitals today.
The protests organised by the Association for Improvements in Maternity Services (AIMS) Ireland are highlighting the problems people face because of Covid-19.
These include the exclusion of partners from attending pregnancy appointments and the early stages of labour.
"We need constructive dialogue and a solution-focused approach, and we encourage the Minister for Health, the HSE, NWIHP [National Women and Infants Health Programme] and Hospital Group CEOs to come together to find an immediate resolution to this issue," said AIMS Ireland Chair Krysia Lynch.
The protests took place in Dublin, Louth and Donegal this afternoon.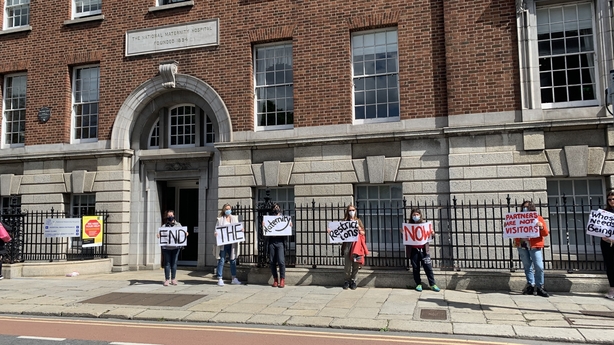 Laurel Fiszer Storey joined a handful of protesters outside the national maternity hospital at Holles Street in Dublin.
The 37-year-old mother from Co Wicklow is currently undergoing IVF treatment, and is at a crucial stage of the process undergoing an embryo transfer.
Her husband Tim cannot be present at the clinic because of the current restrictions.
"He won't be there when I get pregnant, it's utterly bizarre and kind of takes the intimacy out of the process for us," Ms Fiszer Storey told RTÉ News.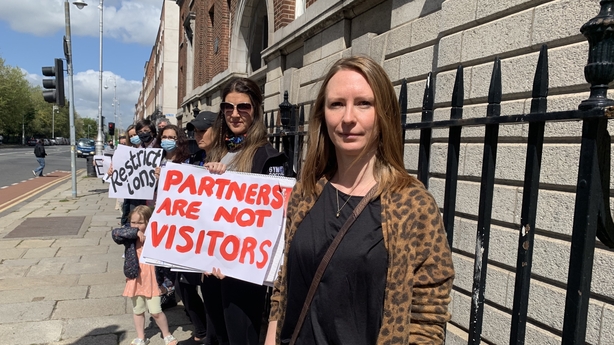 She said she really wants her husband to be with her so "he can hold my hand".
Chief Medical Officer Dr Tony Holohan has said there is no evidence to convince the National Public Health Emergency Team (NPHET) that the restrictions need to be in place.
Hospitals do have the right to carry out their own risk assessment in relation to Covid-19 as part of the public health measures.
At the Coombe maternity hospital in Dublin, fathers-to-be are left waiting outside, with many in their cars waiting to be called inside by hospital staff.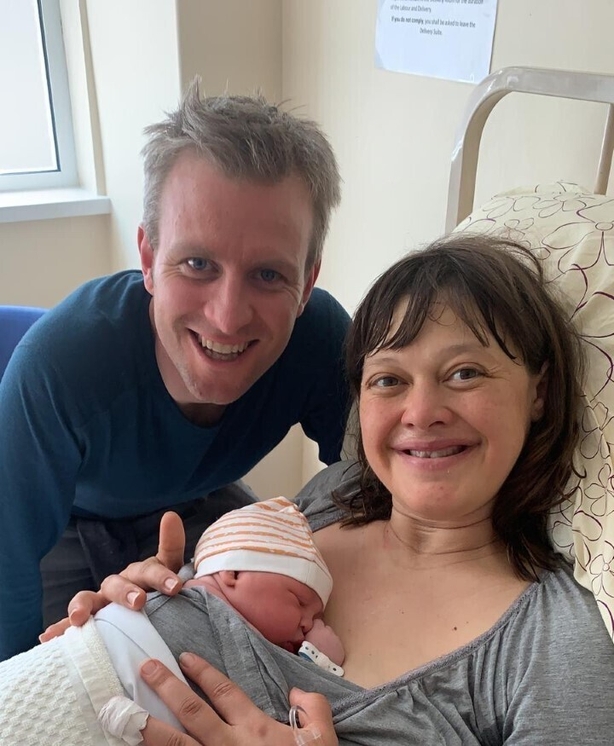 Darragh Flynn's wife, Yesim, gave birth to their son Fionn on Saturday.
Mr Flynn is only allowed in to see him for three hours a day. ''It's really tough,'' he explains.
''I'm not there so I can't support her. You want to be present. The nurses and midwives are fantastic but they are not a substitute for me,'' Mr Flynn said.
Rebecca Woods joined the small, socially distant protest at the Coombe Hospital.
The 28-year-old from Walkinstown in Dublin is 11 weeks pregnant. ''I'm here not just for myself but for all the other mothers to be in Ireland,'' she said.
''Going through childbirth on your own, trying to figure out when you can let your husband in to see you is tough.''
Ms Woods called on hospitals to ''do the right thing'' and relax the rules to allow husbands and partners be by their side.
In the Dáil, Taoiseach Micheál Martin said he agrees that hospitals should lift restrictions on partners attending maternity wards.
He said that there was now high levels of vaccinations across the country and he had spoken to the CEO of the HSE about facilitating access.
He was responding to Labour leader Alan Kelly, who said the current restrictions were "barbaric and wrong".
Deputy Kelly said there needed to be "consistency" among hospitals.
Earlier, Minister for Health Stephen Donnelly said it is the Health Service Executive's national policy to facilitate partner visits to allow them to attend maternity appointments.
Speaking at the launch of the Government's Health Ireland Strategic Plan, Minister Donnelly said it is the HSE's position that visitation needs to be expanded with regard to the issue.
However, he added the HSE has acknowledged that maternity hospitals or units should have authority locally to maintain restrictions on partners attending appointments if, for example, there has been a Covid-19 outbreak in the hospital or a high rate of cases in the immediate area.
He said that in such an event hospitals and units have the discretion to be able deviate from the national policy, but if they do so they must notify the HSE in writing and provide evidence for their decision.
Minister Donnelly said his own view is that "we need visitation to be as broad as possible; it's been very, very difficult for mums, it's been very, very difficult for partners as well".
He said he thinks "the HSE probably has the balance right" when it says there needs to be broad access with regard to partner visits for appointments, but that they need to respect local considerations when it comes to taking decisions to restrict visits.
Additional reporting: Aengus Cox, David Murphy