Dozens of bodies believed to be Covid-19 victims have washed up on the banks of the Ganges river in northern India, officials have said.
The pandemic has been spreading fast into India's vast rural hinterland, overwhelming local health facilities as well as crematoriums and cemeteries.
Local official Ashok Kumar said that about 40 corpses washed up in Buxar district near the border between Bihar and Uttar Pradesh, two of India's poorest states.
"We have directed concerned officials to dispose of all bodies, to either bury or cremate them," Kumar told AFP.
Some media reports said the number of corpses could be as high as 100.
The reports quoted other officials as saying some of the bodies could have been in the river for several days.
Locals told AFP that they believed the bodies had been dumped in the river because cremation sites were overwhelmed or because relatives could not afford wood for funeral pyres.
"It is really shocking for us," local resident Kameshwar Pandey said.
According to official statistics, around 4,000 people are currently dying from Covid-19 every day in India, and the death toll is almost at 250,000.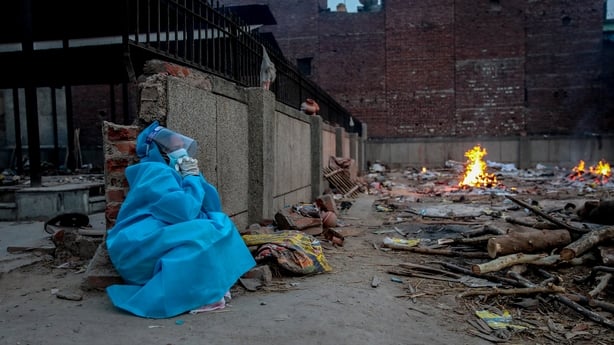 But citing anecdotal evidence from crematoriums, many experts believe that the true daily number could be several times higher.
This is particularly the case now that the current surge has spread beyond major cities into rural areas where hospitals are few and far between and record-keeping poor.
Meanwhile, the World Health Organization has said the B.1.517 variant spreading in India appears to be more contagious and might possibly have some increased resistance to vaccine protections.
"As such, we are classifying this as a variant of concern at the global level," said WHO's Covid-19 lead Maria Van Kerkove.
BioNTech has sought to allay fears around the mutation in India, saying that "to date, there is no evidence" that the jab needs to be adapted to fight the emerging variants.
India, suffering from one of the worst outbreaks in the world, today reported nearly 370,000 fresh infections and more than 3,700 new deaths.
The devastating wave has overwhelmed India's healthcare system, and experts have said official figures for cases and fatalities are much lower than the actual numbers.
The outbreak has spread to some of India's neighbours, including Nepal.
---
---
European countries begin to ease virus measures
Elsewhere, schools and stores have reopened in parts of Europe, with countries easing out of months of Covid-19 lockdowns.
The virus is still surging in many countries and the pandemic has killed close to 3.3 million people worldwide since late 2019, upending normal life and causing global economic chaos.
But rapid vaccination programmes have allowed a number of nations to start taking steps towards normality.
Greece has opened nursery, elementary and middle schools ahead of kicking off the tourist season from 14 May.
Tourism might get a shot in the arm from the European Union which said it was "fully on track" to ensure a Covid health pass would be ready in June to boost travel.
Britain, which has the highest Covid-19 death toll in Europe, has announced the reopening of indoor seating in pubs and restaurants from next week.
"This unlocking amounts to a very considerable step on the road back to normality," said Prime Minister Boris Johnson.
The latest easing of restrictions came as England reported no daily virus deaths for the first time in over a year following a successful vaccination campaign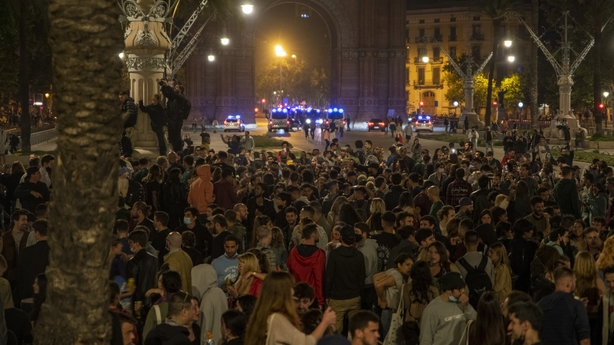 Spain, which at the weekend lifted a six-month state of emergency and allowed travel between regions, sounded a note of caution after joyful crowds celebrated in the streets mask-less and without observing social distancing.
"The end of the state of emergency does not mean the end of restrictions. Far from it. The virus threat still exists," Justice Minister Juan Carlos Campo wrote in El Pais, urging Spaniards to behave "responsibly."
Cyprus has exited a third partial lockdown with a new coronavirus "safety pass" system to allow people to move freely.
And in Germany, people fully vaccinated against Covid-19 were exempt from many restrictions from Sunday after the government passed new legislation.
Berlin also opened access to the single-shot Johnson & Johnson vaccine to all adults today, lifting a priority system.
But in Norway, an expert government committee recommended the Johnson & Johnson and the AstraZeneca jabs be dropped over the risks of rare but serious side effects.
Meanwhile, German firm BioNTech, which developed a vaccine with Pfizer, announced a $200 million joint venture with China's Shanghai Fosum Pharmaceutical to produce up to one billion jabs a year and said it was building its own Southeast Asia manufacturing site in Singapore.