People have been urged to "take great care" and businesses have been asked to review their safety protocols ahead of the easing of coronavirus restrictions from Monday.
From next week non-essential retail reopens for click-and-collect, as well as for appointment-only shopping in-store, while personal services such as barbers and hairdressers can also resume trading on an appointment basis.
Galleries, museums, libraries and other cultural attractions can reopen, and adult sports training can resume outdoors in pods of 15.
The Chief Medical Officer has said the return of employees to work and customers to the streets is "a very positive sign and a testament to the hard work of the vast majority" of people.
However Dr Tony Holohan added that "it is extremely important that business owners, employees and customers take great care and review safety protocols and practices and ensure to consider all the actions we can all take as individuals to protect ourselves and our loved ones.
He said people should "only return to the workplace if it is necessary to do so" and should continue to "wear a mask, practice social distancing, good hand hygiene and cough etiquette".
Dr Holohan also said business owners and employers have a duty of care to their staff to ensure they reopen esponsibly to mitigate the risk of Covid-19.
He was speaking after the Department of Health reported four additional Covid-related deaths and a further 434 new cases.
The number of people in ICU has decreased by two to 34, while there are 126 patients with Covid-19 in hospital.
The total number of Covid-related deaths now stands at 4,918, with the total number of confirmed cases at 251,904.
Today's cases involve 221 men and 212 women, with 80% under 45 years of age. The median age is 31-years-old.
Of the latest cases 197 are in Dublin, 44 in Cork, 34 in Kildare, 20 in Limerick, 20 in Meath and the remaining 119 cases are spread across 16 other counties.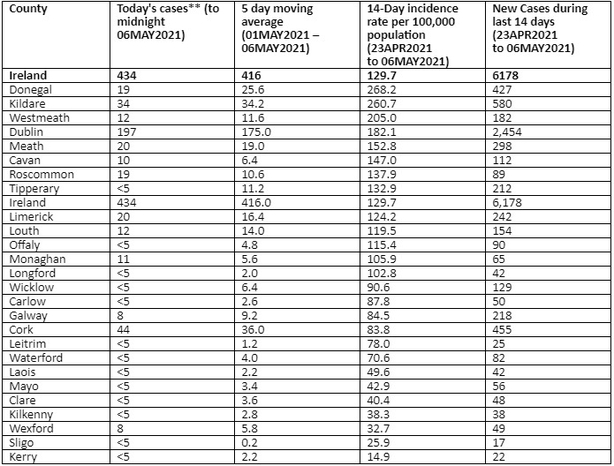 ---
---
We need your consent to load this rte-player contentWe use rte-player to manage extra content that can set cookies on your device and collect data about your activity. Please review their details and accept them to load the content.Manage Preferences
Dr Holohan said most of the measures approved by Government will come into effect from Monday.
He said that the caution that they have spoken about is still justified as the situation with the disease remains "stable".
Dr Holohan said every day that goes by they are vaccinating significant numbers of people and moving them from the 'at risk' column to the 'protected column'.
.@CMOIreland says there will be a temptation for students finishing courses to have parties but urges against them. He adds that Leaving Cert students should take every measure to ensure they avoid infection | More: https://t.co/zimWxIlhUS pic.twitter.com/R3nEh5Jdae

— RTÉ News (@rtenews) May 7, 2021
Dr Holohan said that they think there is a trend of people drifting back towards the workplace. He said it is really important that people avoid attending the workplace unless it is necessary.
He urged students to minimise their contacts so that they can complete their Leaving Cert exams.
"There are a number of counties which for a variety of reasons have a higher disease incidence"

.@ronan_glynn says Kildare, Dublin, Cavan and Roscommon are being monitored closely ahead of the easing of measures next week | More: https://t.co/zimWxIlhUS pic.twitter.com/p0ZKacfRON

— RTÉ News (@rtenews) May 7, 2021
The Deputy Chief Medical Officer Ronan Glynn said the incidence of the disease is being monitored closely in a number of counties ahead of the easing of restrictions next week.
He said those include Kildare, Dublin, Cavan and Roscommon.
Dr Glynn said that the number of patients in hospital in declining, adding that mortality in nursing home settings has been "virtually eliminated".
"In hospital, we're thankfully continuing to see a decrease in numbers"

.@ronan_glynn says hospitalisations for Covid-19 are decreasing, as are the number of deaths, adding that mortality in nursing home settings has been "virtually eliminated" | More: https://t.co/zimWxIlhUS pic.twitter.com/3iiFEvV8bv

— RTÉ News (@rtenews) May 7, 2021
Dr Glynn said that while the incidence of the disease is continuing to reduce in older age groups, there has been a slight rise in infections among younger people.
Dr Glynn said on the variant of note (B.1.617), first detected in India, there are 20 cases to date here.
"We have seen slight increases in the 5-12, 13-18, and 19-24 age groups, so we need to keep an eye on that"

.@ronan_glynn says incidence in older age groups is continuing to drop, but has risen week-on-week in younger age groups, although only modestly | https://t.co/zimWxIlhUS pic.twitter.com/6L6lfYxsie

— RTÉ News (@rtenews) May 7, 2021
---
6 things we learned from today's Covid-19 briefing
---
In Northern Ireland, the Department of Health has reported one further coronavirus death and 65 new cases in the past 24 hours.
There are 62 confirmed Covid patients in hospital, with 6 in ICU, 3 of whom are on ventilators.
The average 7-day incidence rate per 100,000 is 31.8.
The area with highest rate remains Derry & Strabane, while the lowest remains Ards & North Down on 4.4.
Call to remain vigilant ahead of easing of restrictions
Health officials have urged the public to remain vigilant in the fight against Covid-19 as businesses prepare for a further easing of restrictions on Monday.
People will also be allowed to travel outside their county, while three households or six people will be able to meet outdoors, including in private gardens.
Health Service Executive CEO Paul Reid said reduced hospitalisations and deaths due to Covid-19 give further grounds for hope and more than 40,000 vaccines are being administered each day.
We've been preparing & dealing with #COVID19 since Jan. 2020. We've never experienced a greater moment of hope & confidence, as we do now. The vaccination programme is showing huge benefits. Let's protect the progress that we've made. It's too precious to let it slip. @hselive

— Paul Reid (@paulreiddublin) May 7, 2021