UK regulators said under-40s are to be offered an alternative to the Oxford/AstraZeneca coronavirus vaccine.
The Joint Committee on Vaccination and Immunisation (JCVI) said there is an "extremely small risk" of people suffering blood clots after having the jab, but the risk of serious illness with Covid-19 also drops for younger people as infection rates fall across the country.
While the balance of benefit and risk for the AstraZeneca vaccine is very favourable for older people, it is more finely balanced for younger groups, who do not tend to suffer serious coronavirus illness.
Experts have also assessed the risks from any third wave of Covid in the UK and concluded that that wave is likely to be smaller than previously anticipated.
It came as an expert source said they anticipate approval of the Johnson & Johnson vaccine in the UK shortly.
The Medicines and Healthcare products Regulatory Agency (MHRA) is currently appraising the jab and the review is said to be at an advanced stage.
Regarding AstraZeneca, the JCVI has advised that another vaccine should be offered to under-40s without underlying health conditions where an alternative is available, and as long as it does not cause any substantial delays to the vaccination programme.
Urging people to accept vaccines, it has warned that reductions in uptake or speed of jab deployment will increase the size of any third wave of infection in the UK.
---
---
For this reason, it believes any vaccine would be better than no vaccine, even for those under the age of 40.
However, there are thought to be no supply issues with offering the vast majority of younger people alternatives to AstraZeneca.
Up to 28 April, the MHRA had received 242 reports of blood clots accompanied by low blood platelet count in the UK, all in people who had the AstraZeneca vaccine, out of around 28.5 million doses given.
These clots occurred in 141 women and 100 men aged from 18 to 93, with 49 deaths. Six cases have been reported after a second dose.
A particular type of brain blood clot - cerebral venous sinus thrombosis (CVST) - was reported in 93 cases (with an average age of 47), and 149 had other major thromboembolic events (average age 55) accompanied by low blood platelet count.
The overall incidence of blood clots with low platelets after a first dose is put at 10.5 per million doses, and about one in a million for a second dose.
For those aged 40 to 49 the incidence is 10.1 per million doses, and 17.4 per million for those aged 30 to 39.
Overall, the death rate per million doses is 2.1, but is 4.5 for those aged 30 to 39.
According to Public Health England (PHE), the vaccine programme is estimated to have prevented more than 10,000 deaths in England alone by the end of March.
Health experts are urging everyone who has had a first dose of AstraZeneca and not suffered a clot to have a second dose of the same jab, irrespective of their age.
The MHRA said that, as a precautionary measure, anyone who has a severe headache which is not relieved with painkillers or is getting worse, should seek prompt medical attention at any point from around four days to four weeks after vaccination.
The same goes for a headache that feels worse when a person lies down or bends over, a headache that is unusual and occurs with blurred vision, feeling or being sick, problems speaking, weakness, drowsiness or seizures, a rash that looks like small bruises or bleeding under the skin, and shortness of breath, chest pain, leg swelling or persistent abdominal pain.
Germany to allow AstraZeneca Covid-19 vaccine for all adults
Germany will allow AstraZeneca's Covid-19 vaccine to be administered to adults of all ages and aims to offer 12 to18-year-olds a vaccine by the end of August as it seeks to speed up its rollout, Health Minister Jens Spahn has said.
The country's 16 regional health ministers have agreed with Mr Spahn to reverse a previous decision to restrict the AstraZeneca shot to people over 60.
He also said that the current 12-week gap between first and second doses of AstraZeneca vaccinations could be shortened.
"Both these measures serve to further to accelerate our vaccination campaign overall," said Mr Spahn.
Initial supply shortages and bureaucratic hurdles meant Germany, which has Europe's biggest economy, got off to a slow start with its inoculation strategy.
The move, already adopted in several German states, would be on a voluntary basis and family doctors would decide how best to administer the vaccine, Mr Spahn said.
Dozens of countries paused the use of the AstraZeneca vaccine in March or restricted them to older adults after reports of very rare, but serious, blood clots.
Several of them have now resumed use either fully or with restrictions after health regulators said the benefits of the shot outweigh any risks.
Mr Spahn also said Germany aimed to offer 12-18 year olds a vaccine by the end of August, provided European regulators give approval for the Pfizer-BioNTech shot for that age group.
So far, 30.6% of Germany's population of about 83 million has received a first dose and 8.6% are fully vaccinated, Robert Koch Institute data shows.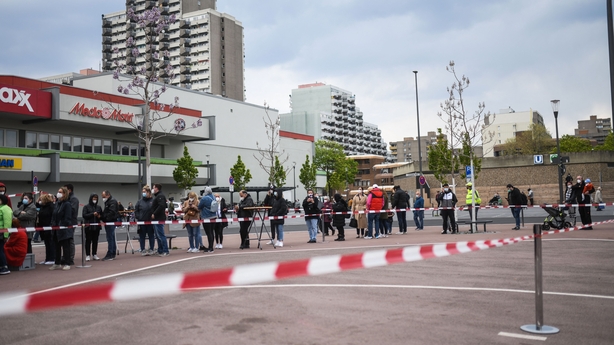 Germany is due to ease restrictions this weekend on people who are fully vaccinated or who have recovered from Covid-19.
They will be exempt from a night-time curfew and will no longer need to provide a negative test to go shopping.
Germany has been hit by a third wave of the pandemic but the number of new cases is easing off.
The seven-day incidence fell to 129 per 100,000 yesterday, RKI data showed.
Additional reporting Reuters