The Health Service Executive has made a recommendation to the Department of Health on the next steps for the national vaccination campaign against Covid-19.
It is understood that the advice is to continue administering vaccines under the planned age sequence, oldest to youngest in descending order.
The HSE has not recommended jumping age groups, or giving vaccines in parallel with different age groups, at this point, following the decision last week that the Johnson & Johnson and AstraZeneca vaccines should be given to people aged 50 years and older, as recommended by the National Immunisation Advisory Committee (NIAC).
Registration for vaccinations for people aged 50-59 begins tomorrow, starting with those aged 59.
Minister for Health Stephen Donnelly earlier told RTÉ News that he is expecting to receive "a few options" early this week on updating the vaccination roll-out plan.
However, Mr Donnelly said it was too early to say if there would be sufficient time to have a recommendation ready to go to Cabinet tomorrow.
The Cabinet is set to meet in Dublin Castle tomorrow afternoon.
Health officials from various bodies have been examining options for a revised vaccination programme, following last week's recommendation by NIAC.
Work modelling vaccines with various age groups is under way with the Health Service Executive, the Vaccination Task Force and the Department of Health.
It is unclear whether the work will be completed in time for tomorrow's Cabinet meeting.
One of those involved told RTÉ News that it may take a few days. The aim is to maximise the rate of vaccine administration, while adhering to the age sequence, as set out.
The current situation is that for those aged 50-59, all four vaccines can be used. For those aged 40-49, only Pfizer and Moderna can be used.
There are several modelling options being examined.
---
Read more:
Latest coronavirus stories
---
One possibility mooted is AstraZeneca being used for people over 50, while holding Pfizer vaccines in storage for those aged 40-49.
Another possibility would be to give the Pfizer vaccine to those aged 40-49, in parallel with the vaccination of those aged 50-59 with AstraZeneca.
Under certain scenarios, the vaccination programme could end up using very little of the single-dose Johnson & Johnson vaccine, with the bulk of these doses due closer to June.
The plans also need to take account of the risk that some vaccine deliveries may be delayed, while also trying to avoid having deliveries that are not used.
The HSE, meanwhile, has confirmed that the 788,000 doses administered through April, cited today by Chief Executive Paul Reid, includes vaccinations given on 29 March and 1 and 2 May.
The data covers the weeks of April, calculated as Sunday to Sunday, taking in days outside of April.
The official HSE statistics show that for the calendar month dates in April, over 707,319 vaccinations were administered.
Covid-19: 453 new cases, no further deaths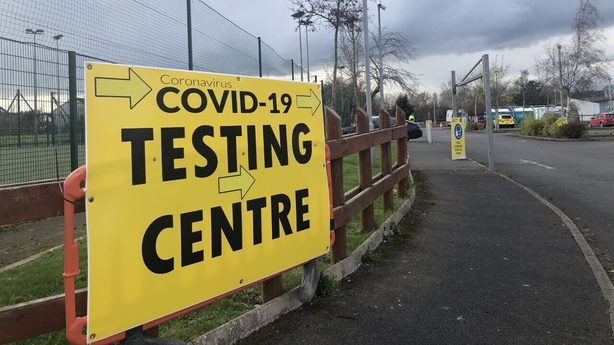 The Department of Health has been notified of 453 new cases of Covid-19 and no further coronavirus-related deaths.
The number of people being treated in intensive care with the virus is down one to 40. There are currently 129 Covid-19 patients in hospital, including five additional hospitalisations in the past 24 hours.
The number of coronavirus-related deaths in Ireland is now 4,906, while the total number of confirmed cases stands at 250,290.
In a statement, the National Public Health Emergency Team said that of the new cases, 203 are men and 250 are women.
78% of the cases today are in people under the age of 45. The median age of those included in today's figures is 25.
This means that people aged 25 are in the middle of the age range of today's cases.
NPHET said that as of 1 May, 1,146,562 people have received their first vaccine dose. 445,326 people have received their second vaccine dose.
Vaccinating those over and under 50 in parallel 'would be effective'
Immunologists and doctors have said vaccinating people below and over 50 in parallel would be effective.
Professor Ed Lavelle, the Head of the School of Biochemistry and Immunology at Trinity College Dublin, said "in an ideal world, where supply is on track, there is an advantage to vaccinating in parallel."
He said: "If supply isn't an issue with Johnson & Johnson and AstraZeneca over the next couple of months, you'd think the ideal scenario would be to vaccinate in parallel, where you are vaccinating people over 50 with those two vaccines and people under 50 with the Pfizer and Moderna vaccines."
Prof Lavelle said such a move would speed up the overall programme, however he said if supply is an issue, then age has to be the dominant factor.
"If supply is a massive issue and suddenly you can't depend on that being the case, then that clearly has to be taken into account," he said.
Meanwhile, Professor Sam McConkey, the Head of the Department of International Health and Tropical Medicine at RCSI, said now that many of the most vulnerable people have been vaccinated, the logistical challenge is to offer a vaccine to as many people in the population "as quick as humanly possible."
"We should give practical and logistical issues more priority at this point, just to simply get vaccines into arms," he said.
He added: "If we had one dose of vaccine in the arms of four million people in a couple of months, that would be fantastic, and I think that is almost a more important strategic consideration than saying should someone of 51 should be vaccinated every time before someone of 41."
Prof McConkey said "those issues become less important now that those who are very vulnerable" are vaccinated.
If a parallel approach was adopted, he said "people aged 51 would be partially protected if all the 30 to 50-year-olds around them are all vaccinated, as there is less of the virus circulating in their community and then that protects everyone."