Chief Medical Officer Dr Tony Holohan has advised the Cabinet to add other European countries with high Covid-19 incidence rates to the mandatory hotel quarantine list.
But the Government is only adding European countries reporting variants of concern to that list, even if other countries have higher case numbers, according to the Minister for Health.
The Government is designating European countries only based on variants of concern, Stephen Donnelly said, not on their case numbers.
Speaking on RTÉ's Prime Time, he said non-European countries are being designated both on the basis of variants of concern and high incidence rates.
The Minister said it is true that Dr Holohan advised adding other European countries that had high cases but not variants of concern, such as Sweden and Germany.
However, Mr Donnelly said the Government's position is that it is listing European countries based only on variants of concern, "partly because we're very conscious of rights of travel, European law".
The only European countries that are designated for mandatory quarantine now, a list that includes Italy and France, currently have variants of concern, he said.
Despite Sweden having three times higher daily incidence than Italy, Sweden is not being designated for mandatory hotel quarantine because it is not reporting variants of concern, the Minister said.
When asked if he had any concerns about people from Sweden travelling here with that rate of Covid-19, Mr Donnelly said: "Not in terms of variants of concern based on the public health advice I have."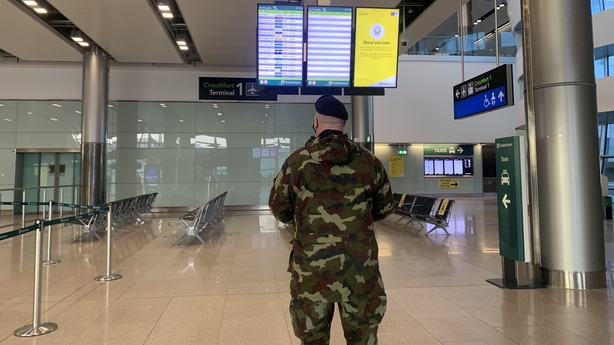 "There's pressure building right across the board," said Mr Donnelly, on reopening the country and easing restrictions.
He said he did not think it would be helpful for him to speculate in terms of dates for reopening.
Taoiseach Micheál Martin tonight indicated that "equality of treatment" is a principle the Government will adopt when it comes to easing Covid-19 restrictions.
The comments to Fianna Fáil TDs and senators at a parliamentary party meeting seemed to open up the possibility of so-called wet pubs being able to serve outdoor customers as well as gastro-pubs.
He said he had listened to them on their concerns on the topic, and the need to "get the balance right".
The Taoiseach reaffirmed that the Cabinet, on Thursday, will examine lifting restrictions on non-essential retail, hairdressers, construction, religious services, and sport.
He said the Government would also indicate its plans for June regarding hotels, B&Bs, guesthouses, self-catering accommodation and mobile homes.
The Taoiseach said there will be no cliff-edge on supports.
Vaccines for the over-50s
All of the vaccines have now been approved for everyone aged 50 and over, which is fantastic news, said Minister Donnelly.
"It's not envisaged that there would be a choice" between vaccines, he said, because "the reality is we've got to keep the vaccine programme moving".
He said that the operational details on how the AstraZeneca and Johnson & Johnson vaccines will be distributed is being worked on by the HSE, but both vaccines will be used for the over-50s.
"We're going to keep going," said Mr Donnelly, when asked if they would delay the programme for over-50s to allow delivery of the Johnson & Johnson vaccine in June.
"The advice keeps getting updated by NIAC based on more evidence coming in," he said. "Let's look at that in two weeks' time," he said, adding that the situation has been changing regularly.
The over-50s could be offered AstraZeneca, he confirmed, despite J&J being mainly prioritised for people aged in their 50s.
This is because both vaccines will be used side-by-side, he said. The over-50s are due to begin receiving vaccines in May, but J&J is not expected to arrive until June.
Mr Donnelly said the vaccine targets are "very ambitious" and the Government has every intention of hitting them.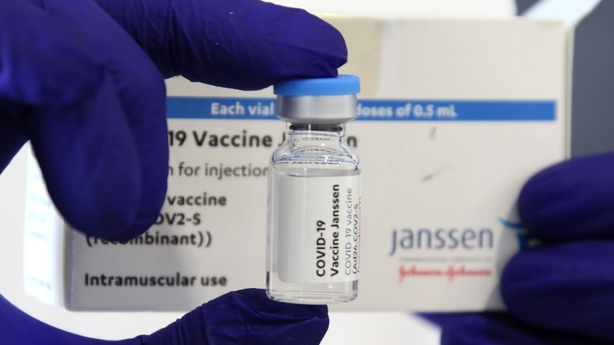 The Minister said that a huge number of people in the 65 to 69 group did register for vaccines, and they are seeing more and more register from 60 to 64.
It was only today that the portal became available for those aged 60, he said.
"I have no doubt in the coming days and even in the coming weeks, we'll see a high take up," he said.
He said the latest figures he has seen show that 85% of adults surveyed have either had or are looking forward to getting a vaccine.
Mr Donnelly said there has been vaccine hesitancy in other countries and in previous vaccine programmes in Ireland.
He said we have to listen very carefully to people who have questions, as they are legitimate questions.
"I think it's very important that people's concerns are not dismissed," he said. He reiterated that they do take people's concerns seriously.
When asked about the possibility of people having to go to the back of the queue if they are hesitant about the vaccine, he said "we've got to run the programme as fast as possible".