Ireland is assessing a plan to provide oxygen and ventilators to India, working in tandem with the EU, according to Tánaiste Leo Varadkar.
In a post on Twitter he said: "There are many Indian people working in our health service. India is currently facing a terrible second wave causing suffering beyond our comprehension.
"We are assessing a plan to provide oxygen and ventilators to India working with the EU."
Earlier, European Commission chief Ursula von der Leyen said the EU is preparing rapid assistance for India as it copes with a growing Covid-19 crisis that has seen infections and deaths hit record highs.
"Alarmed by the epidemiological situation in India. We are ready to support," Ms von der Leyen said on Twitter.
"The EU is pooling resources to respond rapidly to India's request for assistance via the EU civil protection mechanism."
The mechanism allows European Union countries to coordinate their aid in cases of emergency.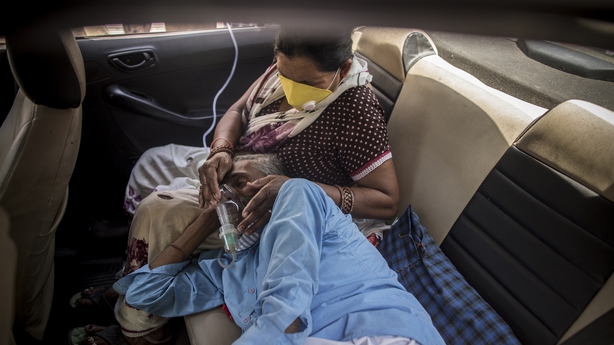 EU commissioner for humanitarian aid Janez Lenarcic said oxygen and medicine contributions were already being coordinated from member states.
German Chancellor Angela Merkel said her government was preparing emergency aid for India. France said it would send oxygen equipment to India in the coming days.
Britain said it was sending life-saving medical equipment, including ventilators and oxygen concentrators, as the south Asian country reeled from record numbers of daily Covid-19 infections and deaths.
London will ship more than 600 pieces of equipment to New Delhi to support its fight against the virus.
"We stand side by side with India as a friend and partner during what is a deeply concerning time in the fight against Covid-19," British Prime Minister Boris Johnson said in a statement.
The United States said it will "immediately" make supplies of material to make vaccines, as well as therapeutics, tests, ventilators and protective equipment available to India.
"The United States has identified sources of specific raw material urgently required for Indian manufacture of the Covishield vaccine that will immediately be made available for India," a White House statement said.
There are many Indian people working in our health service. India is currently facing a terrible second wave causing suffering beyond our comprehension. We are assessing a plan to provide oxygen and ventillators to India working with the EU 🇮🇪🇪🇺🇮🇳❤️

— Leo Varadkar (@LeoVaradkar) April 25, 2021
US president Joe Biden said on Twitter: "Just as India sent assistance to the United States as our hospitals were strained early in the pandemic, we are determined to help India in its time of need."
India's healthcare system has struggled to cope with the huge surge in infections, with reports of severe oxygen and medicine shortages and patients' families pleading for help on social media.
The vast nation of 1.3 billion people recorded 349,691 fresh cases and 2,767 deaths in the last 24 hours - the highest since the start of the pandemic.
---
---
Prime Minister Narendra Modi urged all citizens to take Covid-19 vaccines and exercise caution, saying a "storm" of infections had shaken the country.
"Our spirits were high after successfully dealing with the first wave," Mr Modi said in a radio address. "But this storm has shaken the nation."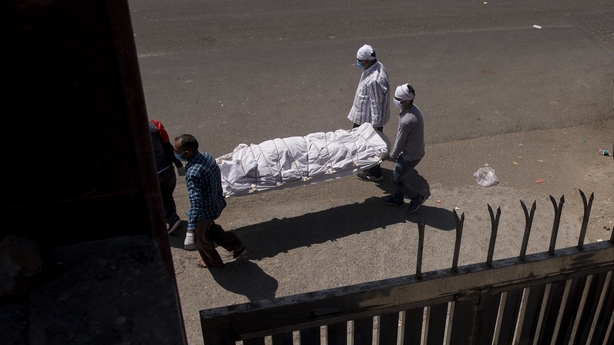 India's total tally of infections stands at 16.96 million and deaths at 192,311 after 2,767 more people died overnight, health ministry data showed.
In the last month alone, daily cases have gone up eight times and deaths by ten times. Health experts say the death count is probably far higher.
People were arranging stretchers and oxygen cylinders outside hospitals as they desperately pleaded for authorities to take patients in, Reuters photographers said.
"Every day, it the same situation, we are left with two hours of oxygen, we only get assurances from the authorities," one doctor said on television.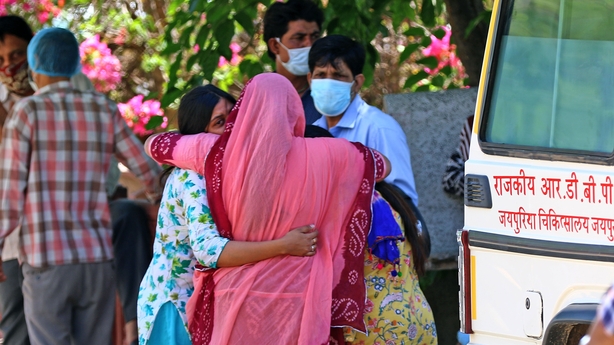 The surge is expected to peak in mid-May with the daily count of infections reaching half a million, the Indian Express said citing an internal government assessment.
Experts said India became complacent in the winter, when new cases were running at about 10,000 a day and seemed to be under control. Authorities lifted restrictions, allowing for the resumption of big gatherings.
Meanwhile, New Delhi will extend its week-long lockdown, officials said,
"We have decided to extend the lockdown by one week... The havoc of corona(virus) continues and there is no respite. Everyone is in favour of extending the lockdown," Delhi Chief Minister Arvind Kejriwal said in a video statement.
New bans on arrivals from India
Italy is to ban arrivals from India, apart from Italian residents, Health Minister Roberto Speranza said today.
"I have signed a new decree banning people from entering Italy who have been in India within the past 14 days," Mr Speranza wrote on Facebook.
"We can't let our guard down" ahead of a limited reopening set to begin across Italy tomorrow, he added.
"Residents of Italy can return but must take a (coronavirus) test before departure and on arrival and remain in quarantine" once on Italian soil, Mr Speranza said.
The Netherlands will prohibit passenger flights from India from Monday at 6 pm until 1 May due to fears over a new variant of Covid-19, the ministry of transport said