India posted a global record of almost 315,000 new Covid infections as hospitals in New Delhi sent out desperate warnings that patients could die without fresh oxygen supplies.
India's long-underfunded health system is being stretched to the limit by a devastating second wave blamed on a "double mutant" variant and "super-spreader" mass gatherings.
Health ministry data this morning showed 314,835 new infections in the past 24 hours.
That is the most of any country since the pandemic began, taking total cases to 15.9 million, the world's second highest.
There were 2,074 fatalities, bringing the total death toll to almost 185,000.
The number of deaths and cases in India are however considerably lower on a per capita basis than many other countries.
Major private and government-run hospitals in New Delhi have sent out urgent appeals to the central government, calling for immediate supply of oxygen for hundreds of patients on ventilator support.
Yesterday, nearly 500 tonnes of oxygen was supplied to Delhi but this fell short of the required 700 tonnes per day.
The megacity's government, run by a different party to Prime Minister Narendra Modi's national administration, has accused neighbouring states governed by Mr Modi's BJP of holding up supplies.
Late last night, the Delhi High Court ordered the government to ensure safe passage of oxygen supplies from factories to hospitals across India.
"We cannot let people die due to lack of oxygen ... you beg, borrow and steal but have to provide," the judges said, asking why the government is "not waking up to the gravity of the situation".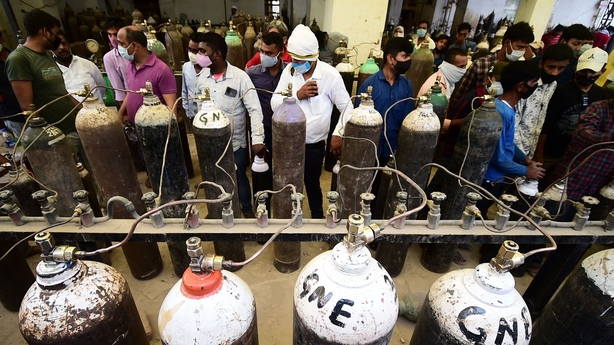 Highlighting the strain on health authorities, 22 patients died in a hospital in western India after an oxygen leak cut off the supply to 60 ventilators for half an hour yesterday.
Recent months have seen mass gatherings, including millions attending the Kumbh Mela religious festival, as well as political rallies, lavish weddings and cricket matches against England.
Production of key coronavirus drugs slowed or even halted at some factories and there were delays inviting bids for oxygen generation plants, according to press reports.
Distraught relatives are now being forced to pay exorbitant rates on the black market for medicines and oxygen and WhatsApp groups are white-hot with desperate pleas for help.
States across India have imposed restrictions, with Delhi in a week-long lockdown, all non-essential shops shut in Maharashtra, and Uttar Pradesh set for a weekend shutdown.
The US now advises against travelling to India, even for those fully vaccinated, while Britain has added India to its "red list". Hong Kong and New Zealand have banned flights.
India's inoculation programme has also hit supply hurdles, prompting New Delhi to put the brakes on exports of the AstraZeneca shot, which is manufactured locally by the Serum Institute.
India has administered more than 130 million shots so far and from 1 May all adults will be eligible for a jab.
EU preparing AstraZeneca lawsuit over COVID-19 vaccine deliveries - sources
Meanwhile, the European Union's executive arm is preparing a legal case against AstraZeneca to ensure it delivers the Covid-19 jabs contracted for the second quarter, two diplomats and an official told Reuters today.
"The Commission did refer to the intention to launch legalaction," an EU diplomat said in referring to yesterday's meeting among the 27 national envoys to EU hub Brussels.
The EU official, who is involved in talks with vaccine makers, said: "EU states have to decide if they participate. It is about fulfillment of deliveries by the end of the second quarter."
Syria gets 200,000 doses of AstraZeneca vaccine under COVAX scheme
Syria's government has received its first delivery of COVID-19 vaccines through the global COVAX initiative, with almost 200,000 doses of the AstraZeneca shot, UN officials said today.
A joint statement by UNICEF, the World Health Organization(WHO) and the GAVI vaccine alliance said the delivery was "critical and timely" and would help health workers "to continue delivering life-saving services in an already exhausted health system as a result of the decade-long war."
Another 53,800 vaccines were delivered to the opposition-held north-west, which the statement said was an area that has seen large-scale displacement after a major hostilities last year.
The statement said more deliveries were planned in coming weeks and months.
Akjemal Magtymova, head of the WHO's Syria mission, told Syrian health officials and UN partners at a ceremony on the arrival of the shipment in Damascus there were challenges head but the country had a strong track record in vaccination programmes.
Ms Magtymova said last month a phased rollout aimed to inoculate nearly 20% of Syria's population by the end of the year, or almost five million people in both government-held areas and the northeast and northwest.
The Damascus government's national programme across state-run territory, where most of the country's nearly 20 million inhabitants live, will deploy dozens of teams across 76 hospitals with over 300 mobile units to access hard to reach areas.
Western NGOs say that apart from the logistics challenges of arranging vaccinations across combat frontlines, Syria faces the additional hurdle of international financial sanctions. Syria was hard hit by the pandemic last year during two spikes in infections in August and December, and health workers cite a rise in cases since February.
Syria has recorded 51,580 cases of Covid-19, but the actual number is likely much higher due to limited testing supplies, UN officials says.
Gaza gravediggers and medics stretched as Covid spikes during Ramadan
The sick and dying are rapidly pushing Gaza's hospitals close to capacity amid a surge in Covid-19 cases in the impoverished Palestinian territory, health officials said.
Palestinians fear a combination of poverty, medical shortages, vaccine scepticism, poor Covid-19 data and mass gatherings during Ramadan could accelerate the increase, which began before the start of the Muslim holy month on 13 April.
Gaza health officials said around 70% of intensive care unit beds were occupied, up from 37% at the end of March. There were 86 deaths over the past six days, an increase of 43% over the week before.
"The hospitals are almost at full capacity. They're not quite there yet, but severe and critical cases have increased significantly in the last three weeks, which is a concern," said Dr Ayadil Saparbekov, head of the World Health Organization's Health Emergencies Team in the Palestinian Territories.
Gaza's daily positivity rate reached as high as 43% this week, although Dr Saparbekov said that number could be inflated because a shortage of tests meant they were mostly given to people already showing symptoms.
Dr Saparbekov also said Gaza does not have the capacity to identify highly infectious Covid-19 variants when testing, meaning there is little data on them.
Graveyards are also feeling the strain. In Gaza City, gravedigger Mohammad al-Haresh told Reuters he had been burying up to 10 Covid-19 victims per day, up from one or two a month ago.
"Wartime was difficult, but the coronavirus has been much harder for us," said Haresh, who dug graves throughout the 2014Israel-Gaza war.
"In war, we would dig graves or bury the dead during a truce or ceasefire. With the coronavirus, there is no truce."
Densely populated and home to two million Palestinians, Gaza has for years had limited access to the outside world because of a blockade led by Israel and supported by Egypt.
Both countries cite security concerns over Hamas, the Islamist militant group that controls the Gaza Strip, saying they want to stop money and weapons entering.
Palestinians say the blockade amounts to collective punishment and that it has crippled Gaza's economy and medical infrastructure, with shortages of critical supplies and equipment hampering their ability to tackle the pandemic.
The situation in Gaza is a stark contrast to Israel, where a world-beating vaccination rollout has led to more than 53% of Israelis being fully vaccinated.
Amid growing concern, Hamas will today begin a week ofnightly curfews, shutting down mosques that host hundreds of worshippers for Ramadan evening prayers.
But with around 49% of Gazans unemployed and parliamentary elections slated for 22 May, Hamas has held back from more drastic measures that could further damage the economy.
"We may impose additional measures, but we do not expect at this phase to go into a full lockdown," Hamas spokesman EyadAl-Bozom said.
Health officials say the factors that led to the current spike include the flouting of guidelines for mask-wearing and social distancing and the opening in February of Gaza's border with Egypt, which may have allowed in new variants.
Suspicion of vaccines also runs deep. A majority of Gazans -54.2% - said they would not take the vaccine, against 30.5% who said they would and 15.3% who were undecided, according to an 21 April survey by the Jerusalem Media and Communications Center.
Just 34,287 people have been vaccinated, even though the enclave has received 109,600 doses since February donated by Russia, the United Arab Emirates and the global COVAX programme.
"(The) reluctance of many, including medical staff, to be vaccinated remains a key concern," the United Nations Office forthe Coordination of Humanitarian Affairs said in an 12 April report.
One Palestinian eligible for Gaza's initial round of vaccines, Qasem Abdul Ghafoor, said he decided to get the jab to protect himself and his family.
"The situation here is horrific. We took it lightly before, but I assure you, it should not be taken lightly," he said.