The Department of Health has been notified of no further coronavirus-related deaths and 403 new cases, while the number of people in intensive care is at 50.
Acting Chief Medical Officer Dr Ronan Glynn said there is an "ongoing, improving situation" in relation to incidences of Covid-19 across all age groups, as well as with the number of people in hospital with Covid-19, which was 183 as of 8am this morning.
Speaking at this evening's National Public Health Emergency Team briefing, Dr Glynn said the five-day moving average of 364 cases per day is the "lowest it's been for some months".
Acting CMO Dr Ronan Glynn said there is an "ongoing improving situation in relation to incidence, numbers of people in hospital". He said that there is ongoing improvement in the incidence of the virus across all age groups | https://t.co/vb2PAXJ78M pic.twitter.com/08c59mcqtY

— RTÉ News (@rtenews) April 19, 2021
He said GPs are seeing a high level of disease in the community and he asked people to take the vaccine if they are offered it.
The vast majority of cases are B117, he said, and they know that AstraZenca works very effectively against that variant.
He said the Health Service Executive has seen a positive number of people coming forward when it comes to uptake of the vaccine.
We need your consent to load this rte-player contentWe use rte-player to manage extra content that can set cookies on your device and collect data about your activity. Please review their details and accept them to load the content.Manage Preferences
Dr Glynn explained that the average number of close contacts has stayed steady at 2.6 in recent times, but if that rises to 3, 3.5 or 4, they will see an increase in incidence.
He told the NPHET briefing that up to last week's data, they had seen "a phenomenal level of compliance" as well as a very stable level of compliance going back to mid-February.
The first indication of the impact of schools and construction returning last week will be made known at Thursday evening's briefing, he added.
There may not be a need to recommend an extension of the interval between the first and second dose of some vaccines, Dr Glynn stated.
He said that no advice had been given to Government.
NPHET needs to wait and see what the updated statement is from the European Medicines Agency later this week in relation to the Johnson & Johnson vaccine before it makes a decision on whether or not to extend the intervals between doses.
Any advice or recommendations that NPHET or NIAC would provide, Dr Glynn said, would need to take into account the impact on the vaccination programme.
There are pros and cons to extending the interval between doses, he said.
"We need to wait to see what the EMA say on that, decide what our approach to that vaccine (J&J) will be in this country, incorporate that into our planning for the roll-out of the vaccination programme more broadly and then decide over and above that there's a need to extend out the dosing interval for the MRNA vaccines."
Dr Ronan Glynn has said they need to wait and see what the updated statement is from the EMA later this week on the Johnson & Johnson vaccine, before a decision is made on whether or not to extend the intervals between vaccine doses | https://t.co/vb2PAXJ78M pic.twitter.com/p17MgrCCZl

— RTÉ News (@rtenews) April 19, 2021
In relation to mandatory hotel quarantine, Dr Glynn said it is his view that vaccination should not be seen as "an exemption from all of the other measures".
If people are fully vaccinated, he said, it is reasonable that they would quarantine at home.
He said it is important that measures are put in place around the issue of validation and certification of proven vaccination status, or full protection from vaccination.
"From a public health perspective, you would put everyone coming into this country into hotel quarantine," he said. "But we need to consider it in the round, we need to recognise the fact that vaccination is being rolled out internationally."
Dr Glynn said there is no question that we are in a better position than where we were some weeks, ago but vaccination will not protect the majority of us over the coming weeks.
They have seen "very clearly" in the data coming through that there was "significant excess mortality" in the first six weeks of this year, he commented, but they will need to wait for another couple of months to fully assess the death toll from Covid-19.
He said NPHET made it clear from day one that it would report all deaths because of or with Covid-19 as being Covid deaths.
He said he would strongly disagree with any inference it should not be recording the deaths of those who had underlying conditions, saying: "I would completely and utterly dispute that".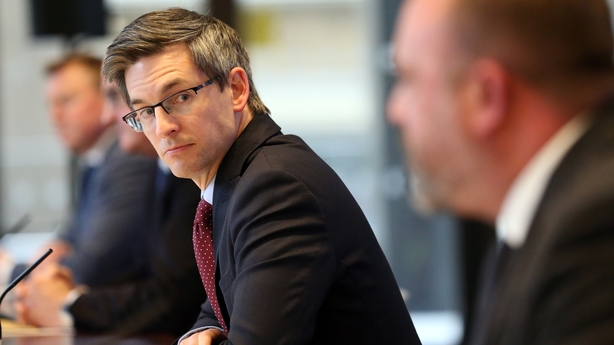 Director of the National Virus Reference Laboratory Dr Cillian de Gascun said they have identified three cases over the last few days of the variant first identified in India.
He said public health investigations are ongoing, and at least two of those cases are associated with travel.
He said they do not have any data to determine whether the variant is more transmissible or not, and at this stage people need to remain vigilant and try to contain it locally.
The variant is not of concern at this point, he said.
Dr Glynn said speculation on variants is disproportionate to what we know, and they are expecting updated guidance on transmission from the ECDC this week.
Dr de Gascun said there are 55 cases of the variant first identified in South Africa, which he said is a "small number".
He said these cases are of concern in the context that the number continues to increase, but they are carrying out contact tracing on the existing cases, and testing people as they arrive into the country.
About 20 to 25% of this variant does not have an obvious link to travel, he said, so public health is investigating that.
He said there are 24 cases of the P1 variant, which was first found in Brazil.
Dr Cillian de Gascun has said that three cases of a Covid variant which was first identified in India, has been identified in Ireland over the last couple of days | https://t.co/vb2PAXJ78M pic.twitter.com/XdeI08wP2o

— RTÉ News (@rtenews) April 19, 2021
Clinical Director of the Women and Infant's Health Programme Dr Peter Kenna said three pregnant women with Covid-19 were in ICU at the weekend.
The degree of sacrifice being made by expectant mothers is significant, he said, adding that hospitals will be reviewing the current restrictions in the coming weeks.
He said a large surge in community infections earlier this year may have contributed to the high level of Covid placentitis in Ireland.
---
---
In Northern Ireland, no further coronavirus deaths and 79 new cases were recorded during the past 24 hours.
There are 69 confirmed Covid patients in hospital, with eight in ICU, five of whom are on ventilators.
Registration for vaccination
The Health Service Executive has said that a total of 135,000 people aged 65 to 69 have registered for vaccination using the online portal, or by phone to HSELive.
Registration opened last week.
The breakdown was 117,000 online and 18,000 by phone.
Everyone in this group will get the AstraZeneca vaccine.
According to the Central Statistics Office, there are 224,000 people in the 65-69 age group.