Alcohol sales are to be banned in restaurants in the Thai capital, Bangkok, from tomorrow, while entertainment venues will be shuttered across the country for two weeks.
It comes as Thailand recorded its fourth consecutive day of more than 1,000 new cases, with spiralling infections linked to a nightlife district of the capital Bangkok earlier this month.
In the past 10 days, the national infection total has jumped from 29,900 to more than 40,500 - the sharp increase probably due to a highly infectious variant of the virus originally found in Britain.
"Nearly 10,000 new cases were found within this week," said Taweesin Visanuyothin, a spokesman for Thailand's Covid-19 task force.
He added that nearly 12,000 patients were still receiving treatment in hospitals, including temporary field sites.
In a test centre in a capital stadium, health workers in full-body PPE shepherded people through a disinfection cabin, and directed them to wait in lines for the nasal swab.
The site - one of many testing centres across the city - has capacity to screen up to 3,000 people per day, for free under the kingdom's social security programme.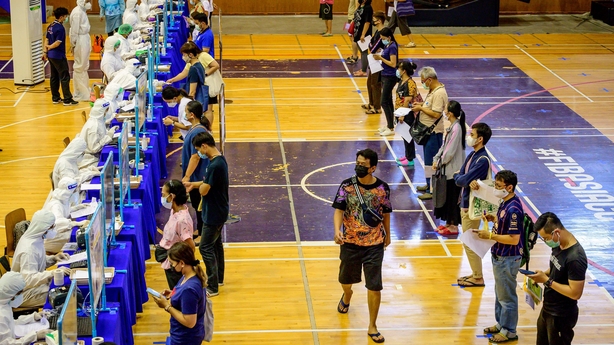 "I think this outbreak will be protracted because (the UK variant) spreads fast," said one woman who received the test, adding that she was worried about going outside.
Authorities have instated inter-provincial travel restrictions right before Songkran new-year festivities this week - usually a period when Thais vacation or return to their hometowns.
The typically rowdy holiday is also marked by water fights on the streets, but Bangkok was quiet this week - with bars, restaurants and night markets closed early.
Political opponents of Premier Prayut Chan-O-Cha have criticised his administration's handling the virus, and the slow roll-out of the vaccine - which has been plagued by delays.
By Saturday, 605,000 doses of both Sinovac and AstraZeneca vaccines had been administered.
---
Read more: Latest coronavirus stories
---
Indian capital enters weekend lockdown
The Indian capital, New Delhi, has gone into a weekend lockdown as India faces a ferocious new coronavirus wave, with more than 200,000 fresh daily cases and families clamouring for drugs and hospital beds.
Hopes that south Asian countries might have beaten the pandemic have been dashed with India seeing over two million new cases this month alone and Bangladesh and Pakistan imposing shutdowns.
India's per-capita rates remain low by international comparison, raising the prospect that infection numbers - fuelled possibly by a virulent new "double mutant" - may explode further.
After a national lockdown a year ago led to hundreds of deaths and one of the worst slumps of any major economy, the Indian government is desperate to avoid a second stoppage.
Many states are however clamping down, including hotspot Maharashtra, industry-heavy Gujarat and IT hub Bangalore's home state Karnataka, although restrictions are less onerous than last year.
Uttar Pradesh state, home to some 240 million people, yesterday announced that all villages and cities would be under lockdown for one day tomorrow.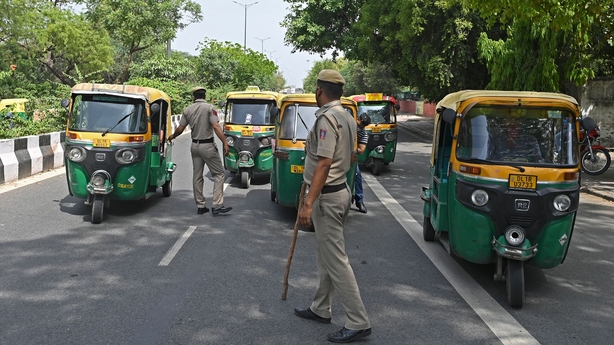 In the capital New Delhi, which has overtaken Mumbai as the worst-hit Indian city, restaurants, malls, gyms and spas were shut for the weekend.
Weddings though can go ahead with guests limited to 50, while a maximum of 20 people can attend funerals. Movie theatres can open with one-third capacity.
"Don't panic. All essential services will be available through the weekend," the city of 25 million people's chief minister Arvind Kejriwal said.
Similarly, the northern state of Uttarakhand has restricted gatherings to 200 people - but exempted the vast ongoing Hindu festival Kumbh Mela.
The gathering in Haridwar has attracted as many as 25 million people since January, including some 4.6 million this week alone, with most people ignoring Covid-19 guidelines.
One seer on Thursday died from the virus and 80 other holy men have tested positive, and experts fear that the millions of devotees will now take the virus back to their home towns and villages.
Election rallies are also going ahead in the eastern state of West Bengal, with Home Minister Amit Shah attending two roadshows and one public meeting on Friday alone.
Hospitals are running short of oxygen and coronavirus medicines such as Remdesivir, prompting desperate people to pay exorbitant rates on the black market.
In a disturbing new trend, doctors told AFP they had seen an increase in the number of Covid-19 patients aged under 45, including children.
"Last year there were practically no children presenting symptoms," said Khusrav Bajan, a consultant at Mumbai's PD Hinduja National Hospital.
India's drive to vaccinate its 1.3 billion people has also hit obstacles, with just 117 million shots administered so far and stocks running low, according to some local authorities.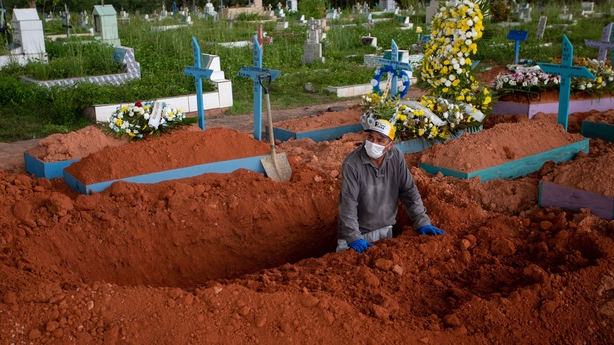 Brazilian graveyards working around the clock
In Brazil, the country with the third-highest death toll in the world, night shifts have been added to several cemeteries as diggers work around the clock to bury the dead.
One of these is Vila Formosa, the largest cemetery in Latin America and a showcase for the lethal cost of the pandemic in Brazil, where more than 365,000 people have died from Covid-19.
66,000 people died in March alone. Observers believe the number is an undercount.
Last week, the country of 212 million people set a new record of 4,000 deaths in 24 hours
"We try not to get upset in our work, but it is sad, it is a lot of people," one of the gravediggers there said after a long shift.
Despite the high infection rate, the government of Brazil's most populous state Sao Paulo announced it will allow businesses and places of worship to reopen from tomorrow.
The state of 46 million people will enter a "transition phase" that will next see restaurants, beauty salons, cinemas and theaters reopen from April 24, the state government said yesterday.
From tomorrow, shops can open from 11am to 7pm, but with only a quarter of their usual clients inside at any given time. A 8pm to 5am curfew remains in place.
Churches must also limit the number of faithful attending services, to allow for social distancing, according to the announcement.