The discovery of 77 UK cases of a coronavirus variant first detected in India could be a cause for concern, a health expert has said.
Public Health England (PHE) reported that 73 cases of the B.1.617 variant have been confirmed in England, as well as four cases in Scotland.
The figures come from the latest update of PHE's surveillance of the distribution of different variants across the UK, based on data up to 7 April.
Officials have designated it a "variant under investigation" (VUI) rather than a "variant of concern" (VOC), such as the variants first detected in Brazil and South Africa.
Paul Hunter, professor in medicine at the University of East Anglia, said the variant features two "escape mutations" - E484Q and L452R - which "are causing people to be concerned".
"There's laboratory evidence that both of these are escape mutations," he said.
"Basically, applying what we know about other human coronaviruses would suggest that this is going to be even less controlled by vaccine.
"But we don't know that for certain at the moment."
---
---
British Prime Minister Boris Johnson has scaled down a planned trip to India due to its worsening Covid situation.
He was due to spend four days in there at the end of the month but, following talks with Narendra Modi's administration, the "bulk" of the meetings could be fitted into one day.
Prof Hunter said it is "not surprising" that the variant has come from India.
"If you think about where the main variants have arisen - South Africa, the UK, California, Brazil, and now India - all of these are countries that have really struggled to keep case numbers down.
"So it's not surprising. India has got a huge pandemic, and therefore that's where you're going to be getting the variant."
He added: "The big, big anxiety with this one is that it seems - and again this is still a little bit speculative because it hasn't been confirmed - but... there are two mutations here that are causing people to be concerned."
PHE's latest findings mean there are now seven VUIs and four VOCs being tracked by scientists in the UK.
India extends record rise in Covid-19 cases
India extended a record daily run of new Covid-19 infections, spurred by hundreds of positive tests at a major religious gathering, as politicians pushed ahead with election rallies against advice they could worsen the outbreak.
India is battling a massive second wave of the coronavirus pandemic, with new restrictions imposed in Mumbai, New Delhi and other cities.
There are also growing calls for officials to speed up the country's vaccination programme as hospitals are swamped with patients.
The 217,353 new cases reported by the health ministry today marked the eighth record daily increase in the last nine days and took total cases to nearly 14.3 million.
India's case count is second only to the US, which has reported more than 31 million infections.
Deaths in India rose by 1,185 over the past 24 hours - the highest single-day rise in seven months - to reach a total of 174,308, the health ministry reported.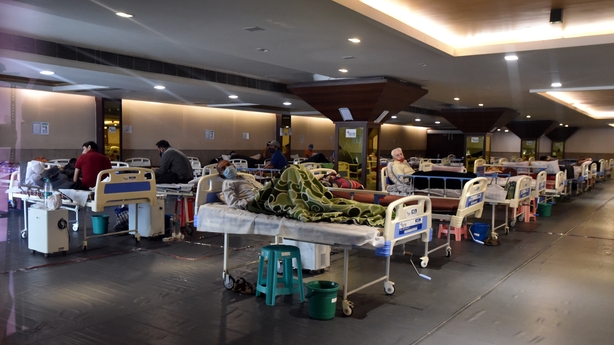 Experts have raised concerns about the spread of more contagious and deadlier variants of the disease, particularly given widespread participation in religious festivals and political rallies. A Lancet study this month estimated that India's fatalities could double by June.
Hundreds of people at a religious gathering in Haridwar in the north of the country tested positive for Covid-19 as tens of thousands of devout pilgrims jostled to take a holy dip in the Ganges as part of the "Kumbh Mela" festival.
India has so far administered 115 million vaccine doses, the highest globally after the United States and China, but that covers only a small fraction of its 1.4 billion people.
Third Pfizer dose likely needed within 12 months - CEO
The head of Pfizer has said that people will "likely" need a third dose of the company's Covid-19 shot within six to 12 months of vaccination.
CEO Albert Bourla also said annual vaccinations against the coronavirus may well be required.
"We need to see what would be the sequence, and for how often we need to do that, that remains to be seen," Mr Bourla told CNBC in an interview recorded on 1 April and broadcast last night.
"A likely scenario is that there will be likely a need for a third dose, somewhere between six and 12 months and then from there, there will be an annual revaccination, but all of that needs to be confirmed," he said, adding that variants will play a "key role."
"It is extremely important to suppress the pool of people that can be susceptible to the virus," he said.
Researchers currently do not know how long vaccines provide protection against the coronavirus.
Pfizer published a study earlier this month that said its jab is more than 91% effective at protecting against the coronavirus, and more than 95% effective against severe cases of Covid-19 up to six months after the second dose.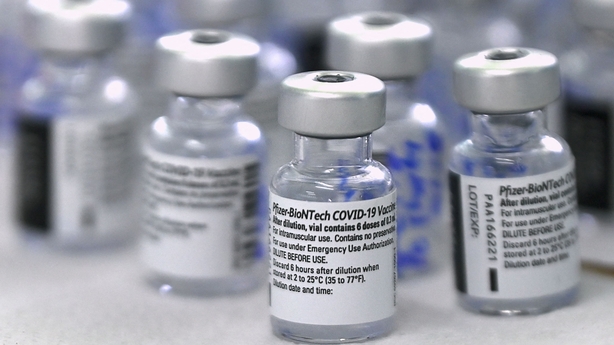 But researchers say more data is needed to determine whether protection lasts after six months.
David Kessler, the head of US President Joe Biden's Covid-19 response team, warned a congressional committee yesterday that Americans should expect to receive booster shots to defend against coronavirus variants.
"We don't know everything at this moment," he told the House Coronavirus Crisis Subcommittee. "We are studying the durability of the antibody response.
"It seems strong but there is some waning of that and no doubt the variants challenge" that, he said.
"I think for planning purposes, planning purposes only, I think we should expect that we may have to boost."
Mr Bourla also defended the price of his company's vaccine, saying they are saving lives and will not be sold to poor countries for a profit.
Bulgarian Prime Minister Boyko Borissov explained earlier this week that the vaccine's price was rising as sales were being negotiated, costing as much as €19.50, up from €12.
The prices are in sharp contrast to the vaccine produced by British-Swedish drugmaker AstraZeneca, which vowed not to make a profit on its product during the pandemic and sold it to the EU for less than €2 a unit.
Mr Bourla did not confirm the price of the Pfizer vaccine but admitted that it was sold at a higher price to developed countries like those in the EU or the United States.
"In middle-income countries, we sell it for half the price," he said. "In poorer countries, including in Africa, we sell it at cost."
Portugal to lift suspension of UK, Brazil flights
Portugal will lift its suspension on flights to and from Britain and Brazil for "essential trips" as it moves ahead with an easing of Covid-19 restrictions, the interior ministry said.
Prime Minister Antonio Costa said yesterday that Portugal will from Monday start the third phase of a gradual lifting of curbs imposed after the country was hit with a powerful coronavirus wave in January.
The interior ministry said "essential trips" are those "for professional reasons, studies, family reunions, health or humanitarian reasons".
Checks at the Spanish border will be maintained for at least two extra weeks.
Portugal will continue to require visitors from countries with an infection rate above 500 cases per 100,000 inhabitants to follow a two-week quarantine.
Among these countries are Brazil and South Africa, but also France and the Netherlands.
Travel from countries with a rate above 150 cases for 100,000 inhabitants, such as Spain, Germany and Italy, are also limited to essential trips, the ministry said.
All passengers arriving in Portugal by air are still required to present a negative PCR test.
Except for around a dozen municipalities, Portugal will continue to loosen curbs as planned, with the reopening on Monday of restaurants, shopping centres, schools and universities.
It is the third of four stages for gradually lifting restrictions started in mid-March following two months of general lockdown to contain a third virus wave.
Merkel receives AstraZeneca jab: spokesman
German Chancellor Angela Merkel received her first dose of AstraZeneca's Covid-19 vaccine today, more than two weeks after German authorities recommended use of the jab only for people aged 60 and over.
"I am delighted to have received my first vaccination with AstraZeneca today. I thank everyone involved in the vaccination campaign and everyone who gets vaccinated. Vaccination is the key to getting out of the pandemic," the 66-year-old said in a tweet posted by her spokesman Steffen Seibert.
Ms Merkel is stepping down this year after nearly 16 years in power.
In 2019, she sparked concerns for her health with a series of shaking spells in public but has appeared to be in good condition since then.
Ms Merkel had frequently been asked about her plans to get vaccinated but insisted that she would wait her turn according to Germany's strict priority policies regarding the coronavirus jab.
The German capital, its own city-state, opened vaccinations to all people over the age of 60 earlier this month.
German officials have been at pains to shore up public confidence in AstraZeneca's vaccine, which has been on a roller coaster ride in Europe.