Around 26,000 people registered for a Covid-19 vaccination within hours of the online portal for 69-year-olds going live this morning, HSE Chief Executive Paul Reid has said.
Most had done so online and a small proportion had used the HSE's Live line support.
Speaking to RTÉ's Six One, Mr Reid said it has been a very encouraging start to reachout to the population through the vaccine registration system.
He said there was a very good support line in place for those unable to access or who are unfamiliar with technology or who need to get further information about the vaccines or the vaccination process. The support line is.
Speaking earlier at the weekly HSE Covid-19 briefing, Mr Reid said people aged 60 to 64 will be invited to register for vaccines "well before the end of April".
He said that 250,000 16 to 59-year-olds in Cohort 4 will be vaccinated via a combination of vaccination centres, community vaccination teams and GPs.
Mr Reid also told the briefing that vaccination target for next week now stands at between 140,000 and 160,000 doses.
The target for the week had stood at 180,000 doses, however the target had to be revised following the change in advice surrounding the administering of the AstraZeneca vaccine.
The @HSELive chief @paulreiddublin says the vaccination target for next week is between 140 and 160k. He says this week's target was 180k but will probably end-up being 140k due to #AstraZeneca problem. @rtenews

— Paul Cunningham (@RTENewsPaulC) April 15, 2021
"We are still aiming to deliver exactly the volumes that we aimed to deliver for this quarter … and some of the issues and impacts that we've had this week, it may take a week or two to wash fully through."
He said however that they are on track to complete the quarter.
The vaccine registration portal opened at 10am on the Health Service Executive website, and by phone on the HSE Live number - 1850 24 1850.
The HSE said it has taken people less than 10 minutes to complete the online registration and "in some cases, considerably less" time.
The HSE also confirmed that a further 500 people in the age group registered for their first vaccine dose by phone between 10am and 11am.
HSE chief Paul Reid says there has been a "really positive engagement" with the Covid-19 vaccine portal over the weekend with over 18,000 people registered by lunchtime today | Read more: https://t.co/RhkJXpmkCU pic.twitter.com/NtN8cK6RdV

— RTÉ News (@rtenews) April 15, 2021
---
Read more:
'Roller coaster week' as HSE deals with vaccine challenges
Easing restrictions in May 'on track', says Tánaiste
Latest coronavirus stories
---
Booking opens for people aged 68 from tomorrow onwards, 67-year-olds from Saturday, 66-year-olds from Sunday and 65-year-olds from next Monday onwards.
People need their PPS number, Eircode, mobile phone number and an email address to register online.
These vaccinations, which are expected to start in just over a week's time, will be administered at vaccination centres rather than at GP surgeries.
The HSE has said there is no hurry for people in this group to register immediately, that they can do so at their convenience, and that registering first does not mean that a person will get vaccinated first.
It also said that from now on, most groups in the population will be asked to use this same online registration portal or call the HSE Live phone number to register for vaccinations when their turn comes.
Mr Reid said it has been "a roller coaster of a week" in relation to the vaccination programme, but there have been many positive trends in terms of the transmission of the virus.
He told the briefing that the week has been "extremely challenging".
Mr Reid said there have been many "positive trends" throughout the week seen in the reduction of transmission levels, continued support from the public for the public health measures, and reducing numbers in hospital and ICU, which he described as "very positive".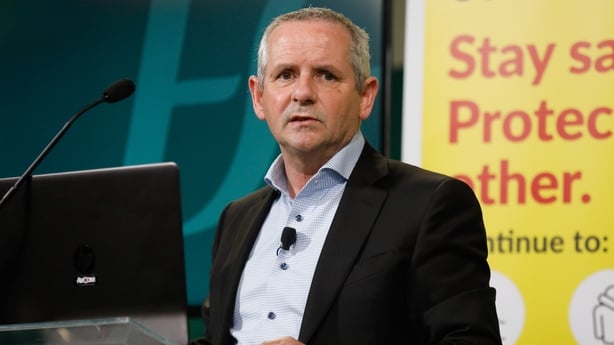 Mr Reid also said the HSE fully supports the recommendation on the AstraZeneca vaccine from the National Immunisation Advisory Committee and he urged the public to continue to support the public health measures.
"Let's see it home and not lose gains that we all have established in the last few weeks," he said.
Mr Reid said the plan at the moment is to utilise the AstraZeneca vaccine distributed to GPs and centres to patients over 60, saying that a "relatively small proportion" of it was distributed last week and they are not going to recall that.
He also said they have to make the assumption of not utilising the Johnson & Johnson supply at this point, but added this was something they expect and hope to change.
Also speaking at the briefing, HSE Chief Clinical Officer Dr Colm Henry said there has been a "sustained trend" to show that vaccination of those aged over 75 is attributable to lower cases numbers in this group.
"The average number of cases per day down further from 430 last week to 388 per day. That peaked at almost 7,000 in the middle of January, hard to believe it was that high at the time," says HSE Chief Clinical Officer Colm Henry | Read more: https://t.co/RhkJXpmkCU pic.twitter.com/cYBvp0BfPj

— RTÉ News (@rtenews) April 15, 2021
Dr Henry said the virus incidence rate is decreasing in all groups, most notably in those over 75, where they are seeing sharp falls week after week, suggesting a protective effect of the vaccine.
In relation to AstraZeneca, he said they are seeing more and more evidence of real world effectiveness of the vaccine.
Dr Henry said he believes GPs will say that "the balance of benefit weighs heavily in favour of getting the vaccine, which we know now prevents serious consequences of Covid-19".
"We know from bitter experience that risk increases sharply with age and that includes a 65 to 70-year-old. I'm sure if they go to their GP they'll get the same message."
He said people who have a history of clots are not at a greater risk from the vaccine.
"The clots that have been described here are unusual venous clots that are different from the kind of commoner clots people talk about with the history of more common strokes or common heart disease.
"There is everything to gain by getting vaccinated, particularly those with underlying health conditions."
HSE National Director Damien McCallion told the briefing that if there is good take-up of vaccines in the 60 to 69 group, they expect to have that finished by mid-to-end of May.
Mr McCallion said they could activate age groups earlier as they get through the programme, but they will monitor it as they go.
"If people don't sign up now we will pick them up at some point later if they choose to come in at a later point as well, but obviously we're encouraging everyone to register now and we'll vaccinate people as they come through within as short a time as possible."
He said the plan is that they would have completed the vast majority of the over-70s group by the end of next week.
In relation to those who have had AstraZeneca appointments cancelled, HSE's Damien McCallion says they will be prioritised as the centres start to get back up and running | https://t.co/CohOV4fmMp pic.twitter.com/PtlLmY4lPv

— RTÉ News (@rtenews) April 15, 2021
Mr McCallion said there will be a small percentage left, adding that some of that is down to early delivery delays around Moderna, but they expect that to be lower than 5%.
In relation to those who have had AstraZeneca appointments cancelled, Mr McCallion said they will be prioritised as the centres start to get back up and running.
He said they do not have an absolute end date, but it will be starting from next week and rolling forward over a number of weeks.
"They will see appointments starting to come through from next week and over a subsequent number of weeks across the country then".
Taoiseach to register on portal this month
The Taoiseach will register for a vaccine on the HSE booking system later this month, it has been confirmed.
This would put Micheál Martin on course to receive the AstraZeneca vaccine at a vaccination centre either before the end of April or early next month.
A spokesperson for Mr Martin said the Taoiseach would register on the portal when it is his turn.
Mr Martin, who is 60, will be part of the 60 to 64 age group that will register for a vaccine before the end of April.
The majority of the 400,000 people aged between 60 and 69 years are likely to get the AstraZeneca vaccine.
People who refuse vaccine offered 'go to back of queue'
Meanwhile, Minister for Foreign Affairs Simon Coveney said that people who refuse the vaccine offered to them are essentially putting themselves "to the back of the queue".
Speaking on RTÉ's Today with Claire Byrne programme, Mr Coveney said: "If you decide not to take up the vaccine that's offered to you when it's offered, well then you're essentially putting yourself to the back of the queue until everybody else gets vaccinated, which will certainly take quite some time."
Mr Coveney said the safest thing to do is take the vaccine offered.
He said the AstraZeneca vaccine is safe and particularly so "for people over the age of 60, in the context of the threats they face from Covid."
He also said that people should trust the system, because the decisions on vaccines are being made by public health experts, not by politicians.
"The safest thing to do, by far, is to ensure that when you're offered a vaccine, on the back of public health advice from experts, that you say yes to that," he said.
Additional reporting Micheál Lehane