The decision to change the roll-out of the AstraZeneca vaccine is significant and will cause some pause to the vaccination programme, according to the Covid-19 adviser for the Irish College of GPs, Dr Mary Favier.
Dr Favier, who is also a member of the National Public Health Emergency Team (NPHET) stressed that the benefits of the vaccine still outweigh the risks
She urged anyone under 60 and in a high risk category who has already received the first jab to get the second dose.
"People really need to understand that the risk of Covid is still higher than any risk of the vaccine and vaccination is so important to get us out of these restrictions," she added.
Speaking on RTÉ's Morning Ireland, Dr Favier said blood clots do not seem to appear in second doses but declare themselves in the first shot.
AstraZeneca vaccine is a very effective one in terms of Covid, she said, and side effects are very low, but more prominent in the younger age groups.
She added that Covid itself has a high risk of causing blood clotting and patients are more likely to get a blood clot on an aeroplane, or when taking the contraceptive pill for one week for the first time.
We need your consent to load this rte-player contentWe use rte-player to manage extra content that can set cookies on your device and collect data about your activity. Please review their details and accept them to load the content.Manage Preferences
---
---
Dr Favier said there is not a GP in the country not bracing themselves for the additional workload of the telephone calls because of the vaccine changes and urged people to be patient and wait for their doctor to contact them and explain what will happen next.
She also said it is highly probable that those in the 60 to 69 age group will now receive their vaccines more quickly.
Practical plan needed - McCauley
Chair of the IMO's GP committee Dr Denis McCauley said a practical plan needs to put in place to implement the clear advice from the National Immunisation Advisory Committee (NIAC) in relation to the Astrazeneca vaccine, which he said made a "safety-first" decision on the roll-out of the vaccine.
He said that for the over 60s the risks of side effects "is essentially really, really small".
Speaking on RTÉ's Today with Claire Byrne, Dr McCauley said the HSE will remodel the roll-out of the vaccine programme and while that may pause progress over the next two weeks, in the grand scheme of things it should not have an impact on the national plans, once supplies of other vaccines continue.
Dr Niamh O'Connell, a consultant haematologist at the National Coagulation Centre (NCC) in St James's Hospital, said "there is absolutely no evidence" that people who have a history of clotting are at an increased risk by receiving the AstraZeneca vaccine.
Speaking on the same programme, Dr O'Connell said the mechanism by which the rare complication associated with the vaccine is "very different" to the kinds of clots that people may have previously experienced for example after surgery or taking birth control.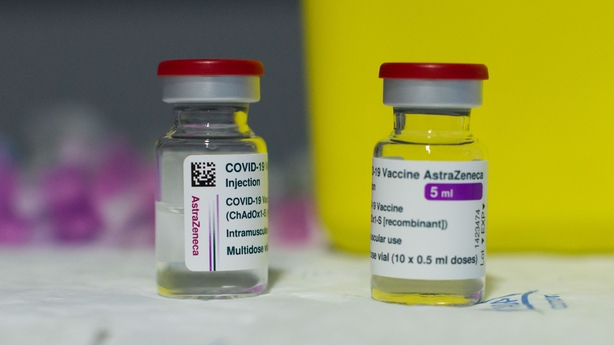 "The mechanism for this complication that has been reported is very different to the clots people may have experienced in the past, for example if they have a clot after being on the pill, after surgery or having their leg in a cast.
"These are an immune response and the antibodies that are produced activate platelets that cause a clot.
"There's absolutely no evidence of people who have a past history of clotting conditions, whether they're currently on a blood thinner or not, have any increase of this immune mediated problem. It is very different mechanism, so we would advise them all to take the vaccine that they're offered when their time comes round."
Meanwhile, Minister for Further and Higher Education Simon Harris said the "caution" demonstrated by the decision to restrict the use of the AstraZeneca vaccine "should give us greater confidence in the vaccination programme."
"I think people can have greater confidence that they know that we have public health experts who are being very, very cautious. It is that caution that can give us confidence", he said.
Minister Harris said he is "encouraged" by comments from Prof Butler and Deputy Chief Medical Officer Dr Ronan Glynn that they do not believe that the restricted use of the AstraZeneca vaccine will have a "material impact" on the number of doses expected to be administered here before the end of June.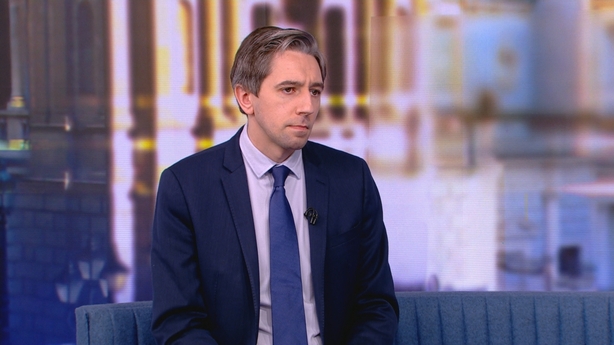 He said it is important to highlight that if AstraZeneca was the only vaccine available, the advice on the use of it would not have been changed and urged people to be reassured by having conversations with their GPs when they are called to receive their vaccine.
He said a choice of vaccine cannot be offered at this time due to the supply of vaccines available.
"I've always adopted the approach you take the medical advice from medical experts. I think that's served us well. And I think that's what we should continue to do," he said.
However, Labour leader Alan Kelly said vaccine hesitancy is a "real, real concern".
Mr Kelly said he can hardly keep up with the number of concerns he has received about the AstraZeneca vaccine since yesterday and is also concerned that there will be a stock of vaccines that people will not take.
Personally, he said, he would have no problem taking the AstraZeneca vaccine. Mr Kelly said there is an issue about reality and balance versus the use of this vaccine.
He said he believed people should take the vaccine they are given and he has sympathy for those in the HSE who are now trying reorganise the vaccine roll-out.