Irish Erasmus students working in the five EU member states currently on the Government's mandatory hotel quarantine list may not have to pay for the service.
RTÉ News understands that Minister for Further and Higher Education Simon Harris is working on an initiative whereby the Government would pick up the tab.
It is estimated that around 500 Erasmus students are affected by the introduction of quarantine here - but some may return home before it comes into operation later this week, while others could delay until the summer when rules could be different.
RTÉ News understands that the talks on the new plan are at an advanced stage, and Minister Harris could announce the details by tomorrow.
It is believed that the cost of the initiative could amount to €1 million.
Concern had been raised over the cost of mandatory hotel quarantine for Erasmus students returning to Ireland.
Several third-level institutions spoke of the financial burden the system would likely place on students returning from overseas.
Mandatory hotel quarantine costs €1,875 for a 12-night stay.
From 4am on Thursday, 71 countries will be on the list for mandatory quarantine, including five in the European Union - Austria, Belgium, France, Italy and Luxembourg.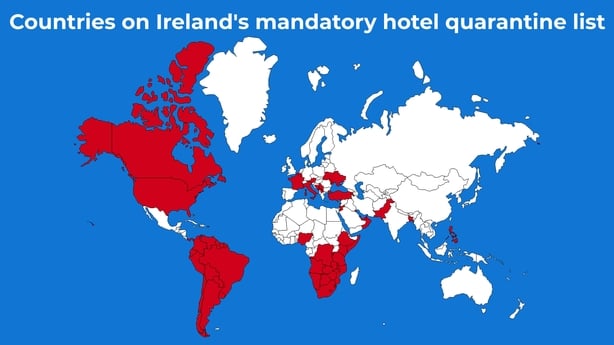 The University of Limerick said that it "currently has a small number of students studying in institutions in Austria, Belgium, France and Italy through the Erasmus programme".
In a statement, a spokesperson said the university "is working with the Higher Education Authority on how best to manage the financial implications of a hotel quarantine for these students as they return to Ireland in the coming months. We hope to have a solution in place this week".
University College Dublin has approximately 300 students studying abroad as part of the Erasmus programme.
A spokesperson said that some students have indicated to the university that they will not be able to afford a 12-night quarantine stay.
University College Cork also said that it is "conscious of the financial challenges that the quarantine system is placing on students and is working closely with the Higher Education Authority and the wider Higher Education sector in this regard. We are in regular contact with impacted students at this time".
NUI Galway said that it is "looking at various options to address the developing challenges around mandatory hotel quarantine requirements impacting the return of our mobility students".
Another worry is the impact that mandatory hotel quarantine will have on the number of international students choosing Ireland as a place to study for the next academic term.
International students are an important revenue stream for third-level institutions.
Many colleges believe it is still too early to gauge what impact the system will have come September, when the next academic term begins.
Legislation underpinning hotel quarantine was signed into law in early March and needs to be renewed every three months.
However, Technological University Dublin believes that the system is likely to affect international student numbers.
Prior to the implementation of mandatory hotel quarantine, international student numbers for this academic year at TUD were down 35%.
In a statement, TUD said: "Mandatory hotel quarantine will add an additional financial burden for international students, and we can't imagine that its introduction won't affect the numbers of international students coming to Dublin next year".
A spokesperson for UCD spoke of the highly competitive nature of the international student market.
It is predicted that approximately 30% of its international students would have to quarantine in a hotel upon arrival, under the current list of high-risk countries.
Given that many regard Dublin as an expensive city, it is feared that the added financial burden of the system might deter students from choosing Ireland as a place to study.
Speaking on RTÉ's News at One, the incoming Provost of Trinity College Dublin, Professor Linda Doyle, said that greater clarity will be a contributing factor to international students when they are making choices about where to study.
Prof Doyle said universities should "work with Government" to ensure that students from overseas will continue to see Ireland as a good place to study.