A further seven Covid-related deaths and 400 new cases of the disease have been notified to the Department of Health.
Two of the deaths reported today happened in April, two in March and three in February.
The median age of those who died was 78 years and the age range was 62 - 89 years.
To date there has been a total of 4,737 Covid-19 related deaths and 239,723 confirmed cases in Ireland.
As of 8am today, there were 226 people with Covid-19 in hospital, with 11 additional hospitalisations in the past 24 hours.
The number of people in ICU with coronavirus is down one to 55.
The 14-day incidence rate of the virus per 100,000 of the population is now 147.3. Offaly continues to have the highest rate at 346.3.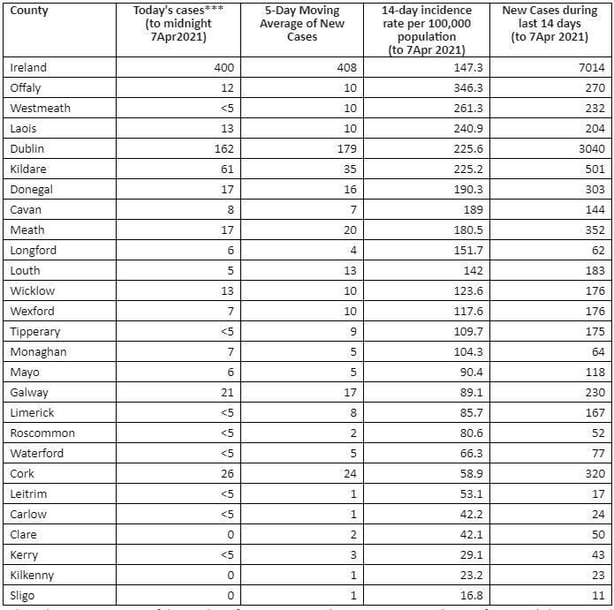 The Chief Executive of the Health Products Regulatory Authority, Dr Lorraine Nolan said a case of "special interest" in relation to blood clotting on the brain associated with the AstraZeneca vaccine had occurred.
She said the individual in question is making a recovery, adding that they are rare events.
Dr Lorraine Nolan has said there has been one case reported to the HPRA relating to blood clotting.

She said it is not clear if it meets the profile of rare blood clotting events, but said the case will 'receive utmost priority' | Live updates: https://t.co/3WgoocIrVu pic.twitter.com/KrP8bmtBxw

— RTÉ News (@rtenews) April 8, 2021
Dr Nolan said people should seek medical attention if they are feeling unwell after getting the jab.
Deputy Chief Medical Officer Dr Ronan Glynn said that while he understands there is concern about the AstraZeneca vaccine, the European Medicines Agency were very clear yesterday that the benefits still outweigh the risk.
He said the advice hasn't changed and that if you are offered any one of the vaccines you should take it.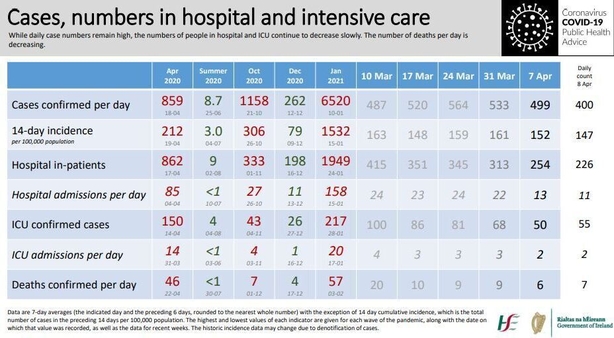 ---
Read more:
Latest coronavirus stories
---
Dr Glynn also said Ireland is "weeks away from having the population vaccinated and [we] do not want to go backwards".
He told a press briefing that he "never again" wants to recommend measures to Government that close things down.
He said outdoor dining needs to happen "as soon as possible" but "[we] are not there yet".
"It is our job to be conservative," he said, referring to NPHET. "Our job is to protect public health."
Dr Glynn said there are thousands of people waiting for hospital appointments and procedures that have been cancelled as a result of the pandemic.
"By all means accuse us of being conservative, by all means accuse us of putting public health first."
He added: "Hopefully, quite soon, we'll get to a point where the needs and the ability to facilitate reopening of much wider parts of society will be possible, but our view from a public health perspective is that we're not there yet."
Dr Glynn said he fully appreciates that this is "unbelievably frustrating" and causes anger.
He said that while he cannot begin to understand the impact that this has had on employers and businesses, their businesses have been ruined by the pandemic.
"Their businesses have not been ruined by the likes of us trying to protect public health," the Deputy Chief Medical Officer said. "Not everyone will agree with that, but that's obviously our view."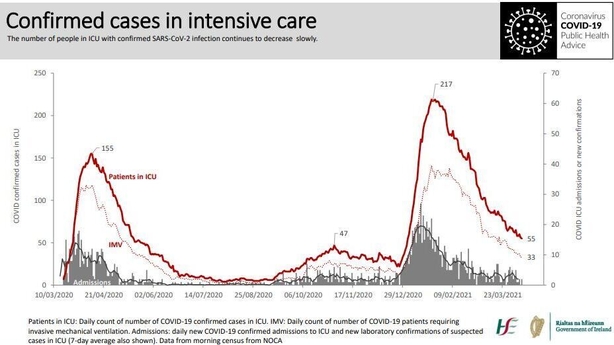 Chair of NPHET's Epidemiological Modelling Advisory Group, Professor Philip Nolan, said overall the epidemiological situation is stable, potentially improving, but quite uncertain due to the Easter weekend.
He said the weekend may have had an effect on the indicators of disease.
He said that if there were delayed presentations because of Easter they would expect to see that in recent days but they have not.
Dr Ronan Glynn said they welcome any week where there is a reduction in case numbers but he said it was not a normal week, adding that next week would tell more.
He said they needed to be careful about looking at the vaccine bonus week by week and said while there will be tangible benefits of vaccination, they have to proceed slowly.
Prof Nolan said there has been a minimal impact of reopening of schools and all of the data confirms that schools remain a low risk setting.
He said there was an increase in the number of referrals for children for testing in March, adding that this was a good thing as people were being vigilant and that it did pick up some additional disease.
Reopening schools was 'associated with a moderate and transient increase in incidence' of Covid-19 that is 'mostly explained by changes in the testing regimen', Professor Philip Nolan has said | Follow live updates: https://t.co/3WgoocIrVu pic.twitter.com/8JPwCermNR

— RTÉ News (@rtenews) April 8, 2021
He said when schools reopen it means more people return to workplaces and that this can mean an increase of the virus in workplaces.
He said the reproductive number is very close to 1 between 0.7 and 1.1 which is a "positive position to be in".
The seven-day average is just under 500 cases per day. Over the last six or seven days the number has declined rapidly, he said.
The five-day moving average is 408.
Prof Nolan said that on average there are just over 250 in hospital over last seven days, the number being admitted is an average of 13 over last seven days, 50 patients in intensive care, two admissions per day, six deaths per day on average.
He said the latter half of March was associated with an increase in vigilance, more testing because of walk in centres, and also a high degree of vigilance and attention to any symptoms in children.
The vast majority of the population are continuing to work 'very hard' to keep their close contacts down, Prof Philip Nolan has said. He said the reproduction is estimated to be 'very close to or just below 1' | Follow live updates: https://t.co/3WgoocIrVu pic.twitter.com/Sy6ijUFDki

— RTÉ News (@rtenews) April 8, 2021
He said that from mid-March testing increased to 18,000 or 19,0000 per day.
He said the positivity rate was below 2.5% recently. Prof Nolan said increased testing is picking up some more cases but in general it's driving down the positivity rate.
"This is a sign of being able to get on top of the pandemic."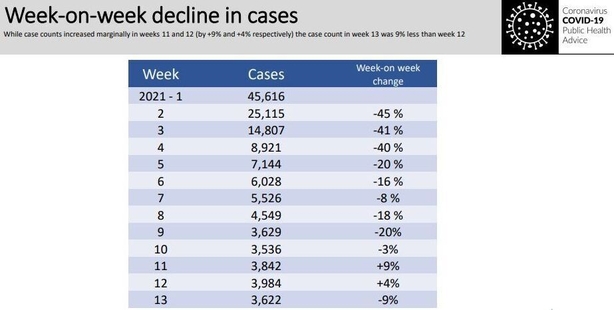 He said there is a very low incidence of infection in long term residential care settings.
He said there were 11 infections in such settings for the week ending last Saturday, adding that it was an indication of the vaccine effectiveness in that group.
He said there are very few deaths associated with outbreaks being reported in long-term residential care.
Prof Philip Nolan said it is too early for the wider vaccination programme of the over 70s to have had a significant impact on incidence of the disease in that age group.
He said we are now beginning to see the incidence go below 50 per 100 thousand people per week in the over 65s group.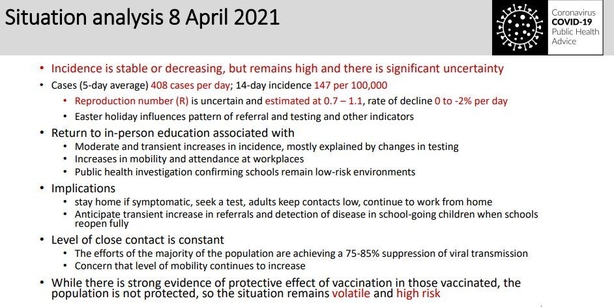 Earlier, the Health Service Executive has confirmed that the number of Covid-19 vaccines has hit the one million mark.
HSE Chief Executive Paul Reid told a press briefing this afternoon: "The good news is that the one millionth vaccine has taken place."
Minister for Health, Stephen Donnelly, said reaching one million doses was a "significant milestone on the 101st day of the programme".
He added: "We plan to administer on average one million doses a month for April, May and June. 35 of our vaccination centres are now operational."
Professor Brian MacCraith, chair of the National Immunisation Advisory Committee, said on Twitter: "Today saw important milestones in the roll-out of the Covid-19 Vaccination Programme.
"Over one million doses administered. Over 700,000 people have received dose one and over 290,000 people are fully vaccinated. Thank you to all who are working so diligently to deliver this programme."
There have now been one million doses of the Covid-19 vaccines administered in Ireland, HSE Chief Executive Paul Reid has told a briefing this afternoon | Follow live updates: https://t.co/3WgoocIrVu pic.twitter.com/C99UwJ6wtf

— RTÉ News (@rtenews) April 8, 2021
When asked when we are likely to reach 250,000 vaccines a week - to hit a target of one million vaccines per month in April, May and June - Paul Reid said it is most likely to happen "closer to the end of April or early May".
"Certainly not next week," he said. "Based on how the forecasts are looking at the minute it's a bit bumpy ... ... but again the taskforce is still trying to firm up the dates from all the suppliers."
Mr Reid said it was right that the vaccination programme was under significant public scrutiny, adding that administering vaccines out of sequence undermined public trust.
He revealed that 35 out of 38 vaccination centres are now up and running and there are 11,500 people trained as vaccinators.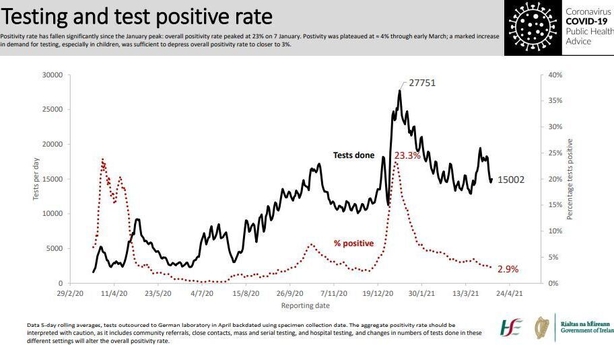 The HSE chief said the portal for members of the public aged 65 to 69 to register for the vaccine will soon go live - it was planned to commence it on 19 April but he has asked the teams involved to "see if that can be brought forward to some time next week".
Earlier, Chief Clinical Officer of the Health Service Executive Dr Colm Henry said the 14-day incidence of Covid-19 is down 18% on last week at 150.
Speaking at a HSE briefing this afternoon, Dr Henry said the number of hospital admissions per day are falling and averaging out at 13 per day, which "offers some signs of hope after a period of stagnation" in the past month or so.
Speaking at the HSE briefing, Dr Colm Henry said the 14-day-incidence is down 18% on last week at 150. | Read more: https://t.co/eyAPvkjrnW pic.twitter.com/NsklUaDpHO

— RTÉ News (@rtenews) April 8, 2021
He said schools remain low-risk settings based on the information they are getting, he added.
He said 94% of outbreaks in schools since the middle of February involved fewer than ten people and in total since the beginning of the pandemic just 2.9% of people aged 0 to 18 have tested positive for the virus here.
Dr Henry said just over 17% of people in Ireland have had their first dose compared to 14.7% across the EU.
He said there has been "a collapse" in recent weeks in hospitalisations and ICU admissions since December 2020. Today, 226 people with the virus are being treated in hospital.
Meanwhile, there have been two further deaths of people with Covid-19 in Northern Ireland, taking the official death toll there to 2,123.
Northern Ireland's Department of Health also reported another 98 new cases.
There are 102 confirmed coronavirus patients in hospital, with 12 in ICU, nine of whom are on ventilators.