France has given a first jab of a Covid-19 vaccine to 10 million people, Prime Minister Jean Castex announced
amid an acceleration in the roll-out after a sluggish start.
"It's a very good performance. France is vaccinating a lot," Mr Castex said after visiting an inoculation centre east of Paris, hailing the figure of 10 million first jabs one week ahead of a government target.
France fell behind its European neighbours after the start of vaccinations in January, but is now vaccinating on average around 200,000-300,000 people per day.
EU members have faced a shortage of doses which has been blamed on a centralised purchasing and distribution system.
---
---
French President Emmanuel Macron has compared European efforts to a "diesel engine".
"It starts slowly but it goes far," he told Greece's ERT channel last month.
The government has forecast 20 million first time jabs by mid-May and 30 million by mid-June.
New Covid case in New Zealand as it prepares travel bubble
New Zealand health officials have confirmed a fresh community case of Covid-19 in Auckland, just two days after the country celebrated its largely virus-free status by approving a travel bubble with Australia.
There was no suggestion New Zealand's largest city would again be put into lockdown or the travel bubble plan revised.
But Prime Minister Jacinda Ardern immediately announced a temporary halt to travel into the country from India, the departure point for most infected arrivals in recent weeks, shutting out New Zealand nationals for the first time since the pandemic emerged.
The new patient is a security guard at a coronavirus quarantine hotel for returning New Zealanders.
He had not been vaccinated, but his only known contact outside the hotel was a co-worker who has received two doses of the vaccine, officials said.
The case highlighted the potential fragility of the travel opening, due to start on 19 April and which Ms Ardern has cautioned could be disrupted in the event of new Covid-19 outbreaks.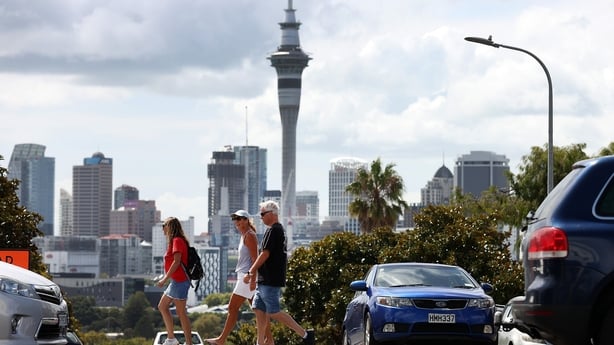 Both New Zealand and Australia have largely contained the coronavirus, with few community outbreaks in recent months which were all successfully eliminated after brief local lockdowns.
But authorities warned that future outbreaks could catch tourists on the wrong side of "the ditch", as locals call the Tasman Sea separating the neighbouring nations, potentially forcing them to undergo costly hotel quarantine on their return home.
There are currently 95 active Covid-19 cases in New Zealand - the security guard and 94 who were detected at the border - and all are housed in a special quarantine facility.
Most of the positive tests are from travellers from India who flew to New Zealand via Dubai.
Ms Ardern said the suspension of entry to New Zealand for arrivals from India would run from 11-28 April.
"During this temporary suspension the government will investigate options to manage risk," she said.
"We have never previously suspended travel to New Zealand citizens and residents and that's why I want to assure you this is not a permanent arrangement."
Venezuelan mayor marks homes of Covid patients with red symbol

A mayor in central Venezuela has begun placing red warning symbols on the homes of people with Covid-19 and also threatened to cut welfare handouts for those breaking quarantine, prompting the country's chief prosecutor to open an investigation.
"We are protecting our people," said Luis Duque, the mayor of Sucre municipality in Yaracuy state, pointing to a white paper sign on a home with a red circle and line drawn through.
"This indicates that there is a Covid case or a suspected Covid case, so the people are alert," he added in a video posted this week to his Instagram account.
Telling local radio radical measures were needed as Venezuela tackled a second wave of the coronavirus, Mr Duque said benefits including food handouts and cooking gas could be cut if people did not comply with quarantine orders.
The move by Mr Duque, a member of President Nicolas Maduro's ruling Socialist Party, brought accusations of discrimination from the country's opposition and prompted Chief Prosecutor Tarek Saab to open an investigation.
In a Twitter post, Mr Saab called the measures "segregation" and said the mayor acted unilaterally, adding that his office and the state ombudsman's office had begun removing the signs.
Venezuela is experiencing a resurgence of the virus after a first peak last August, with 1,526 new cases and 15 deaths reported on Tuesday.
Yaracuy reported 186 new cases on Tuesday, fourth among the 23 states and capital district, official data show.
Mr Duque said his municipality would also fine anyone disobeying quarantine the equivalent of €7.50, several months' worth of minimum wage salary in hyper inflationary Venezuela.
Argentina announces curfew as coronavirus cases rise

Argentina's President Alberto Fernandez has announced a three-week nighttime curfew after a second consecutive day of record coronavirus infections.
The curfew will enter into force tomorrow and apply from midnight to 6am every day until 30 April, he said in a message recorded at his official residence, where he is self-isolating after being infected with the virus himself.
It will be in force in the country's highest risk areas, mainly the urban centers, the president said.
Bars and restaurants will close at 11pm.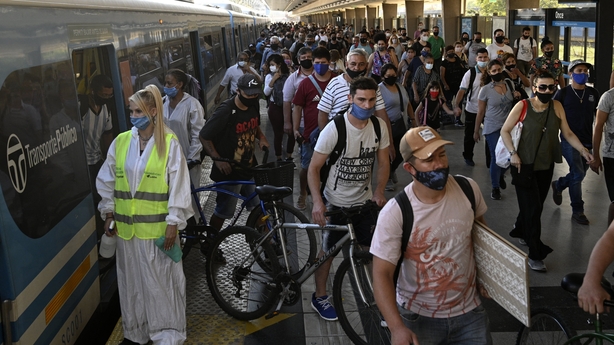 Argentina's health ministry said yesterday that a record 22,039 new infections were reported in the preceding 24 hours - up from the previous record of 20,870 the day before.
More than 13,500 of the latest cases were reported in the Buenos Aires metropolitan area - home to a third of Argentina's population of 45 million.
To date, some 4.5 million Argentinians have received at least one dose of a coronavirus vaccine, and just over 700,000 both doses.
The Pan American Health Organization said last week that Argentina is one of the 10 countries with the most new infections worldwide.
The country's borders have been closed since December, and group meetings in private homes are forbidden in the big cities.
Dance halls and gyms are also closed.
Alarm sounded over 'significant' increase in Covid cases in Michigan

Health authorities have expressed concern over rising coronavirus cases in the northern US state of Michigan despite a stepped-up vaccination campaign.
Joneigh Khaldun, the state's chief medical executive, warned on Twitter of a "significant increase" in cases.
"Our hospitalisations are going up as well. Michiganders need to double down and take the steps to help stop the spread of this virus," she said.
Michigan is seeing more Covid infections by population than any other US state and some experts have attributed the rise to spring holidays.
Rochelle Walensky, director of the US Centers for Disease Control, said her staff were "working closely" with the state of Michigan and its health officials.
"We have CDC teams on the ground working to assess outbreaks in correctional facilities," she said. "We're working to facilitate increased testing that is happening on the ground in the context of youth sports."
She said the CDC was also seeking to "understand what is happening" with Covid-19 variants.
Despite administering more than three million vaccinations a day nationally, the number of new cases has begun to rise again in the United States and there have been around 63,000 new cases a day on average during the last week.
While infections have been going up, the number of deaths has been falling thanks to increased vaccination of "vulnerable" populations, Dr Walensky said.