Minister for Transport Eamon Ryan has said that more EU countries will be added to Ireland's mandatory hotel quarantine list.
However, Minister for Health Stephen Donnelly said that the move needs to be "thought through carefully".
Speaking at Government Buildings today, Mr Ryan said he had "very good conversations" yesterday with the Taoiseach, Tánaiste and Minister Donnelly.
The Green Party leader said the coalition was "in the middle" of consultations and acting collectively, but said: "We will adjust the list."
He added: "We will put in place the necessary measures ... additional countries will be added."
When asked directly if that meant EU countries, Mr Ryan replied: "Yes."
He said this "will present a real burden, but it is a burden we will have to bear. We want to err on the side of caution."
However, the Minister for Health has said that adding a "lot of countries where we have a lot of Irish citizens" to a list for mandatory hotel quarantine needs to be "thought through carefully".
Mr Donnelly said that Government needs to make sure it gets this right.
He said his biggest priority is around variants of concern and that the Government is working to make sure that the capacity is in place.
Mr Donnelly said that protocols should be in place for the "many Irish citizens we have abroad" and that the system does what it is supposed to.
There are currently 59 countries on the list of territories deemed high risk by the Government, including EU member Austria.
There was a political row last week over a proposal from the Government's Travel Expert Advisory Group, which recommended adding the US, France, Germany and Italy to the list.
Plans to add those countries to the list were shelved, but 26 others were included.
Earlier, the Minister of State at the Department of Finance said the Department of Health should be taking the lead in relation to travel advice and countries that should be on the mandatory hotel quarantine list.
Speaking on RTÉ's Today with Philip Boucher-Hayes, Seán Fleming said people can travel thousands of kilometres to reach Ireland, but those living here are not allowed to travel beyond 5km.
"It's the issue of fairness," he said.
"This is what drives the public mad - if people cannot go to a local funeral but people can come in for holidays and non-essential travel from countries where the incidence of Covid is very high."
Mr Fleming said those who are doing the right thing need to see that the Government is also doing the right thing.
There must be one rule for everybody, he said.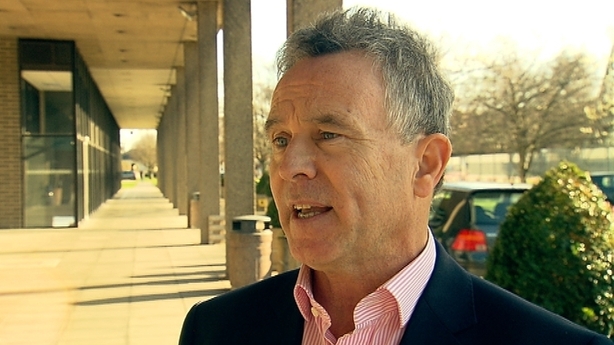 "We can't have different travel rules depending on where you are coming from. This must go beyond individual country boundaries."
He said there "may be scope" to refine the quarantine process, and suggested that a period of mandatory quarantine could be reduced to ten days, subject to public health advice.
"This continuing 'will we, won't we' delay and dither about putting in place public health measures to protect the population is really bad for the health of the population, but it's also extraordinarily bad for the economy."
Speaking on the same programme, Dr Gabriel Scally, President of Epidemiology and Public Health at the Royal Society of Medicine in London, said the only sensible thing to do is to quarantine everyone who enters the country.
Dr Scally said he is amazed that there is even a discussion on whether people should isolate or not, depending on where their passport was issued.
There are now variants of Covid-19 around the world that are "extraordinarily dangerous", he said, and would set things back enormously if allowed enter the country.
---
Read more:
Three people who absconded from hotel quarantine agree to return
Talks on extending mandatory quarantine list to take place
Latest coronavirus stories
---
Sinn Féin's Eoin Ó Broin has suggested the Government is heading down a "dangerous path" by its slow implementation of public health advice when it comes to mandatory hotel quarantine.
Speaking at Leinster House, he maintained the Government needs to "get its act together".
Mr Ó Broin said he could not understand why there was such a difficultly in adding Germany and France to the list of countries requiring quarantine, when another EU member state - Austria - was already on it.
He repeated his party's call for mandatory hotel quarantine for all non-essential arrivals into Ireland's ports and airports.
The Dublin Mid-West TD, who is also the party's housing spokesperson, called on the Government to extend the ban on evictions and prevent rent increases for the duration of the pandemic.
He claimed it was "disingenuous" for the Government to claim it would lift the ban on evictions next week in order to protect landlords from tenants who were engaging in anti-social behaviour.
Additional reporting Laura Hogan