The Irish Council for Civil Liberties said that a digital certificate for Covid-19 vaccination cannot and should not lead to any type of discrimination.
Speaking on RTÉ's Drivetime, ICCL Executive Director Liam Herrick said that anything that allows discrimination in terms of access to goods and services, or employment "raises an obvious question ... discrimination".
"It also puts people in a position of being forced indirectly to take a vaccine, which raises questions of bodily integrity and the principle of consent to the vaccine programme."
Adrian Cummins, CEO of the Restaurants Association of Ireland, said he would welcome discussion with the Government on the matter of so-called green passes, which could allow fully vaccinated people greater freedoms if introduced.
Speaking on RTÉ's Drivetime, Mr Cummins said there are "pitfalls" to digital green certificate passes as he said it would create a "two-tier system".
He also questioned how it could be policed.
Mr Cummins said the "most important" date for those in his industry is "when can hospitality reopen indoors".
Meanwhile, the Irish Small and Medium Enterprises Association has expressed concern about what it calls coordinated threats from a number of unions to "explore any and all options, up to and including industrial action" as a result of the NIAC policy advice to prioritise vaccine delivery on an age-related basis.
ISME CEO Neil McDonnell said that teachers' unions were "not hearing anything from their members that we wouldn't be hearing from various trade groupings that are also looking to go up the vaccine queue".
ISME has confirmed that it has "politely refused to entertain such requests".
In a statement it added that "to do otherwise would open a free-for-all, where Government is forced to deal with the loudest, most threatening groups, rather than those presenting the greatest clinical need".
"While the latest NIAC advice to prioritise vaccination on an age basis may be imperfect and blunt, it is also objectively fair, it deals with the most at-risk citizens first, and it is least prone to circumvention," it added.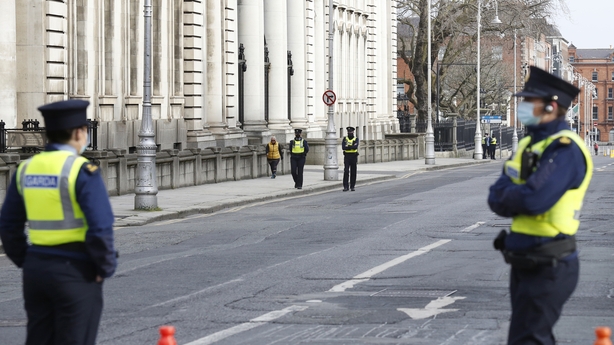 The Association of Garda Sergeants and Inspectors has said it needs more information from the National Immunisation Advisory Committee about the Covid-19 risks faced by gardaí.
General Secretary of the AGSI, Antoinette Cunningham, was speaking on RTÉ's Drivetime after tweeting last night that "up to 7 Gardai have to self isolate from this evening due to dealing with an incident relating to Mandatory Hotel Quarantining … this places them & their families in a stressful & unacceptable situation".
She added that "not vaccinating gardaí is wrong".
She said she understands the rationale behind the decision to prioritise vaccination based on age, but she said her organisation needs to understand the risks of exposure and transmissibility of the virus in relation to working members of the force.
"We understand the rationale from NIAC that age is the strongest predictor of whether a person who contracts Covid-19 would be admitted for hospital, an ICU, or they could die. What we're interested in asking Ronan Glynn tomorrow is fundamentally what NIAC have said about certain professions, like gardaí."
She asked: "Are these professions at higher risk of being exposed to the virus, catching the virus or transmitting the virus?"
Ms Cunningham said that gardaí "have no choice" but to "go from Covid call to Covid call" and questioned: "Are we super spreaders? Are we transmitting the disease?"
She said there "has been no reaction from Government" in relation to gardaí being in "completely unavoidable, often confrontational" situations, "with no choice but to enter into high risk Covid-19 environments".