Scientists studying Covid-19 agree that catching the virus outside is much more difficult than indoors.
The virus is typically spread when tiny particles from an infected person are transmitted to another, but that becomes harder in outdoor settings.
Experts say an easy way to understands how the aerosols and droplets carrying the virus behave is to compare it to cigarette smoke.
Inside, the smoke lingers and hangs in the air, but outside, it can quickly disperse.
"What Covid likes is dark, cold environments, indoors where there is no UV light," said Nicola Fletcher, assistant professor at UCD's School of Veterinary Medicine.
"Outdoors there's greater air movement, so you have greater turnover of air, so less virus is able to linger over periods of time," she added.
Assistant Professor of Virology at Trinity College Dublin Kim Roberts agrees and said the transmission of Covid-19 is more difficult outdoors because of various factors.
"There's a lot more fresh air, there's movement of air, so you get much greater dispersal of any respiratory droplets that you're generating as you're breathing, talking, shouting.
"Also when those droplets leave you they tend to shrink, they dry up and that helps to deactivate the virus," Dr Roberts said.
The UV light from the sun also helps.
"So all of these things are helping to destroy the virus and stop it from being infectious before it's got a chance to infect someone else."
Dr Roberts said that indoors, if there is poor ventilation, the virus can accumulate in that space, and there is a greater chance of it travelling over two metres.
We need your consent to load this rte-player contentWe use rte-player to manage extra content that can set cookies on your device and collect data about your activity. Please review their details and accept them to load the content.Manage Preferences
---
Read more: Latest coroanvirus stories
---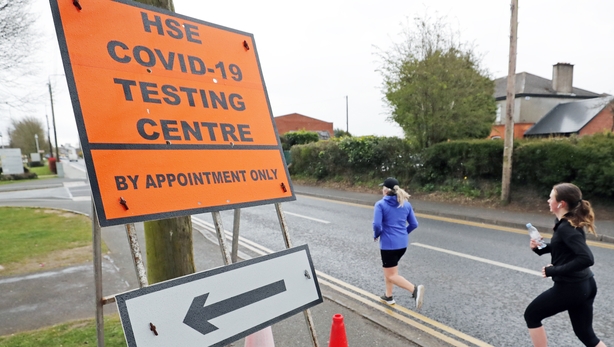 Scientists say surfaces such as park benches are also less of a transmission route; likewise picking it up from a passing jogger, although it is best to avoid their slipstream.
"When you're walking down the street the interaction time between different people will be quite short," said Dr Roberts.
"If a jogger is running past you, the time that you're in the same space is quite short, but if you're jogging as a group or behind somebody then there's a risk there," she said.
On picking up the virus from surfaces, she said: "We think while it's possible (to pick the virus up), it seems to be a minor transmission route.
"It has been reported, but we think that it's not a major route of transmission, especially outside. The virus particles tends to dry out more quickly and that inactivates the virus as does the sunlight."
But, she said, bring hand sanitiser with you - just in case.
"We need to use every tool we possibly have for reducing transmission,' said Dr Roberts, "and being outside in the fresh air is a fantastic way of reducing that transmission. But that doesn't have as much of an effect on the close range transmission so wearing a face covering and keeping the 2m apart is really helpful."
So as more people head outside, the advice is to keep your 2m distance, bring hand sanitiser and wear a face covering in crowded places.