Brazil has registered more than 4,000 Covid-19 deaths in 24 hours for the first time, the health ministry said, as the country reeled from a surge of infections that has made it the current epicentre of the pandemic.
The coronavirus claimed 4,195 lives in the deadliest day of the pandemic yet for the hard-hit country, whose total reported death toll is now nearly 337,000, second only to the United States.
Brazil's health system is buckling under the strain of the latest wave, which has forced doctors into agonising decisions over which patients to give life-saving care and led cemeteries to hold nighttime burials to deal with the crush of coffins.
"We're in a dreadful situation, and we're not seeing effective measures by either state or federal governments" to respond, said epidemiologist Ethel Maciel of Espirito Santo Federal University.
"At the rate we're vaccinating - 10% of the population (with a first dose) so far - the only way to slow the extremely fast spread of the virus is an effective lockdown for at least 20 days," she said.
"Unfortunately, politics has brought us where we are today: This enormous number of people who have lost their lives. Very sad."
The health crisis appears to be turning into a political one for President Jair Bolsonaro, who long flouted expert advice on containing the pandemic and now faces mounting pressure - including from allies in Congress and the business sector - to bring the situation under control.
The country of 212 million people has registered an average of 2,757 Covid-19 deaths per day over the past week, the highest by far worldwide.
It has recorded 160 deaths per 100,000 people, behind countries such as the Czech Republic (254) and the UK (187) but still one of the 10 highest rates in the world.
Intensive care units are currently more than 90% full in 18 of Brazil's 27 states, according to public health institute Fiocruz. All but two of the rest are in the "critical alert zone" of more than 80% occupancy, it said.
Experts say the surge is partly caused by a local variant of the virus known as P1 that can reinfect people who have had the original strain and is believed to be more contagious.
The government has meanwhile struggled to secure enough vaccines, at times forcing authorities to suspend immunisation drives in some areas.
---
---
Inequitable global vaccinations 'a travesty', WHO chief says
It is a travesty that some countries still have not had enough access to vaccines to begin inoculating health workers and the most vulnerable people against Covid-19, the head of the World Health Organization has said.
"Scaling up production and equitable distribution remains the major barrier to ending the acute stage of the Covid-19 pandemic," WHO Director-General Tedros Adhanom Ghebreyesus told a news conference.
"It's a travesty that in some countries health workers and those at-risk groups remain completely unvaccinated."
President of Namibia, Hage Geingob, one of several world leaders invited to address the WHO news conference for World Health Day, decried "vaccine apartheid", under which some countries were forced to wait while others received doses.
Mr Geingob said Namibia had received vaccines from "our friends" India and China, but was still waiting for other vaccines despite having paid a deposit for them.
Mr Tedros said Namibia would receive some vaccines from the WHO co-led COVAX programme in around two weeks.
It comes as coronavirus-related deaths worldwide have crossed 3 million, according to a Reuters tally, as the latest global resurgence of Covid-19 infections is challenging vaccination efforts across the globe.
Worldwide virus deaths are rising once again, especially in Brazil and India.
Health officials blame more infectious variants that were first detected in the UK and South Africa, along with public fatigue with lockdowns and other restrictions.
According to a Reuters tally, it took more than a year for the global coronavirus death toll to reach 2 million.
The next 1 million deaths were added in about three months.
Brazil is leading the world in the daily average number of new deaths reported and accounts for one in every four deaths worldwide each day, according to a Reuters analysis.
The WHO acknowledged the nation's dire condition due to coronavirus, saying the country is in a very critical condition with an overwhelmed healthcare system.
"Indeed there is a very serious situation going on in Brazil right now, where we have a number of states in critical condition," WHO epidemiologist Maria Van Kerkhove told a briefing last Thursday.
She said that many hospital intensive care units are more than 90% full.
India reported a record rise in Covid-19 infections yesterday, becoming the second nation after the US to post more than 100,000 new cases in a day.
India's worst-affected state, Maharashtra, began shutting shopping malls, cinemas, bars, restaurants, and places of worship, as hospitals are being overrun by patients.
The European region, which includes 51 countries, has the highest total number of deaths at nearly 1.1 million.
Five European countries including the UK, Russia, France, Italy and Germany constitute about 60% of Europe's total coronavirus-related deaths.
The US has the highest number of deaths of any country in the world at 555,000 and accounts for about 19% of all deaths due to Covid-19 globally.
Cases have risen for the last three weeks but health officials believe the nation's rapid vaccination campaign may prevent a rise in deaths. A third of the population has received at least one dose of a vaccine.
At least 370.3 million people or nearly 4.75% of the global population had received a single dose of Covid-19 vaccine by Sunday, according to latest figures from research and data provider firm Our World in Data.
However, the WHO is urging countries to donate more doses of approved Covid-19 vaccines to help meet vaccination targets for the most vulnerable in poorer countries.
WHO concern over vaccine passports
Meanwhile, Dr Mike Ryan from the WHO said so-called vaccine passports could affect fairness across the globe.
He told a briefing: "We already have a huge issue with vaccine equity in the world.
"The imposition of requirements for certification of vaccination before travel could introduce another layer of such inequity. If you don't have access to a vaccine in a country then you effectively become isolated as a country as vaccine passports kick in.
"So there are many, many, many issues. Currently WHO, through the emergency committee of the international health regulations, have temporary recommendations to the director general that proof of vaccination should not be a requirement, be required for the purposes of international travel."
He said the committee will be meeting again on 15 April, adding "and I'm sure that recommendation will be under consideration".
Dr Ryan said while the WHO supports such certification within the health system as a record of having had a jab, it is different to having a requirement beyond that to access spaces such as work and school or for travel.
He said: "That's a different consideration to what those certificates are used for outside the health space - and that would be health certification of vaccination being used to attend work, to attend school, to attend events, to travel nationally or internationally. They're not necessarily related to the health of the individual but to other factors.
"And this is a complex issue. It has both considerations around how such certification could be utilised to reduce transmission but also around knowledge around the impact of vaccination itself and the way in which vaccination may or may not prevent transmission, and there are ethical issues here, regarding equity."
EU says on track for late summer 'community immunity'
The European Commission believes Europe is on track to achieve "community immunity" to Covid-19 by late summer thanks to accelerated vaccination dose deliveries, a spokesman said today.
The EU should meet its mid-September target of fully inoculating most of its adult population, given that deliveries over the next three months should be more than triple those of the first quarter, Stefan de Keersmaecker told journalists.
"We believe that, on the basis of this, we will have enough doses of the vaccine to reach our very important target of about 70% of the adult population," he said.
"That would leave us in a situation where we have sufficient community immunity to fight the virus."
He confirmed commission figures showing that first quarter vaccine deliveries to the 27-nation bloc amounted to 107 million doses - far below what was expected.
But there should be "about 300 to 360 million doses" supplied between now and the end of June. The EU has a total population of 450 million, of which 365 million are adults.
To reach the 70% adult population target, 255 million people would need to be fully vaccinated - meaning two jabs in most cases, or just one jab with the Janssen vaccine produced by Johnson & Johnson.
According to a confidential document used by EU diplomats to monitor vaccine deliveries, seen by AFP, 23 of the 27 member states should have vaccinated more than half of their populations based on total deliveries in the first half of this year.
UK's vaccine minister says supply challenging but targets will be met
The UK's Covid-19 vaccine programme is challenging due to supply constraints but is set to meet its targets, the minister responsible for rolling out the shots said, adding that 12 million second doses would be distributed this month.
"Supply is always challenging and supply is finite as you're seeing around the world. But I'm confident ... that we'll meet our targets," Nadhim Zahawi said.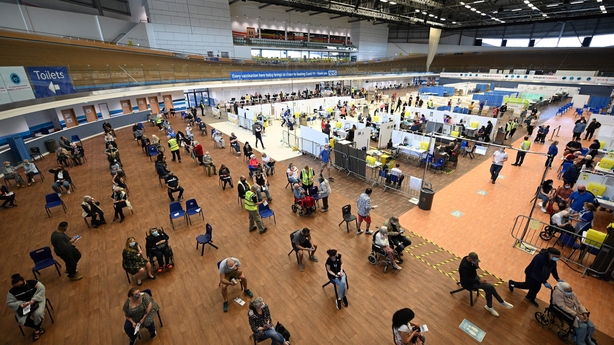 He also said that any Covid-19 status certification scheme that the UK adopts has to be workable and must not discriminate against people who are not vaccinated.
"Everyone can get a test. There is no discrimination. Not everyone can get a vaccine ... which is why we've got to look at all the technologies to make sure they work together," he said.
Mr Zahawi said Britain will begin the roll-out of Moderna's Covid-19 vaccine in mid-April.
Meanwhile, Prime Minister Boris Johnson said he wanted a testing regime for international travel to be easy and cheap, hinting that rapid tests could be used after criticism from the airline industry that current requirements were onerous.
The boss of EasyJet Johan Lundgren has criticised some of the UK government's plans to restart travel, questioning the role of testing.
Asked about Mr Lundgren's comments and asked if rapid lateral tests could replace PCR tests in the requirements for travellers, Mr Johnson said: "I do think we want to make things as easy as we possibly can ... the boss of EasyJet is right to focus on this issue, we're going to see what we can do to make things as flexible and as affordable as possible.
"I do want to see international travel start up again. We have to be realistic ... we can't do it immediately. But that doesn't mean that we've given up on May 17."
German CDU chairman calls for tougher lockdown for 2-3 weeks
Germany should impose tougher lockdown measures for two to three weeks to bridge the gap until a greater share of the population is vaccinated, the chairman of Chancellor Angela Merkel's Christian Democrats (CDU) said.
Armin Laschet said "another effort" was needed to try to reduce the incidence of the virus to below 100 cases per 100,000 in which compulsory testing, digital contact tracing and model projects to reopen the economy would then be possible.
"Then we can enter the new period where we can carefully reopen," Mr Laschet, who is premier of Germany's most populous state of North Rhine-Westphalia, told ZDF television.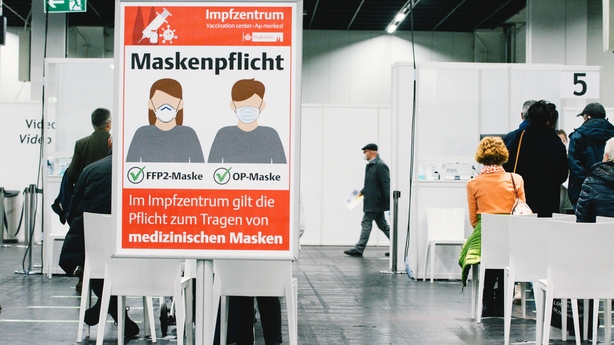 He did not elaborate on which specific measures should betaken in the three-week period.
Yesterday, he called for fewer private contacts, which could require curfews at night, and for more people to work from home.
Germany, despite months of restrictions, has seen a rise in infections as it lags Britain, Israel and the US in the pace of vaccinations.
It reported 6,885 new confirmed coronavirus cases within 24 hours, data from the Robert Koch Institute (RKI) for infectious diseases showed today.
The incidence of the virus per 100,000 fell to 123 from 128 yesterday.
The RKI noted, however, that the number of reported cases may be lower as less testing was carried out over the Easter holiday.
Stade de France turned into giant 'vaccinodrome'
France has converted its biggest stadium, the Stade de France, into a giant vaccination centre as the government scrambles to keep its promise of a giant leap forward in administering Covid-19 jabs.
Built for the 1998 football World Cup, the stadium on the northern outskirts of Paris has a seating capacity of over 80,000.
It is usually reserved for big sports events such as international football and rugby matches or major pop concerts.
But from early this morning people were queuing to get an injection in the latest, and biggest, of France's stadiums to be converted for coronavirus inoculations, which have been dubbed "vaccinodromes".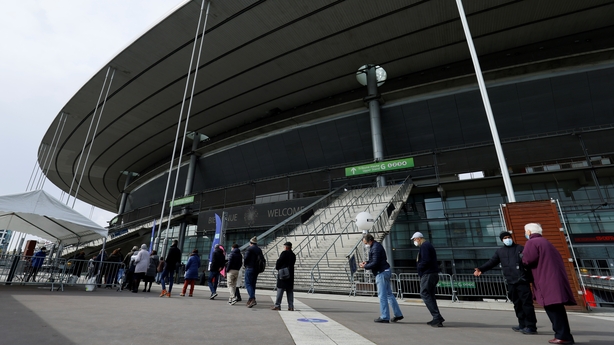 In March, the southern city of Marseille opened its velodrome for vaccinations, and Lyon followed suit last week, making available its Groupama Stadium, which reported 10,000 vaccinations over the Easter weekend alone.
The Stade de France, in stark contrast to the showy events that usually take place there, is located in the nation's poorest area.
The department of Seine-Saint-Denis has been exceptionally hard hit by Covid-19, recording 800 cases for every 100,000 inhabitants, more than three times the emergency threshold.
In the short term, health authorities are aiming for 10,000 jabs per week in the stadium.
France is experiencing a third wave of the coronavirus pandemic, with intensive care admissions rising past the worst levels seen in the second wave in November 2020.
In response, the government has extended regional measures, including a nightly curfew and travel restrictions, to the entire country, and shut schools.
President Emmanuel Macron has promised a sharp acceleration of the vaccination drive, aiming for a total of 20 million inoculations by mid-May for the nation of 67 million, and 30 million by mid-June.