The Covid vaccine programme will not be withdrawn from the Beacon Hospital, according to Minister for Health Stephen Donnelly.
It follows confirmation by the private Dublin hospital that it administered 20 leftover Covid-19 vaccines to a number of teachers at St Gerard's School in Bray earlier this week.
Mr Donnelly told RTÉ's Six One News that the Beacon will not be pulled from the vaccination programme as it is an important part of the roll-out in Dublin and the hospital was doing so at its own cost.
"Stopping vaccines [there] would send a clear signal. But ultimately we would be cutting off our nose to spite our face."
He said what happened was "completely unacceptable". Asked if there would be consequences, the minister said he had instructed the HSE to "appoint a HSE lead over the situation in the Beacon".
A statement from the HSE said: "The HSE has assigned a senior official to work with the Beacon Hospital on a daily basis to ensure that all appropriate HSE guidance and operational standards are maintained at the Covid Vaccination Centre."
Labour Senator Rebecca Moynihan raised the issue this afternoon in the Seanad. She said: "I have no objection to teachers being vaccinated, but the special picking of that particular private school that the CEO's kids attended is a disgrace.
"It is disgusting, it is immoral and it is anti-social. Vaccines should be based on need and risk and not who knows who."
The hospital has also said tonight that, in keeping with the zero wastage policy, vaccines were administered to childcare providers located on the Beacon Medical Campus earlier this month.
It said these workers deliver an essential service to frontline healthcare workers.
Earlier, Mr Donnelly said in a post on Twitter that "no private school should have received vaccines from a private hospital".
He said protocols are in place for hospitals to have a back-up list of people in priority groups and that those protocols were "crystal clear".
"We are prioritising our most vulnerable right now, as it should be," he said.
The Minister for Health has said "no private school should have received vaccines from a private hospital". It comes after the Beacon Hospital confirmed it administered 20 leftover Covid vaccines to a number of teachers at St Gerard's School in Bray | https://t.co/QdRKDW2uUz pic.twitter.com/iCe1xAFkDq

— RTÉ News (@rtenews) March 26, 2021
Earlier, the Beacon Hospital apologised for the upset caused by the move, acknowledging that "the decision was not in line with the sequencing guidelines in place from the HSE".
St Gerard's School in Bray said it would not be making any comment on the matter.
The vaccinations, first reported by the Irish Daily Mail, saw 20 leftover AstraZeneca vaccines needing to be used within "a very short period of time" last Tuesday evening.
The hospital said that given it was the AstraZeneca vaccine, there "were limitations as to who this could be administered to".
HSE Chief Executive Paul Reid said it is "extremely annoying and frustrating" for the public and for the HSE when incidents like this happen.
Mr Reid said the HSE expects everyone to comply with vaccine guidelines, adding that there is very clear guidance on this.
He said: "It is hard for us to reach out and be over all the vaccination processes going on but there are very clearly guidelines going out and we cannot condone when something like this happens."
Mr Reid said there were clear guidelines on a regular basis that there can be no ambiguity around how you arrange vaccine clinics and how back-up lists should be organised in advance.
"We really do expect all services to comply with this. We understand when they are opened there is a period of time where the seal is broken it must be utilised.
"But it should be planned in terms of coming to the final stages of the day of how many to open and knowing you have a back-up list which would be in line with our sequencing protocols," he said.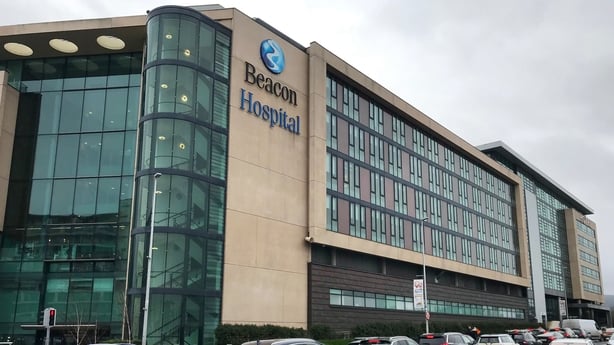 Teachers are listed in Cohort 11 of the vaccine roll-out programme, while the programme is currently in the process of vaccinating Cohort 4.
The hospital said that on Tuesday, there were "over 200 HSE no shows" to scheduled vaccine appointments, as a result of people being double booked at the Aviva Stadium.
"Beacon Hospital immediately liaised with the HSE, and the majority of these excess vaccines were subsequently used for HSE staff who were redirected to Beacon Hospital throughout the afternoon," the hospital said.
Statement from Beacon Hospital re: Daily Mail vaccine 💉 story @rtenews pic.twitter.com/nA4JT1OWs2

— Sharon Lynch (@sharonmlynch) March 26, 2021
"In keeping with the zero-wastage policy, a decision was made to administer the left-over vaccine to teachers who were in a position to get to the Centre within the exceptionally short timeframe required," it added.
Beacon Hospital Chief Executive Michael Cullen said he recognised the decision made "was not in line with the sequencing guidelines in place from the HSE.
"However it was made under time pressure and with a view to ensuring that the vaccine did not go to waste.
"I sincerely apologise for the upset that this decision has caused and we are updating our approach to our back up list to ensure that this situation does not arise again."
Social Democrats co-leader Róisín Shortall commented: "It undermines confidence in the entire vaccination roll-out and is extremely disappointing, especially for our older people and those at high-risk."
We need your consent to load this rte-player contentWe use rte-player to manage extra content that can set cookies on your device and collect data about your activity. Please review their details and accept them to load the content.Manage Preferences
Actions of the hospital were 'completely unacceptable'
The Sinn Féin Leader, Mary Lou McDonald, described the actions of the Beacon Hospital, in administering leftover vaccines to teachers, as completely unacceptable. 
Deputy McDonald said that there is a need to get "absolute clarity about the oversight of this whole process". 
She said that this story has added another layer of confusion to a vaccine rollout that she described as "very slow". 
Ms McDonald said that there would have to be sanctions where regulations are found to have been breached. 
She said that the CEO of the Beacon Hospital needs "to be taken to task and held to account" over what happened. 
Ms McDonald said that Minister Donnelly needs to reassure people that regulations around the vaccine rollout are being adhered to and enforced, and where they are not being enforced, that there are consequences. 
The Fine Gael TD for Dublin Rathdown, Neale Richmond, said there must now be "substantial consequences" for the Beacon Hospital.  
Deputy Richmond said the vaccines in question were not private property, but State property.
He told RTÉ News that there are a number of GP practices, two primary care centres and three Deis schools within a couple of kilometres of the Beacon Hospital - which is in his constituency.
He called for greater transparency around what happened: "The HSE needs to deal with what is a private company but one that is contracted by the HSE," he said.
Meanwhile, the Fine Gael Senator, Regina Doherty, told the Seanad: "The misuse and abuse of trust that was displayed yesterday. And the 'sorry-not-sorry' response that was given this morning is an absolute disgrace."  
Referring to an earlier incident at the Coombe Hospital, she said: "This is not the first time this has happened, it's the second. And I believe the reason it's the second is because there was no retribution for the first time it happened - we are still investigating it." 
Sinn Féin TD for Wicklow John Brady has called for an investigation, saying that "the incident between two private institutions, 13km apart, smacked of the well-heeled looking after the well-heeled".
He added: "It is beyond shocking for any hospital or any facility to be distributing the vaccine without adhering to the strict guidelines that have been laid down by the HSE.
📻 Minister for Justice @HMcEntee tells Claire Byrne the vaccination sequencing is "there for a reason", and "when people start moving outside of that, people lose faith in the system itself - I'm frustrated to hear it's happening still"#TodayCB @RTERadio1

— Today with Claire Byrne (@TodaywithClaire) March 26, 2021
Minister for Justice Helen McEntee said there is a very clear protocol in place regarding the vaccination programme and there should not be a situation where people "at random" are given one.
Speaking on RTÉ's Today with Claire Byrne, Ms McEntee said she was frustrated to hear that this is happening.
She said the vaccination categorisation is there for a reason and it is about working through that list and having people on standby as you move down the list.
"There should not be a situation where random people or a decision is taken to go outside that list," she said.
Ms McEntee said the protocols have been stressed multiple times adding that any deviation outside the list is a matter for the CEO of HSE or those managing the hospital groups to decide what happens.
She said it has left people feeling frustrated and losing faith in the system.
"Really difficult for people to understand"
Aoife Stokes, whose 64-year-old mother is in Category 4 of the vaccine priority list and is also a patient at the Beacon Hospital undergoing cancer treatment, said she is "absolutely livid".
Speaking on the same programme, she said it is "absolutely shocking" that given previous similar incidences, people like her mother were not considered for a standby list.
She said they live closer to the Beacon than where the St Gerard's school is located in Bray.
"It's just really difficult for people like us to understand," Ms Stokes said.
"I'm sure the Beacon have all the information about who lives close by and who could potentially be called on at short notice to come in for the vaccine, and yet we can't even get an answer from the Beacon or the HSE as to when she or her cohort will be receiving the vaccine."
She said she has contacted her mother's GP about getting a vaccine and was told that it is the responsibility of the hospital where she is being treated to administer a Category 4 vaccine.
Ms Stokes said she then called the Beacon and was told that it was waiting to hear from the HSE about the vaccinations.
"My mother called the HSE again yesterday wondering when would the Beacon be getting that information or what would be happening, and the woman she spoke to in the HSE told her would she consider calling an out-of-hours GP."
Ms Stokes said they live 10-15 minutes away from the Beacon Hospital and it is "very difficult to understand" how a hospital looking after patients like her mother does not include them on a standby list when they are in an active category.
She said there is "no way to find out" when her mother is due to receive the vaccine.
Her mother is not looking for any special treatment and does not want to skip the queue, Ms Stokes said, but she "cannot understand" how people like her mother under the care of the Beacon were not seen as more of a priority or put on a standby list.
"She is really, really angry at how difficult it has been to get answers," Ms Stokes said. "And then to see what's going on ... it's very hard."
Additional reporting: Mary Regan, Tommy Meskill