Brazil's death toll in the coronavirus pandemic has reached over 300,000 as a deadly surge that has pushed hospitals to the brink made it the second country after the United States to pass the bleak milestone.
A total of 300,685 people in Brazil have now died of Covid-19, the health ministry said, as the country struggles to deal with a big rise in the number of cases blamed on a local variant of the virus that is believed to be more contagious.
Brazil currently has the highest daily death toll in the pandemic by far. It has more than tripled since the start of the year, to an average of 2,273 for the past week.
President Jair Bolsonaro announced the launch of a crisis committee to deal with the pandemic, a change of course amid mounting pressure over a situation he has repeatedly minimised.
The far-right president vowed no one would "politicise" the pandemic, after a meeting with the heads of both houses of Congress, the chief justice of the Supreme Court, the central bank chief, most of his cabinet and six of Brazil's 27 governors.
"The prevailing sentiment was solidarity and the commitment to minimise the effects of the pandemic," Mr Bolsonaro said.
He said the group had agreed to create a coordinating council with Brazil's 27 governors, led by Senate speaker Rodrigo Pacheco.
Mr Bolsonaro himself will convene a crisis committee that will meet weekly, he said.
India's daily virus cases cross 50,000 on lockdown anniversary
India recorded more than 50,000 new coronavirus cases today for the first time since November as a new wave of infections takes hold a year after one of the world's tightest Covid-19 lockdowns was imposed.
The government and Indian vaccine giant the Serum Institute, meanwhile, declined to comment on reports that New Delhi is restricting exports to prioritise domestic needs for its faltering inoculation drive.
Health ministry data shows almost 54,000 new infections in the past 24 hours in the country of 1.3 billion people.
India's strict lockdown has been steadily eased over the past year and in recent months most activity, including weddings, religious festivals and some cricket matches, returned to normal.
Now many regions are reimposing curbs, particularly in the hard-hit western state of Maharashtra where officials have launched random virus checks in crowded areas in the local capital Mumbai.
---
---
German Covid cases jump by most since early January
The number of new confirmed coronavirus cases in Germany jumped today by 22,657 to 2.713 million, the biggest increase since 9 January as Chancellor Angela Merkel's government struggles to agree measures to contain the third wave of the pandemic.
The reported death toll rose by 228 to 75,440, data from the Robert Koch Institute for infectious diseases showed.
The number of cases per 100,000 in the last seven days, which the German government has used as a key metric to decide on lockdown steps, rose to 113 from 108 yesterday.
Mrs Merkel has rejected demands for a vote of confidence in her government over a U-turn on a circuit-breaker lockdown over Easter that compounded discontent with her handling of the pandemic.
The Social Democrats (SPD), the junior coalition partners in the conservative-led coalition, pledged their support for the chancellor.
The southwestern state of Saarland will become the first in Germany to lift its virus shutdown from 6 April, with leisure, sports and entertainment facilities to be allowed to reopen, state premier Tobias Hans said today.
Cinemas, theatres, concert halls, outdoor dining and gyms will be reopened and gatherings of up to 10 people will be allowed in public after Easter, he told a press conference.
People who visit them will have to abide by hygiene rules and present a negative antigen rapid test, Mr Hans added.
Shops reopened earlier this month in the region bordering France and Luxembourg.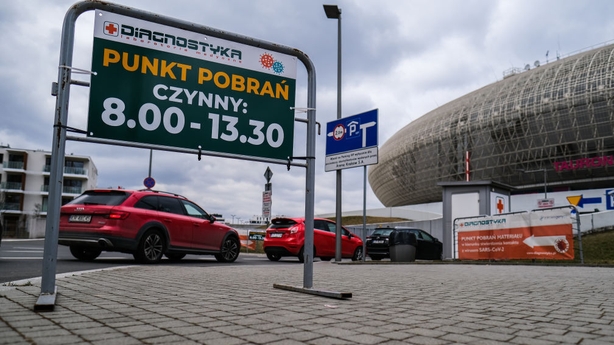 In Poland, day-care services for children, large furniture shops and hairdressers will be closed and the numbers allowed to attend church gatherings and sports centres will be restricted from Saturday, according to Health Minister Adam Niedzielski.
Poland reported a record daily tally of over 34,000 new Covid-19 infections today.
Prime Minister Mateusz Morawiecki said the government did not rule out further measures if the situation worsens, adding that additional restrictions could be imposed on Poland's southern border.
Half of Israelis fully vaccinated, Palestinians lag
More than half of Israel's 9.2 million people have received both doses of the Pfizer/BioNTech vaccine against Covid-19, the health ministry has said.
With more than 4.6 million residents vaccinated, the country continues its world-beating campaign that sent infection rates plummeting and allowed for some limited loosening of restrictions.
Israel has had three lockdowns and 6,157 deaths from the pandemic. Public frustration grew at the uneven enforcement of health restrictions among the ultra-Orthodox population.
The positivity rate is 1.1%, a drop from nearly 6% a month ago, according to the health ministry.
In addition, there are 482 patients in serious condition, compared to more than 800 late last month.
Vaccines are going far slower in areas controlled by the Palestinian Authority, which has relied on donations and limited supplies from Israel.
Human rights groups have called on Israel to offer vaccines to all Palestinians in the territories under Israeli control.
Israel vaccinated more than 100,000 Palestinian workers with permits to enter Israel or Jewish settlements in the West Bank.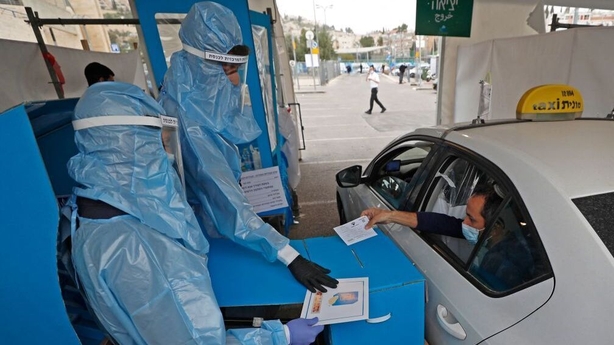 Earlier in March, the Palestinian Authority received 60,000 doses of the Pfizer/BioNTech and AstraZeneca vaccines, which were delivered via the Covax programme of the United Nations.
Palestinian officials said that health workers, people over 75 and patients with kidney disease or cancer could get the vaccine.
The United Nations says it plans to deliver enough doses to inoculate another million Palestinians via the COVAX global vaccine supply programme.
Palestinians have also received about 60,000 doses of the Russian Sputnik V vaccine from the United Arab Emirates, and they are set to receive a further 100,000 Chinese vaccine doses.
The Palestinian health ministry said 1,910 people have died from the coronavirus in the occupied West Bank and another 593 in the blockaded Gaza Strip.
Russia starts large-scale trials of third COVID-19 vaccine - Ifax
Russia's Chumakov Center has started phase three trials of CoviVac, Russia's third vaccine against Covid-19, the Interfax news agency has cited a government minister as saying.
The most well known Russian coronavirus jab is Sputnik V.
Moscow has also given emergency approval to two others, EpiVacCorona and CoviVac.