Flags have flown at half mast and thousands of towns have held a minute's silence as Italy mourned the victims of a coronavirus pandemic which has left more than 100,000 dead in 13 months.
Italian Prime Minister Mario Draghi led tributes in Bergamo, an epicentre of the disease's first destructive wave a year ago and where city mayor Giorgio Gori said it had left no one unscathed.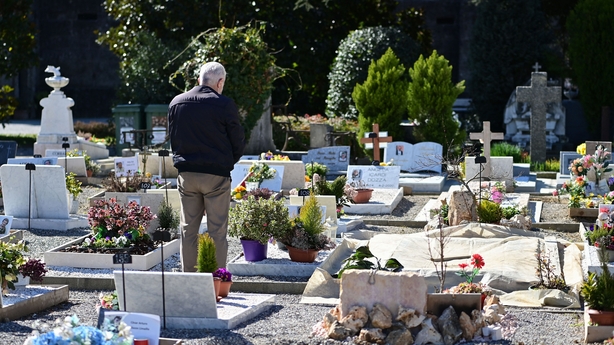 "There is not a single person in Bergamo who did not have to say goodbye to a loved one," he said.
Today marked the first anniversary of the day a convoy of army trucks rolled into the city to remove dozens of coffins accumulated in churches and chapels - a stark snapshot of the effect of the virus.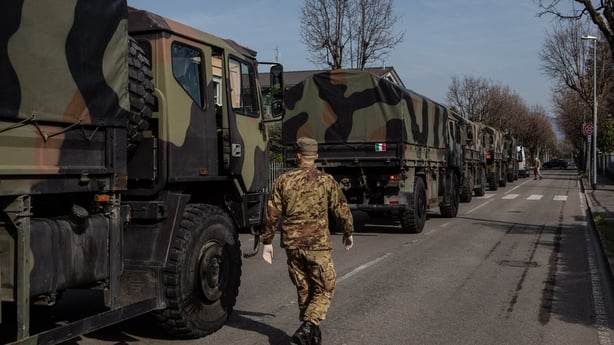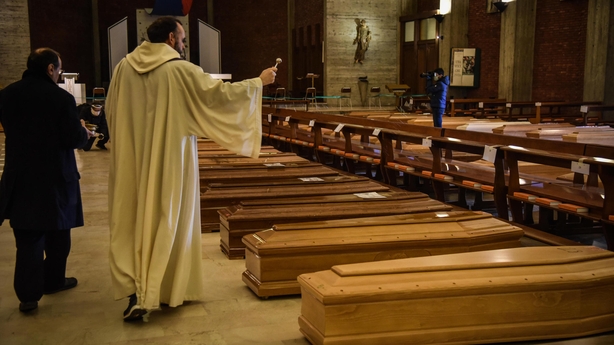 "The respect we owe to those who have left us must give us the strength to rebuild the world they dreamed of for their children and grandchildren," said Mr Draghi.
He was speaking in a "remembrance wood" being created as a living monument to the dead in a local park.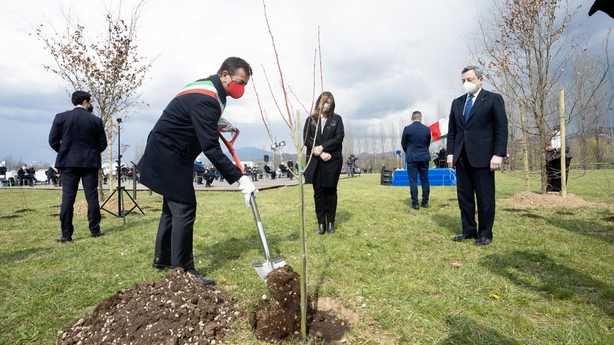 In all, 103,432 deaths linked to coronavirus have been reported in Italy, the seventh highest toll in the world, including 670 in Bergamo and around 6,000 in the surrounding province.
Like much of Italy, Bergamo is once again in lockdown to try to contain a third Covid-19 wave that yesterday saw a record 324 people nationwide admitted to intensive care.
Only a few people were allowed to attend today in what is set to become an annual commemoration.
Anxious to end the health crisis, Mr Draghi said Italy's ongoing vaccination campaign was a priority and promised that inoculations would carry on unhindered whatever decision the European Medicines Agency (EMA) took about the AstraZeneca shot this afternoon.
Italy, like several European countries, suspended the use of AstraZeneca vaccines this week over concerns about unusual blood disorders that had appeared in a handful of people.
"Whatever its decision, the vaccination campaign will continue with the same intensity, with the same objectives. Increased supplies of some vaccines will help compensate for delays by other pharmaceutical companies," Mr Draghi said.
We need your consent to load this rte-player contentWe use rte-player to manage extra content that can set cookies on your device and collect data about your activity. Please review their details and accept them to load the content.Manage Preferences
Paris goes into lockdown
France imposed a month-long lockdown on Paris and parts of the north after a faltering vaccine roll-out and spread of highly contagious coronavirus variants forced President Emmanuel Macron to shift course.
Since late January, when he defied the calls of scientists and some in his government to lock the country down, Mr Macron has said he would do whatever it took to keep the euro zone's second largest economy as open as possible.
However, this week he ran out of options just as France and other European countries briefly suspended use of the AstraZeneca vaccine.
His prime minister, Jean Castex, said France was in the grip of a third wave, with the virulent variant first detected in Britain now accounting for some 75% of cases. Intensive care wards are under severe strain, notably in Paris where the incidence rate surpasses 400 infections in every 100,000 inhabitants.
"The epidemic is getting worse. Our responsibility now is to not let it escape our control," Mr Castex told a news conference.
France reported 35,000 new cases today and there were more Covid patients in intensive care in Paris than at the peak of the second wave.
Now was the time to tighten restrictions, Mr Castex said.
"Four weeks, the time required for the measures to generate a sufficient impact. (It is) the time we need to reach a threshold in the vaccination of the most vulnerable."
The lockdowns will kick in from Friday at midnight in France's 16 hardest-hit departments that, with the exception of one on the Mediterranean, form a corridor from the northern Channel port city of Calais to the capital.
Barbers, clothing stores and furniture shops will have to close, though bookstores and others selling essential goods can stay open.
Schools will stay open and people will be allowed to exercise outdoors within a 10km radius of their homes.
Travel out of the worst-hit areas will not permitted without a compelling reason.
"Go outdoors, but not to party with friends," the prime minister said.
Germany reports biggest rise of Covid-19 cases in two months
The number of confirmed coronavirus cases in Germany increased by 17,504 to 2,612,268, the biggest daily rise since 22 January, data from the Robert Koch Institute (RKI) for infectious diseases showed today.
The reported death toll rose by 227 to 74,132, while the number of new cases per 100,000 people over seven days rose to 90, compared to 86 a day earlier.
Germany is in a third wave of the pandemic, driven by an easing of restrictions in recent weeks just as a more transmissible variant has spread, the RKI has said, predicting a big jump in cases in coming weeks.
That has not been helped by a sluggish rollout of vaccinations, further dented by a decision this week to suspend the use of AstraZeneca doses due to safety worries.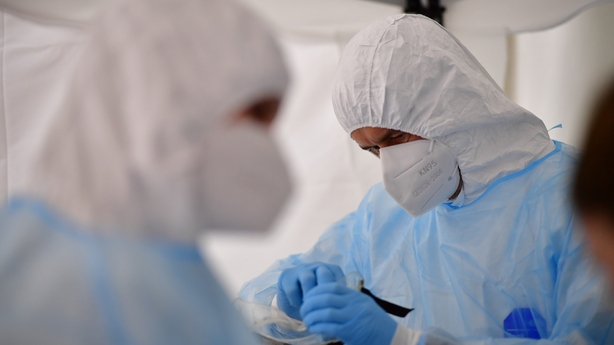 Chancellor Angela Merkel and state leaders agreed a phased easing of curbs earlier this month along with an "emergency brake" to let authorities reimpose restrictions if case numbers rise above 100 per 100,000 on three consecutive days.
They are due to meet again on 22 March.
Some experts are calling for the government to move away from the focus on the incidence rates, noting that as more tests are conducted, there will be more positive results, even as the number of older people infected falls due to vaccinations.
"This figure is highly problematic," Juergen Windeler, the head of the Institute for Quality and Efficiency in Health Care (IQWIG), told the newspapers of the Neue Berliner Redaktionsgesellschaft.
Talks between Ms Merkel and leaders of the 16 federal states on the vaccination campaign, in particular using family doctors to administer Covid-19 vaccines, are due to take place tomorrow.
Ms Merkel has said that all Germans will have been offered a vaccination by 21 September - five days before a federal election.
Azerbaijan detects several cases of B117 coronavirus variant
Azerbaijan has detected its first cases of a highly contagious variant of the coronavirus first identified in the UK authorities said today.
The variant was detected in three samples, according to the National Centre of Haematology and Transfusiology which said that the vaccine currently used in Azerbaijan was effective against new variants.
Azerbaijan, a country of about 10 million people in the South Caucasus, started vaccinating citizens against Covid-19 with the vaccine developed by China's Sinovac Biotech Ltd in January.
The country has recorded a total of 242,491 coronavirus cases and 3,307 deaths.