Almost all vaccines that come into Ireland are being administered to priority groups within seven days of arrival, the Minister for Health has said.
Speaking on RTÉ's Six One News, Stephen Donnelly said that repeated revisions of delivery schedules from AstraZeneca are very frustrating for Ireland and countries right across the EU.
However he said that where the vaccines are being deployed, they are being deployed well, with 95% administered within a week.
He said the vaccine programme is having an amazing effect on the cohorts where it is happening and that among hospital staff there has been a 95% percent reduction in infections.
Mr Donnelly said the latest positivity rates on serial testing in nursing homes are now at 0.2%.
He said the HSE's job is to get the vaccines out to the priority groups as soon as they come into the country, and so far it has done very well.
The minister also said his department has been talking to other governments and the manufacturers but they are being told it is simply not the case that there are excess supplies sitting in warehouses that have not been allocated.
He said that by going through the EU procurement process Ireland had advanced purchased enough supplies to vaccinate everyone in the country twice.
We need your consent to load this rte-player contentWe use rte-player to manage extra content that can set cookies on your device and collect data about your activity. Please review their details and accept them to load the content.Manage Preferences
Sinn Féin's health spokesperson said Mr Donnelly needs to be more pro-active in engaging with the pharmaceutical companies to find out why there is a shortfall in vaccine supplies.
Speaking on RTÉ's Drivetime, David Cullinane said Mr Donnelly or the HSE has not been able to give an explanation as to why there is been a shortfall. 
He called for more clarity from the pharmaceutical companies and said it was reasonable to ask why there had been a shortfall in vaccines, mainly from AstraZeneca.
He said Ireland needed to get all of the doses that were promised as part of the advance purchase agreements, as well as trying to see if additional doses could be secured.
Earlier, the Taoiseach said he is disappointed "with some of the issues" with vaccine supply in the first three months of this year.
It follows reports this morning of a significant shortfall in the expected supply of vaccines to Ireland by the end of March.
Speaking on his way into Cabinet, Micheál Martin said in terms of protecting the most vulnerable, the impact of the vaccines is very positive.
He said those who are most vulnerable are getting vaccinated and that will have an impact.
"So, when we come to the week before the fifth of April, we will examine the situation," Mr Martin said.
He said the Government will take advice from public health experts and look at what might be eased then, including sporting outdoor activities.
Taoiseach Micheál Martin on the easing of restrictions come April 5. pic.twitter.com/6NQ0pLPtR6

— RTÉ News (@rtenews) March 9, 2021
When asked if he would approach the British Prime Minister on sharing a vaccine surplus, Mr Martin said Boris Johnson has made it "clear" to him his first priority is to vaccinate his people.
He added, however, that it would be helpful to Ireland if the situation arose.
The Taoiseach said that right now the broader picture is on manufacturing capacity of vaccines and that the vaccine roll-out will pick up in quarter two. 
"The impact of the vaccines is very positive," Taoiseach Micheál Martin. pic.twitter.com/qlgjn6X2yV

— RTÉ News (@rtenews) March 9, 2021
We need your consent to load this rte-player contentWe use rte-player to manage extra content that can set cookies on your device and collect data about your activity. Please review their details and accept them to load the content.Manage Preferences
Minister for Finance Paschal Donohoe said there has been direct contact with pharmaceutical companies globally in relation to vaccine supplies and the message from these companies is that there's a huge demand on these supplies from all over the world.
Speaking on RTÉ's News at One, Minister Donohoe said he believes that "our ability to get more vaccines for our country is best realised inside the Europe framework".
He said while a number of countries have indicated they're willing to go outside the EU to source vaccines, "from our point of view if we do want to increase the supply we have, we are better off working in conjunction with other countries to do that".
He said a number of countries have sought vaccines from nations outside the EU, while others have indicated their willingness to do so, but the situation globally is there's "a gigantic demand for vaccines".
He said the Government will do all it can to increase the country's share of vaccine supply, and this will be discussed at tomorrow's meeting of the Vaccine Oversight Committee which will review where we are and what we can do to get more.
Minister for Further and Higher Education Simon Harris said the Government will be focused on a "slow, steady, cautious" reopening of society.
Mr Harris said it is too early to speculate "beyond where we are now" and Government will review restrictions ahead of 5 April. 
He said the vaccine supply has been really hard to predict and described Ireland as being at the mercy of supply at the moment. 
However Mr Harris said he believes it remains on track to meet key targets, one of them being that 82% of adults will have had a first dose by June. 
He said there will be a very significant increase in the roll-out in the coming weeks.
He also said he thinks this week could be a "good week" with a fourth potential vaccine coming on stream. 
"We do still remain on track to meet those key targets, insuring 82% of adults have had their first dose of the vaccine in the month of June," Simon Harris reiterating the comments of HSE CEO Paul Reid. pic.twitter.com/hagnNP45XI

— RTÉ News (@rtenews) March 9, 2021
---
---
Latest figures from the HSE show that 523,069 Covid-19 doses were administered up to last Saturday, of which 373,149 were first doses and 149,920 were second doses.
By Saturday, 97,672 first doses were given to people in Category 3, mostly those aged 85 years or older.
Some vaccines have been given to those aged 80-84 years.
Meanwhile, the Cabinet has agreed to provide an indemnity for hotels that will be used for mandatory quarantining. 
It means that if someone gets Covid-19 in a hotel, the owners will be indemnified against a claim. However, regular claims would still be covered by the hotel group's own insurance.
Aim to vaccinate most in Group 4 by end of March
The HSE's Clinical Lead on Infection Control has said the aim is to vaccinate as many people as possible in Group 4 by the end of the month.
The roll-out of vaccines to people in Group 4 includes all those aged 16 to 69 who are a very high risk of Covid-19 disease.
Speaking on RTÉ's Morning Ireland, Professor Martin Cormican said there is "a compromise between being fast and being perfect" and the HSE is not going to wait to have "a perfect list" before it starts this group.
He said with no central register of those with serious illness under certain categories, it will take time to identify some people with certain types of cancer, kidney disease, neurological and immunocompromised conditions.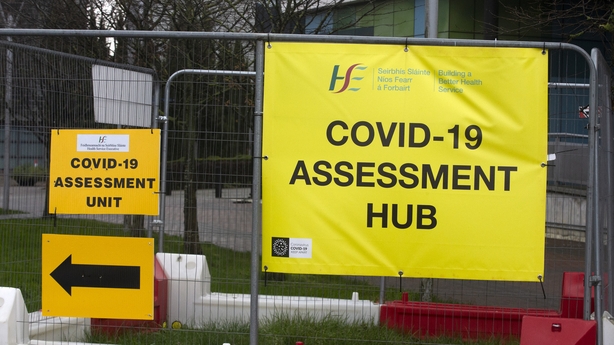 However, he said it is a challenge the HSE is happy to have and will work through hospitals and GPs initially and then through community services to identify those who fit the criteria for this group.
Prof Cormican also said the HSE is planning to look at visiting guidance to nursing homes in light of the vaccination programme and plans to introduce "a progressive improvement in opportunities" for visiting.
He said that existing policy allows for visiting on a limited basis for most people or under critical or compassionate grounds once there is no Covid-19 outbreak in the nursing home.

Earlier, the Chair of the Institute of Obstetricians and Gynaecologists recommended that pregnant women and all women of reproductive age be vaccinated for Covid-19.
Dr Cliona Murphy said the vaccination of large numbers of healthcare workers in Ireland, some of whom were pregnant, has helped to gather observational information, which shows no adverse outcomes in pregnant women over and above what occurs in the general population.
Speaking on the same programme, Dr Murphy also said that those with histories of recurrent miscarriage have no reason to avoid the vaccine and those undergoing IVF treatment would be safe to proceed a few days after having the second dose of vaccine.