Ursula von der Leyen has warned that the European Union could block further exports of the coronavirus vaccine, after Italy stopped a shipment to Australia.
"That was not a one-off," the president of the European Commission told business weekly Wirtschaftswoche.
Rome last week revealed it had blocked the export of 250,700 doses of AstraZeneca's Covid-19 vaccine meant for Australia, blaming the shortage of jabs in virus-hit Europe - and the lack of urgent need in Australia.
Ms von der Leyen said she expects the bloc to receive 100 million doses of coronavirus vaccines every month from April, giving a boost to Europe's stuttering inoculation campaign.
Given higher delivery volumes promised by manufacturers, and "because more vaccines are about to be approved," Ms von der Leyen told the Stuttgarter Nachrichten newspaper the bloc should see a big ramp up in arrivals of the jabs.
The EU will receive "in the second quarter an average of around 100 million doses a month, in total 300 million by end June," she said.
The 27-nation bloc with a population of 446 million people has received 51.5 million doses of vaccines as of 26 February, according to official data posted on the EU's website.
The EU has already approved three vaccines - BioNTech/Pfizer, AstraZeneca/Oxford and Moderna - but its inoculation campaign has been hit by delays because of production bottlenecks.
Impatience has also grown as the pace of vaccination has lagged behind countries like Britain, Israel and the United States.
The European Medicines Agency is to decide Thursday on whether to authorise Johnson & Johnson's single-shot vaccine.
The regulator last week began a rolling review of Russia's Sputnik V vaccine.
Meanwhile, Italy has recommended the use of AstraZeneca Covid-19 vaccines for those aged over 65, the health ministry said in a statement, overcoming previous doubts that the drug might not be very effective amongst the elderly.
"Scientific evidence that has become available ... indicates that, even in people aged over 65, the vaccine is capable of providing significant protection," the ministry said.
---
---
Italian death toll passes 100,000
Italy has surpassed the grim milestone of 100,000 official coronavirus deaths, amid warnings the spread of new variants is fuelling a fresh wave of infections.
Just over a year since it became the first European country to be overwhelmed by Covid-19, Italy's health ministry recorded another 318 virus-related deaths, taking the total to 100,103.
The figure is almost certainly an underestimate of the true toll, but is nevertheless shocking.
When the pandemic started, "we could have never imagined that after a year ... the official death toll would have neared the terrible threshold of 100,000," said Prime Minister Mario Draghi, who took over last month.
In a video message that represented his first public statement in three weeks, he added: "The pandemic has not yet been defeated, but with the acceleration of the vaccination plan, we can see a way out."
As in many other European countries, Italy's vaccine programme has had a slow start, dogged in large part by a lack of jabs.
It expects to have 50 million doses of coronavirus vaccines by the end of June, allowing for the vaccination of "at least half of our population" - some 30 million people - within the next four months, Health Minister Roberto Speranza said yesterday.
Italy will start using the AstraZeneca/Oxford vaccine on people over the age of 65, while it also has high hopes for the single-dose Johnson & Johnson vaccine.
So far, Italy has fully vaccinated only 1.65 million people.
However, Mr Speranza warned Italy faced difficult weeks as it needs "to flatten this [infection] curve at a time when variants make the virus even harder to handle".
Syria President tests positive
Syria's President Bashar al-Assad and his wife Asma have tested positive for Covid-19 after showing minor symptoms, the president's office said in a statement today.
It said they were both in good health and would continue to work while in isolation at home.
"After experiencing mild symptoms that resemble... Covid-19, President al-Assad and first lady Asma Al-Assad took a PCR test, and the result showed that they are infected with the virus," the presidency said in a statement.
"They are in good health and their condition is stable," the statement added.
Japan vaccination moving slowly
Japan's Covid-19 inoculation campaign is moving at a glacial pace, hampered by a lack of supply and a shortage of specialty syringes that underscore the enormous challenge it faces in its aim to vaccinate every adult by the year's end.
Since the campaign began three weeks ago, just under 46,500 doses had been administered to frontline medical workers as of Friday.
At the current rate, it would take 126 years to vaccinate Japan's population of 126 million. Supplies are, however, expected to increase in the coming months.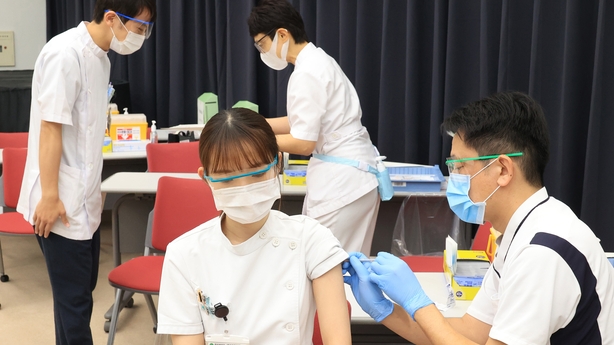 By contrast, South Korea, which began its vaccinations a week later than Japan, had administered nearly seven times more shots as of yesterday.
Unlike many other countries, Japan requires clinical trials for new medicines, including vaccines, to be conducted with Japanese patients, slowing down the approval process.
So far, only the vaccine developed by Pfizer and BioNTech has been approved. Clinical trials in Japan for AstraZeneca and Moderna's vaccines have been conducted and the vaccines are now awaiting regulatory approval.
"The sense of urgency among the government is not, I think, similar to other G7 countries," said Haruka Sakamoto, a physician and researcher at Keio University, noting Japan's comparatively low case numbers and death toll.
Japan has had about 438,000 confirmed cases of Covid-19 with 8,251 deaths. Cases in Tokyo, which is still under a state of emergency, have subsided from a daily peak of 2,520 on 7 January to 237 on 7 March.
Dr Sakamoto said the health ministry's conservative stance stems from previous examples of a new medicine gaining approval relatively quickly only for the ministry to be criticised by the public and media for going too fast and endangering safety.
Japan is focusing on vaccinating about 4.8 million medical workers first before moving on to its elderly population of 36 million.
Vaccine Minister Taro Kono has said that while shots for those over 65 will start next month, supplies will be extremely limited.
Unlike South Korea, which has been using low dead space syringes to extract six or even seven doses of Pfizer vaccine from a vial instead of five, and 12 doses of AstraZeneca vaccine per vial instead of ten, Japan has fallen short on readying sufficient supply of the specialty syringes.
That shortage will mean that some doses will go to waste when shots for the elderly start, Mr Kono has said.
Japan is continuing to negotiate with Pfizer on supplies, he added said, and imports are expected to increase four-fold in April from March to about 1.7 million vials.
Each shipment must be approved by the EU, which introduced the mechanism in late January to monitor vaccine exports after drugmakers announced delays in their supplies to the bloc.
Japan has secured rights to at least 564 million doses of Covid-19 vaccines, the largest volume in Asia, and Prime Minister Yoshihide Suga has pledged to have enough for the whole population by June, before the 23 July start of the Tokyo Olympics.
Meanwhile, South Korea said it had found no link between the coronavirus vaccine and several recent deaths, as it ordered nearly 100,000 foreign workers to be tested after clusters emerged in dormitories.
Health officials had been investigating the deaths of eight people with underlying conditions who had adverse reactions after receiving AstraZeneca's Covid-19 vaccine, but said they found no evidence that the shots played a role.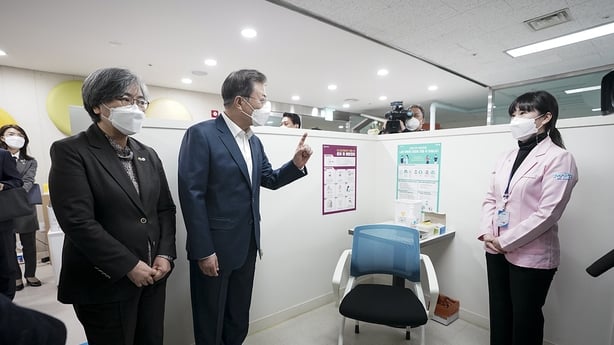 Children in England return to school after lockdown
Children return to school in England today for the first time since January, as the government begins to ease tough restrictions thanks to a mass vaccination drive against the coronavirus.
Throughout the latest lockdown since the start of the new year, schools have remained open to children of key workers and the most vulnerable.
But all other children have been at home.
Pupils aged five to 11 go back to the classroom this morning, with a staggered return over the coming week for secondary school students aged 11 to 18.
The government has been able to plan to ease its Covid-19 restriction measures as around 23 million people in Britain have received at least a first vaccination jab, helping to bring down case numbers and ease pressure on hospitals.
Prime Minister Boris Johnson has outlined plans to lift stay-at-home curbs in England, hoping a cautious approach will not spark a renewed surge in cases that would force another lockdown.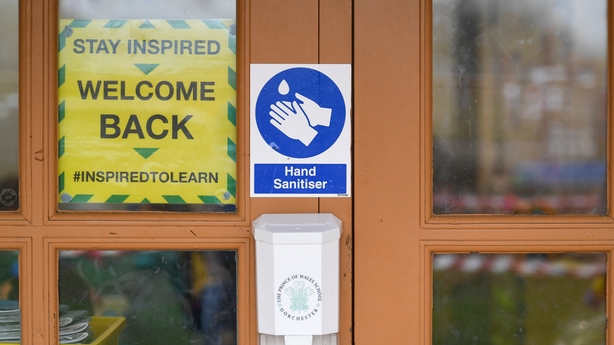 Britain has suffered more than 123,000 Covid deaths and is banking on its mass vaccination drive to lift all restrictions possibly as early as June.
Under further plans for reopening, the government has said it will ease limits on social interaction outside on 29 March, with the reopening of non-essential retail from 12 April.
Returning students will face regular testing to curb the spread of infection, while older children will have to wear face masks indoors until April.
Different plans for school returns have been unveiled in Scotland, Wales and Northern Ireland where devolved governments have powers over education policy.
Children aged four to eight in Northern Ireland are also back today, with secondary pupils aged 13 to 18 on
22 March. Others have to wait until April.