Gardaí have arrested a total of six people, five men and a woman, in connection with today's anti-lockdown protest in Cork.
Two of those were arrested in Cork City, one in north Co Cork, one in Kerry and a man and a woman in Kildare. 
The two men arrested at the rally in Cork were for breaches of the Health Act and the Public Order Act. 
The arrests in north Cork, Kerry and Kildare were for failing to comply with a direction of a garda.
Gardaí say they believed all four were travelling to the anti-lockdown rally, in contravention of public health regulations restricting movement beyond 5km of a person's home. 
The protest in Cork city ended earlier today without incident. It was attended by a crowd estimated at between 400 and 500 people. 
Spokesman Diarmaid Ó Cadhla of the organising group, The People's Convention, told the crowd the rally was a peaceful and law-abiding assembly. 
He said the organisers were aware that "countless" numbers of people had been turned away from the protest, but he said everybody had a right to freedom of expression "without interference", and everyone had a right to peaceful assembly. 
Many of those who attended the march were not wearing face coverings. 
The rally ended with a rendition of the Our Father prayer in Irish, followed by the National Anthem. 
Gardaí said an extensive policing plan had been put in place for the event.
Officers were drafted in from the Cork North and Cork West divisions to boost garda numbers in the city.
It followed last weekend's violence at an anti-lockdown protest in Dublin.
Former member of Cork County Council Diarmaid Ó Cadhla described himself as a spokesman for today's event, appointed by The People's Convention. He denied that he was the event organiser, and refused to identify those who organised the rally.
"Number one, it's not relevant and number two it may lead to needless, petty-style persecution and that is to be avoided," he said, when asked why he would not identify those who organised the event.
When asked who might conduct that persecution, he replied: "The State."
Mr Ó Cadhla said he did not accept the argument that there was an increased risk of violence at today's protest in Cork, given what happened at last weekend's anti-lockdown protest in Dublin.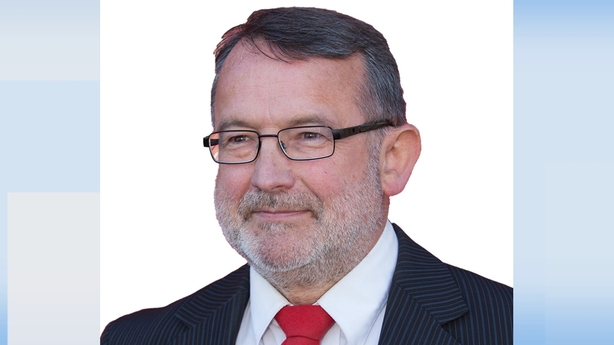 "We are taking measures to ensure we will be observant on the day and if we see a hint of anything, we will be reporting it immediately to gardaí," he added.
He said he condemned the violence that happened in Dublin as, he said, any reasonable-thinking person would.
He said the rally was organised to give a voice to people who were frustrated and angered by the continuing lockdown in Ireland which, he said, was longer than the lockdown of any other European state, and five times longer than in Germany.
Mr Ó Cadhla said he was not a Covid-19 denier but wanted a "proper" public health service, which looked at all illnesses affecting people, including cancer, cardiac care and mental health.
He said the figures for deaths from Covid-19 were being "distorted", and claimed neither the Government nor the National Public Health Emergency Team were telling the truth about the virus.
"The figures for deaths - while we sympathise with everybody - they are not all Covid deaths," Mr Ó Cadhla said. "They are being distorted by this logic of people dying with Covid and so on, or may get a heart attack and be down as a Covid death. That is not right."
Mr Ó Cadhla said he was quoting Tánaiste Leo Varadkar, in saying the country had taken on a debt of €50 billion due to the virus.
"The people will have to pay this debt," he said, "how and why and when we are not being told and if we try to discuss it we are somehow being labelled as terrorists or madhatters of some kind. We are not that."
Among those who called for the rally to be cancelled was Lord Mayor of Cork Councillor Joe Kavanagh.