The Department of Health has said that Ireland is currently above the EU average, with around 3% of the population fully vaccinated, and 6% of the population having received at least one Covid-19 vaccine dose.
The department said that 8.8 doses per 100 people have been administered so far.
It said the roll-out of the vaccine is "only limited by supply" and that it must be flexible to accommodate "unforeseen events".
The department said that the 500,000th dose will be administered within the next week, adding that vaccine deliveries for this month are "still being finalised with manufacturers".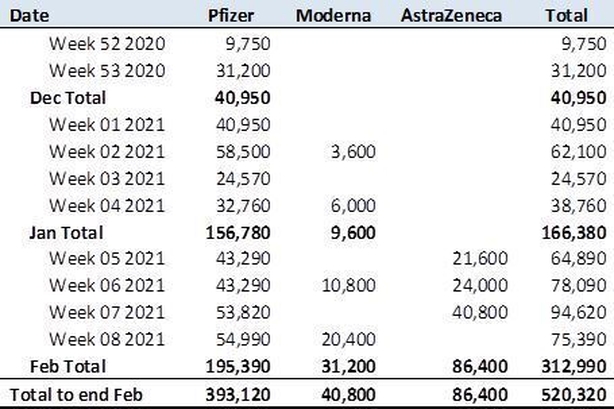 "Advance planning for April, May and June shows Ireland receiving one million-plus doses per month in Advance Purchase Agreements. The delivery timeframes are still being worked on with manufacturers," it said.
In quarter two of this year, the make-up of the vaccines distributed is projected to consist of 54% Pfizer-BioNtech, 10% Moderna, 21% AstraZeneca, and 15% Johnson & Johnson, subject to EMA approval.
People with underlying health conditions to start getting jab soon
Minister for Health Stephen Donnelly told the Dáil that people with underlying health conditions will begin to be vaccinated next week.
The majority of over those aged over 85 should be vaccinated by the end of the week.
Minister Donnelly said the vaccinations of Cohort 4, comprising those with underlying health conditions, will begin on Monday and are likely to take place in a combination of GP practices and hospital settings.
Vaccinations of Cohort 3, those over 70, continue, with 450,000 yet to be vaccinated within that group.
'Positive signs of vaccine impact'
Meanwhile, HSE Chief Executive Paul Reid said the rate of decline in Covid-19 cases is "not at the pace that we would like, but it is continuing to trend downwards".
Speaking at the HSE's weekly briefing on Covid-19, Mr Reid said the overall picture with regard to Covid-19 in Ireland is continuing to improve, albeit "at a slower rate".
Mr Reid said "positive signs of the impact of the vaccine" are being seen in incidence rates across older people.
He also said transmission of the virus has significantly reduced in healthcare settings, which he said shows the "early benefits of vaccinations".
"Over the past two weeks 478 cases had the most likely transmission source of a healthcare setting. That is down from over 1,050 cases in the previous two weeks," he said.
Mr Reid said the HSE "continues to see interrupted supply lines, versus weekly commitments on our vaccine supplies".
He said the HSE has been advised by AstraZeneca on changes to their committed supply lines to Ireland over a three-week period, adding: "That is last week, this week and next week."
Mr Reid said the HSE has been advised that the commitments will be "rebalanced and even themselves out", but he said the HSE "continues to have concerns" about interruptions in supply commitments. 
He said this afternoon that vaccination of Cohort 4 will begin next week, and that he expects most over-85s will have received their first dose by end of this week.
The head of the HSE said the vaccination of Cohort 4 - those aged 16-69 with a medical condition that puts them at very high risk of severe disease and death - will begin next week. | Read more: https://t.co/eXUZoEPC4n pic.twitter.com/Buum4cARbL

— RTÉ News (@rtenews) March 4, 2021
He said a number of smaller GP practices, with a total 750-800 patients who are over 85, will receive deliveries next week.
The HSE chief said they will be in contact with those practices between today, tomorrow and Monday to arrange a schedule.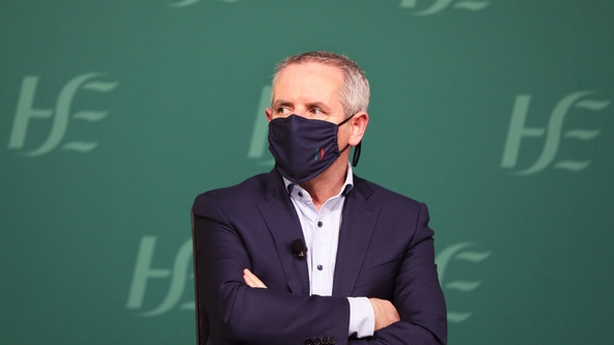 Mr Reid said the HSE are also aware of another number of practices that have been affected this week due to changes or issues with delivery, and said they are working to address those issues.
He thanked GPs for their patience and said they are putting extra resources in place to help work with them.
On the overall vaccine delivery model for GPs, Mr Reid said it is "not a simple one", and involves the utilisation of the MRNA vaccines for 70 years and over.
Dr Colm Henry says the 14-day-incidence of Covid-19 in Ireland is now 199 and the five-day moving average is now 592. | Read more: https://t.co/eXUZoEPC4n pic.twitter.com/LIiL2yyVXV

— RTÉ News (@rtenews) March 4, 2021
Mr Reid said the first two weeks of vaccinations for the over 85s went "reasonably well" with 95% of vaccinations that were planned administered and completed.
HSE Chief Clinical Officer Dr Colm Henry told the briefing there is strong evidence to show "impressive gains" due to vaccination of nursing homes residents.
Dr Henry said there is a "steep decline" in the number of deaths in this cohort.
"The primary aim of this vaccine is to reduce illness serious and death. It seems to be working, and it justifies the priority group, that we're getting into the right people first," he said.
Also speaking at the briefing, HSE Chief Operations Officer Anne O'Connor said there are 299 outbreaks across all long-term residential care facilities as of 1 March.
She said there are 155 staff across 17 nursing homes on Covid-related leave.
In terms of hospital staff, she said there are 1,395 absent because they are Covid positive or close contacts - a reduction of 562 on last week.