Italy said it has blocked a shipment to Australia of AstraZeneca's Covid-19 vaccine in the first such export ban under an EU vaccine monitoring scheme.
Rome's order blocking the dispatch of more than 250,000 doses was accepted by the European Commission, which has fiercely criticised the Anglo-Swedish company this year for supplying just a fraction of the vaccine doses it had promised to deliver to the bloc.
The shipment was stopped because of the "continuing shortage of vaccines in the EU and in Italy and delays in supplies from AstraZeneca to the EU and Italy," the Italian foreign ministry said in a statement.
It was also blocked because Australia is not considered a "vulnerable" country in the context of the pandemic, and because of the "high number of doses" requested.
The ministry said AstraZeneca requested an export permit on 24 February, and Rome forwarded the request to the European Commission two days later, proposing its rejection.
The EU executive body agreed, and the Italian government - whose new Prime Minister Mario Draghi has pledged to ramp up national vaccination efforts - notified AstraZeneca of its decision on 2 March.
The ministry said Italy had previously authorised the export of AstraZeneca vaccine samples, but only in "modest quantities ... for scientific research purposes".
The doses came from a plant in Italy operated by AstraZeneca to produce some of its vaccine, one of three authorised for use in the EU alongside the BioNTech/Pfizer and Moderna versions.
Under the commission's "transparency and authorisation mechanism" EU member states vet planned exports out of the bloc of authorised Covid-19 vaccines.
The scheme started on 30 January and is to run until at least the end of March.
That period corresponds to a sharp shortfall in the first three months of this year of deliveries the EU had been counting on to kickstart its vaccine roll-out.
Most the shortfall is because AstraZeneca has pledged "best reasonable efforts" to deliver around 100 million doses in that time, but is now on track to supply just 40% of that.
At the same time, the UK-based company is fully supplying former EU member Britain with doses for its world-leading vaccination programme.
EU regulator to review Russia's Sputnik V vaccine
The European Medicines Agency has begun an in-depth review of Russia's Sputnik V coronavirus vaccine, putting it on course to be the first non-Western jab used across the 27-nation EU.
Russia, which has pushed for a speedy approval, said it was ready to provide jabs for 50 million Europeans as soon as the shot gets the green light from the Amsterdam-based regulator.
"EMA has started a rolling review of Sputnik V, a Covid-19 vaccine developed by Russia's Gamaleya National Centre of Epidemiology and Microbiology," the EMA said in a statement.
The watchdog said its decision was based on clinical studies and lab tests, which "indicate that Sputnik V triggers the production of antibodies and immune cells that target the SARS-CoV-2 coronavirus and may help protect against Covid-19".
"EMA will assess Sputnik V's compliance with the usual EU standards for effectiveness, safety and quality," it added.
The timeline for possible approval should "take less time than normal" due to the work already done during the rolling review, it said.
---
---
Several EU member states, including Germany and Spain, have said they would be interested in Sputnik V if it was approved.
Concerns were initially raised about Sputnik after a fast-track procedure that saw it approved for use in Russia last August and deployed in December ahead of large-scale clinical trials.
But the Lancet medical journal published results in February showing Sputnik V to be 91.6% effective, based on third-phase trials with more than 20,000 volunteers.
Hungary has broken ranks and become the first EU country to approve and order the vaccine, while the Czech Republic and Slovakia have also ordered Sputnik stocks.
The three approved for use in the bloc so far are the Pfizer-BioNTech jab, Moderna's shot, and the vaccine developed by AstraZeneca with Oxford University.
US-based Johnson & Johnson has also applied for authorisation, while Novavax and CureVac are under rolling review.
The EMA is set to give its decision on Johnson & Johnson's single-shot vaccine on 11 March.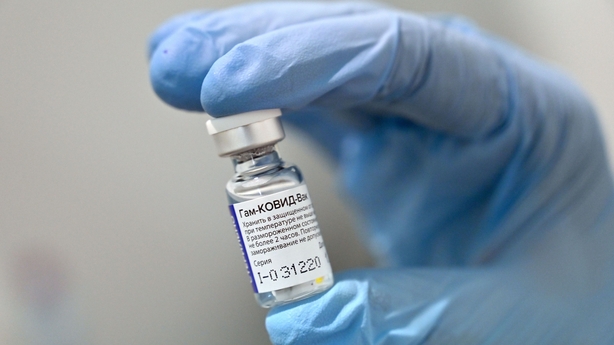 Russia and the EMA have argued in recent weeks about the authorisation process for Sputnik.
Sputnik's makers insisted in February that they had applied for the start of a rolling review, urging the watchdog to hurry up. But the EMA said at the time that it had received no such application.
As it would be the first non-Western developed vaccine deployed in the EU, officials have said that Sputnik production sites outside the bloc would need to be inspected.
"They are not producing in Europe, so of course there should be an inspection process on the production sites," European Commission chief Ursula von der Leyen said on 17 February.
Brussels has been wary of Russian and Chinese vaccines, concerned that Moscow and Beijing would use them as soft power tools.
Ms von der Leyen herself raised questions about why Moscow was so keen to push the vaccine on the EU.
"Overall I must say, we still wonder why Russia is offering theoretically millions and millions of doses while not sufficiently progressing in vaccinating their own people," she said.
The RDIF, which helped finance the development of Sputnik V, said today that 42 countries have registered the vaccine.
It has taken between two and four months for other Covid jabs to move from rolling review to EU authorisation.
Sputnik's developers said on Twitter that "we look forward to welcoming EMA inspectors at the Sputnik V facilities".