Texas Governor Greg Abbott has lifted a state mask mandate and said he was authorising businesses restricted because of the coronavirus pandemic to open "100%".
"For nearly half a year, most businesses have been open either 75% or 50% and during that time, too many Texans have been sidelined from employment opportunities," Mr Abbott said.
"Too many small business owners have struggled to pay their bills," the Republican governor said in a speech to the Lubbock Chamber of Commerce.
"This must end. It is now time to open Texas 100%," he said to cheers and applause from his audience.
"Every business that wants to be open should be open."
Mr Abbott said he was lifting the restrictions because of the arrival of Covid-19 vaccines, and better testing and treatments.
"Texas now has the tools to protect Texans from the virus," he said.
Mr Abbott imposed a mask mandate in the second most populous US state eight months ago.
He said an executive order rescinding his previous Covid-19 orders and restrictions would take effect tomorrow.
Meanwhile US President Joe Biden has said the United States would have sufficient vaccine supply by the end of May to inoculate the US adult population.
"We're now on track to have enough vaccine supply for every adult in America by the end of May," said Mr Biden - who last month had forecast it would take until the end of July to amass that many doses.
Pele gets Covid vaccine, hails 'unforgettable' day
Brazilian football great Pele, 80, received a Covid-19 vaccine today, a moment he described as "unforgettable" while urging people not to let down their guard against the deadly virus.
"Today was an unforgettable day. I received the vaccine!" the man considered one of the greatest footballers of all time wrote on his Instagram account.
The message included a photo of Pele wearing a mask and giving a thumbs-up while he received his shot.
"The pandemic is not over. We must remain disciplined to save lives because many people have not yet been vaccinated," he wrote, and advocated mask-wearing, social distancing and hand-washing as virus protection.
"This (the pandemic) will pass if we think of each other and help each other," he said.
We need your consent to load this Instagram contentWe use Instagram to manage extra content that can set cookies on your device and collect data about your activity. Please review their details and accept them to load the content.Manage Preferences
Pele's press team did not respond to questions about which vaccine he received, and whether it was the first or second dose.
The only player to win three World Cups - in Sweden in 1958, Chile in 1962 and Mexico in 1970 - Pele has self-isolated at his house in Sao Paulo state since the start of the health crisis which has left more than 255,000 people dead in Brazil, where vaccination has been slow to start.
As an octogenarian, Pele forms part of the population considered at high risk of coronavirus complications.
His health has deteriorated in recent years, and in limited recent public appearances, he has been seen in a wheelchair or supported by a walker.
Country music singer Dolly Parton also got her Covid-19 vaccine today, joking that she was getting a dose of her own medicine. In December, the singer donated $1m to help fund the production of the Morderna vaccine.
In a video posted on Twitter, she encouraged people to get inoculated.
Health agency says Sweden heading into third wave of pandemic
Sweden appeared headed into a third wave of the Covid-19 pandemic, the Health Agency said, as it tightened crowd restrictions for shops amid a recent rise in new cases and a rapid spread of virus variants considered more infectious.
Sweden, which has shunned lockdowns throughout the pandemic, registered 11,804 new coronavirus cases since Friday, health agency statistics showed today, a increase on the 10,933 cases reported during the corresponding period last week.
"It certainly looks like we're heading into a third wave," Chief Epidemiologist Anders Tegnell told a news conference.
"It's starting to have an impact on intensive care. We don't see a dramatic increase but not the decrease we had for a time."
The Health Agency recommended that crowds at shops be limited to 500 people, adding to a string of new restrictions in recent week, such as limited opening hours for bars, cafes and restaurants and stricter rules for wearing face masks.
Dr Tegnell also said recent studies pointed to AstraZenenca Covid vaccine being effective for people over 65 and that Sweden was looking into changing its recommendation of not administering it to elderly.
"The AstraZeneca vaccine has gotten an undeserved bad reputation," he said.
---
---
While new cases have increased, the death toll is still lower than in previous months.
The country of 10 million inhabitants registered 56 new deaths, the lowest weekend figure since early November, taking the total to 12,882. The deaths registered have occurred over several days and sometimes weeks.
Sweden's death rate per capita is many times higher than that of its Nordic neighbours' but lower than in several European countries that opted for lockdowns.
Austria breaks ranks with EU to produce vaccines with Denmark, Israel
Austria has broken ranks with the European Union saying it would work together with Israel and Denmark to produce second-generation vaccines against mutations of the coronavirus.
Chancellor Sebastian Kurz said Austria and Denmark, as members of the First Mover Group founded by him, would work with Israel on vaccine production against mutations of the coronavirus and jointly research treatment options.
The announcement is a rebuke to the EU's joint vaccine procurement programme for member states which has been criticised for being too slow to agree deals with manufacturers.
Production problems and supply chain bottlenecks have also slowed deliveries to the bloc, delaying the roll-out of vaccines.
While the decision to agree that the EU procures vaccine sfor member states was correct in principle, Mr Kurz said the European Medicines Agency had been too slow to approve vaccines and criticised supply bottlenecks from pharmaceutical companies.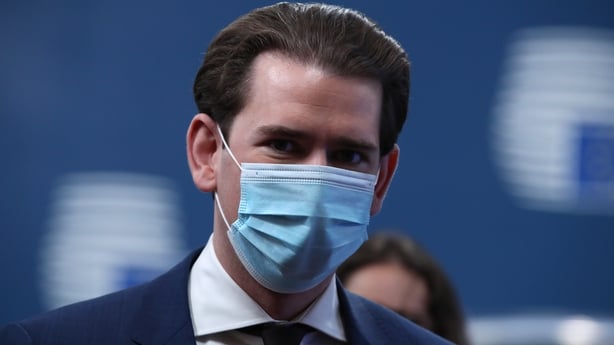 "We must therefore prepare for further mutations and should no longer be dependent only on the EU for the production of second-generation vaccines," he said in a statement.
Experts reckon that Austria will have to vaccinate two-thirds of the population, equivalent to more than six million people annually, in coming years, Mr Kurz said.
Mr Kurz is due to travel to Israel this week with Danish Prime Minister Mette Frederiksen to see Israel's rapid vaccine roll-out up close.
He said he would inspect pharmaceutical companies with domestic production including Pfizer, Novartis. Polymun and Boehringer Ingelheim as well as speak to leading scientists and physicians today.
Germany last month set up a task force to address bottlenecks in the supply chain of vaccine production and boost local manufacturing to protect itself against future pandemics.
A spokesman for the European Commission said the EU's joint vaccine procurement has not unravelled when asked about individual countries getting jabs from Russia or China that do not have the bloc's authorisation.
"It's not that the strategy unravelled," Commission spokesman Stefan de Keersmaecker said, adding that EU countries have the right to seal their contracts of their own with producers beyond those the Commission agrees on for the bloc.
"For our vaccines, we go through the European Medicines Agency because we want to ensure efficacy and safety. What member states do in addition to that, it's their responsibility."
He said emergency authorisations by particular member states may be more risky than the full EMA procedure.
Merkel proposes easing some virus curbs in Germany from Monday

German Chancellor Angela Merkel wants to allow more socialising between households from next week as part of plans to gradually loosen virus curbs, a draft text showed.
Private get-togethers between two households, not exceeding five adults, will be allowed again "from March 8", according to the document seen by AFP.
It also proposes that flower shops, book stores and garden centres reopen soon.
The text has yet to be agreed by Germany's 16 regional premiers, who are due to hold talks with Merkel on Wednesday.

Spain's jobless hit 4m in February as pandemic restrictions bite
The number of people in Spain registering as jobless reached four million in February, official data showed, as Covid-19 restrictions hit the ailing economy and led to the the first month of job destruction since last May.
Jobless claims rose by 1.12% from a month earlier, or by 44,436 people, leaving four million people out of work for the first time since early 2016, Labour Ministry data showed, and marking the fifth consecutive monthly increase in unemployment.
The number of unemployed people was 23.5% higher than in February 2020.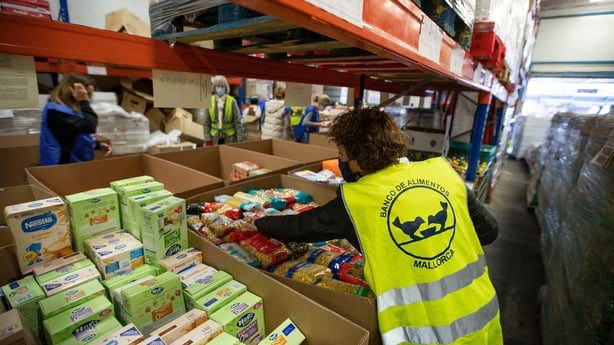 "The rise in unemployment, caused by the third wave, is bad news, reflecting the structural flaws of the labour market that are accentuated by the pandemic," Labour Minister Yolanda Diaz tweeted.
February was also the first month of net job destruction since May 2020, with Spain losing some 30,211 positions over the month, seasonally adjusted data from the Social Security Ministry showed.
But the number of people supported by Spain's ERTE furlough scheme fell by nearly 29,000 to 899,383.
"These figures have remained more or less stable since September, indicating that the second and third waves of the pandemic have had a much smaller effect than the first in this regard," the ministry said in a statement.
Iraq receives first Covid vaccines, gift from China

Iraq has received 50,000 Sinopharm vaccines donated by China, the health ministry announced, launching a long-awaited vaccination campaign.
A Health ministry spokesman told reporters that the first delivery in the early hours meant inoculations could begin today.
The health ministry simultaneously announced it had agreed with the Chinese ambassador in Baghdad to purchase another two million doses, with no details on payment or timing.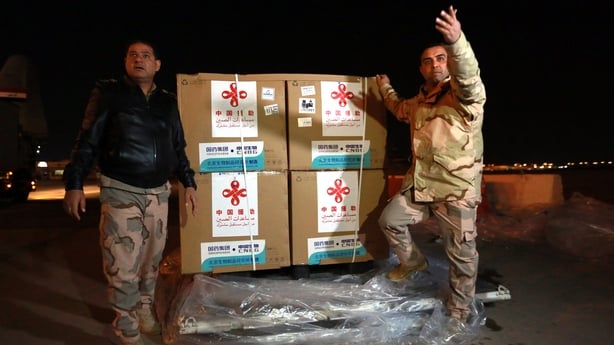 Sinopharm affiliate Wuhan Institute Of Biological Products says its vaccine has an efficacy rate of 72.51%, behind rival jabs by Pfizer-BioNTech and Moderna, which have 95% and 94.5% rates respectively.
The ministry has said health workers, security forces and the elderly would be prioritised and that the vaccine would be administered free of charge, but has given few other details.
The first jabs arrived as the Iraqi government faces growing criticism of its handling of the pandemic.
The country has been hit by a second wave of Covid-19 infections, with more than 3,000 new cases reported daily, a few months after they had dropped to around 700 a day, and deaths also tripling to around 25 a day in recent weeks.
To stop the spread, Iraq has imposed overnight curfews during weekdays and full lockdowns on Fridays, Saturdays and Sundays, with obligatory mask-wearing in public.
But there is little commitment by either the public or security forces deployed to enforce the measures, in a country whose health sector has been ravaged by decades of war, corruption and slim investment.