Finland will go into a three-week lockdown starting on 8 March and is prepared to declare a state of emergency, Prime Minister Sanna Marin has said, as the country faces a rising number of coronavirus cases.
The lockdown will not include a curfew but will involve the closure of restaurants and ordering school students who are 13 or older to move to remote learning, the government said.
Ms Marin said she is ready to declare a state of emergency next week, having discussed this with the president.
Among other things, such a move would require health care workers to work longer hours and cancel their holidays.
Ms Marin said she thought a state of emergency was needed to stop new coronavirus variants from spreading.
"If we wait for the situation to get worse, it will be more difficult to stop it," she said.
However, Justice Minister Anna-Maja Henriksson, a member of a smaller party in the ruling coalition, said she thought that using the full force of the emergency powers act was not necessary, and that limiting the restaurant business would suffice.
While Finland currently has the third lowest infection rate in Europe, after Iceland and Norway, the nation of 5.5 million people has seen a rapid rise in new daily cases, which reached 590 yesterday.
During the past two weeks, the epidemic has worsened in many areas of the country, with the metropolitan area around the capital Helsinki hit the worst.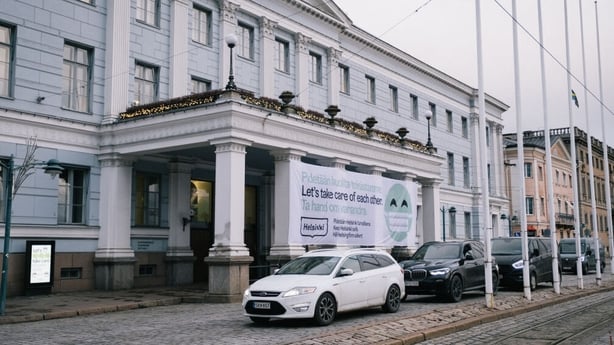 In Bulgaria, the health minister has accused AstraZeneca of failing to stick to its delivery schedule of Covid-19 vaccines to the country and demanded the immediate shipment of at least 52,800 doses that were postponed to next Monday.
In a sharply worded letter, Kostadin Angelov said AstraZeneca's failure to comply with the agreed deliveries was compromising the massive vaccination campaign the Balkan country launched late last week.
The health ministry spokesman confirmed the authenticity of the letter, which was published on the website of Bulgaria's NOVA television.
Dozens of Bulgarians have rushed to get a jab since Saturday, improving the country's record of inoculations, which was the worst in the European Union, but also quickly depleting the supplies of AstraZeneca doses.
Under an EU scheme, Bulgaria ordered 4.5 million doses of AstraZeneca vaccine and arranged to receive them over seven months, initially expecting to receive 450,000 doses in February, but has so far received only 117,000 shots.
Two deliveries for a total of 142,400 doses, confirmed on 15 February, were now being delayed to 1 March and reduced by about two-thirds, the letter said.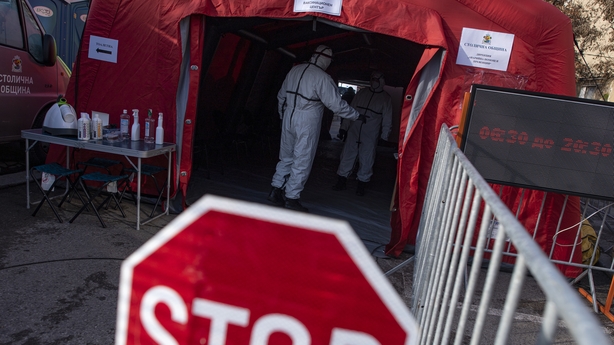 Mr Angelov demanded the immediate delivery of at least the 52,800 doses promised for 1 March, saying that the Bulgarian government was ready to arrange air transport at its own expense as early as "tomorrow".
"I emphasise that failure to stick to the announced delivery schedule by AstraZeneca compromises the vaccination campaign in Bulgaria," he wrote.
"With the lack of vaccines that were supposed to be delivered by your company the message that your company sends to the Bulgarian people would sound like this: 'AstraZeneca has taken the hope out of your hands'," Mr Angelov said.
Pfizer to test third dose, tweaked vaccine to target South Africa strain
Pfizer and BioNTech have said they are studying adding a third dose to their vaccine regime and testing a new version targeting the South African variant of the coronavirus.
In one study, the US and German pharmaceutical firms said they would look at what happens when people are given a third dose of their two-shot vaccine, six to 12 months after the booster.
They said in a statement they are also talking to regulators about testing a modified version of their original vaccine to address the South African variant known as B.1.351.
"We are taking multiple steps to act decisively and be ready in case a strain becomes resistant to the protection afforded by the vaccine," Dr Albert Bourla, Pfizer's CEO, said in a statement.
The South African variant is considered among the more dangerous of current mutations because it evades some of the blocking action of antibodies that target the older coronavirus strain.
That means people who were infected with the classic strain are more susceptible to reinfection, and research has also shown the variant has partly reduced the protection of the current generation of vaccines.
Meanwhile, Moderna has produced a jab that works specifically against the variant of coronavirus discovered in South Africa, with trials due to start in the United States.
The firm is experimenting with several potential methods of combating new variants of coronavirus, with a view to potentially offering new or booster shots.
It comes after studies suggested that current vaccines offer less protection against the South African variant, which has a key mutation - E484K - thought to help the virus evade parts of the immune system.
The mutation has been worrying scientists and is also found in the variant of the virus first found in Brazil, as well as some cases of the variant originally identified in England.
Moderna is looking at whether an additional booster shot targeting the South African variant could be given to people, and is working on a combined jab that mixes its current vaccine with the new one.
France, Germany to step up Covid-19 controls at common border
France has said it will bring in new Covid-19 restrictions for the area around its common border with Germany, as President Emmanuel Macron's government tries to contain a surge of coronavirus variants in the French region of Moselle.
Cross-border workers, who had exemptions until now, will need to present negative PCR tests to get through if travelling for reasons unrelated to their jobs, France's European affairs and health ministers said in a joint statement.
Home working in the area will also be reinforced, they added, after France and Germany said earlier this week they were trying to find ways to prevent a closure of their common border.
Joint France-German police patrols could be stepped up, the ministries said, adding that France's vaccination programme in the region was also being sped up and testing would be boosted.
France has resisted a new national lockdown to control more contagious coronavirus variants, but has begun to tighten restrictions locally, including in the Dunkirk area in northern France, as cases rise.
The area around Dunkirk will temporarily bring in weekend lockdowns.
India's health workers balk at taking homegrown Covid-19 vaccine 
India is struggling to convince its health and frontline workers to take a homegrown Covid-19 vaccine controversially approved without late-stage efficacy data, government data has shown, days ahead of a wider roll-out.
The country has the world's second-highest number of coronavirus infections after the United States, with cases recently surging as mask wearing declines and states have eased social distancing measures.
A lack of confidence in a homegrown vaccine country could prevent India from meeting its target of vaccinating 300 million of its 1.35 billion people by August.
India has vaccinated more than 10.5 million health and frontline workers since beginning its immunisation campaign on 16 January.
But only 1.2 million, or about 11%, of them have taken COVAXIN, the locally developed vaccine from Bharat Biotech, while the remaining 9.4 million have used the vaccine licensed from AstraZeneca, according to the government's Co-Win online platform used to track the vaccination drive.
India's federal government has so far ordered 10 million doses of COVAXIN and 21 million doses of the AstraZeneca shot.
The government says it has received at least 5.5 million COVAXIN doses.
India's Health Secretary Rajesh Bhushan attributed the lower uptake of COVAXIN to Bharat Biotech's limited production capacity compared to that of the Serum Institute of India, the world's biggest vaccine producer, which is making the AstraZeneca shot for low and medium-income countries.
Dutch sex workers, cafe owners challenge Covid curbs

Dutch sex workers said they would demonstrate next week against the continued closure of brothels under government Covid curbs while scores of restaurants and cafes vowed to reopen in defiance of a ban.
The challenges follow Dutch Prime Minister Mark Rutte's announcement on Tuesday to relax some measures but to extend the country's controversial nightly curfew and maintain bans on sex work and on the hospitality industry.
Mr Rutte said his government would allow hair salons, massage spas and some secondary schools to reopen next Wednesday.
But Mr Rutte said prostitution, which  is legal in the Netherlands, will remained curbed because "of the specific nature of the job, which means very close contact and possibility of virus transmission."
Sex workers, under a ban since early December, said they would gather outside parliament on Tuesday to make their voices heard.
"We are going to protest because we are the only contact profession now excluded by the ease in the government's measures," said sex worker Moira Mona, one of the demonstration's organisers.
"We have a strict hygiene protocol and we know, perhaps better than anybody, how to prevent virus transmission," she told AFP.
Meanwhile, at least 65 Dutch cafe and restaurant owners said they would open terraces on the same day in defiance of a government-ordered closure since mid-October, the NOS public broadcaster reported.
The announcement comes after recent warm and sunny weather saw thousands of people gather in parks - often contravening social distancing and other measures.
"Weekend after weekend we see crammed city parks. It's bizarre," said business owner Johan de Vos.
"We are upset about this, because it's an unregulated situation, whereas we can do it much better with a 1.5-metre social distancing rule, registration and supervision," he told the NOS.
The Royal Dutch Hospitality umbrella organisation it "understood the decision by some cafe and restaurant owners" even if unauthorised reopenings were not official policy.
"It's a clear signal to The Hague and one we fully support," it added in a statement mailed to AFP.
More than one million people have been infected with the coronavirus in the Netherlands since the start of the pandemic and some 15,400 people have died.
Government initially carried out a so-called "intelligent lockdown" policy, depending largely on citizens themselves to prevent the spread of the virus.
But it tightened measures during a second wave late last year and growing fears for new more infectious variants of the disease.
Additional reporting PA, AFP