Sweden is preparing new measures to try to curb a resurgence in Covid-19 cases as the coronavirus strain first detected in Britain spreads rapidly.
Sweden has avoided lockdowns throughout the pandemic. But health statistics agency figures today showed 10,933 new coronavirus cases had been registered since Friday, a rise from 9,458 in the corresponding period the previous week.
"The British variant is increasing very fast," Chief Epidemiologist Anders Tegnell told a news conference.
"This variant will with fairly high probability be the dominant one within a few weeks or a month."
"We have a package (of national measures) being readied that will be presented tomorrow," he said, but gave no details.
The variant is thought by scientists to be a more infectious strain. Cases of the variants first detected in South Africa and Brazil have also been reported but are not spreading quickly, Dr Tegnell said.
Concerns about a possible third wave of the pandemic have been growing in Sweden in recent weeks as the number of new infections rose and the new variants spread.
The government has laid the ground for potential lockdown measures to an extent not seen earlier during the pandemic.
Several of Sweden's largest regions, including Stockholm, have also taken steps, such as recommending the use of masks in shops, workplaces and public transport.
This is at odds with the health agency's past reluctance to broadly endorse such moves because of limited evidence of their efficacy.
---
Why the US has the highest Covid-19 death toll
Latest coronavirus stories
---
Sweden, a country of 10 million people, has registered 12,713 deaths from Covid-19.
The death rate per capita is much higher than its Nordic neighbours but lower than in several countries in Europe that opted for lockdowns.
Biden calls US Covid-19 toll 'heartbreaking' as deaths pass 500,000
US President Joe Biden yesterday led Americans in observing a moment of silence to commemorate the grim milestone of more than 500,000 US deaths from Covid-19, urging them to set aside partisan differences and fight the pandemic together.
"Today we mark a truly grim, heartbreaking milestone - 500,071 dead. That's more Americans who have died in one year in this pandemic than in World War I, World War II and the Vietnam War combined," Mr Biden said in emotional remarks at the White House.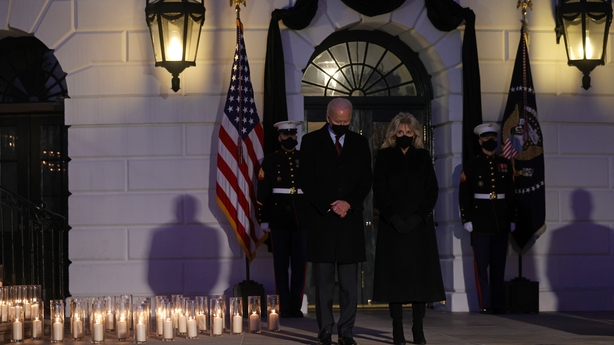 "But as we acknowledge the scale of this mass death in America, we remember each person and the life they lived. They're people we knew."
Mr Biden and his wife Jill, along with Vice President Kamala Harris and her husband Doug Emhoff marked a moment of silence outdoors at the White House after the president's remarks.
Five hundred lit candles lined the White House steps to commemorate the dead and a military band played 'Amazing Grace'.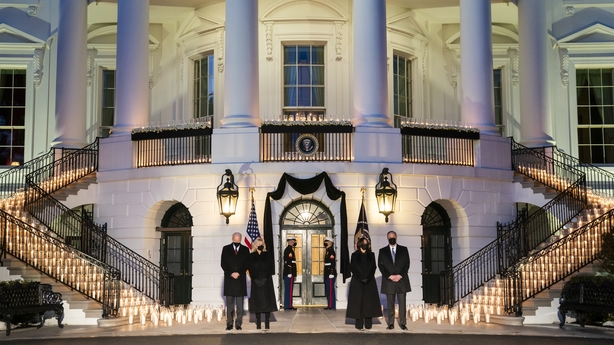 President Biden ordered that all flags on federal properties and military facilities be lowered to half-mast until Friday at sunset to commemorate the dead.
The president called on Americans to remain vigilant in fighting the pandemic by continuing to wear masks, observe social distancing and receive vaccinations when it is their turn.
"We must end the politics and misinformation that has divided families, communities and the country, and has cost too many lives already. It's not Democrats and Republicans who are dying from the virus. It's our fellow Americans," Mr Biden said.
"We have to fight this together as one people, as the United States of America."
We need your consent to load this rte-player contentWe use rte-player to manage extra content that can set cookies on your device and collect data about your activity. Please review their details and accept them to load the content.Manage Preferences
About 19% of total global coronavirus deaths have occurred in the United States, an outsized figure given that the nation accounts for just 4% of the world's population.
Mr Biden has made the pandemic his top priority but has warned that the US toll could still go "well over" 600,000.
But signs are also emerging that progress is being made with infections dropping sharply and vaccine deliveries rising steadily.
Rochelle Walensky, director of the Centers for Disease Control, said US deaths are at their lowest since December, with a 39% drop in the latest seven-day average of new daily cases.
New Zealand coronavirus cluster grows with three new cases
New Zealand has reported three new locally transmitted cases of coronavirus, as the cluster in its biggest city of Auckland expanded just days after authorities were forced to impose fresh restrictions.
Prime Minister Jacinda Ardern lifted a brief Covid-19 lockdown in Auckland last week, saying the measures had helped limit the spread of the infection to a family of three.
However, a student from Papatoetoe High School in Auckland was reported to have tested positive for Covid-19 and health authorities later said that two siblings of the student were also infected with the virus, and have asked everyone linked to the school to get re-tested.
Officials have also called on people who had visited specific locations to self-isolate and call local health officials for advice on testing.
Auckland's nearly two million residents were plunged into a snap three-day lockdown earlier this month, after a family of three - two adults and a child - were diagnosed with the more transmissible variant of coronavirus first detected in the UK.
Ukraine receives first Covid-19 vaccine doses

After several delays, Ukraine today finally received its first shipment of Covid-19 vaccine doses.
The country of 40 million people is one of the poorest in Europe and one of the last in the region to begin inoculating its population.
A plane carrying 500,000 doses of the AstraZeneca vaccine, marketed under the name Covishield and produced at the Serum Institute in India - the world's largest vaccine maker - landed at Kiev's Boryspil airport.
President Volodymyr Zelensky had faced criticism for failing to obtain vaccines earlier for Ukraine, which suffers from an ageing healthcare system.
He has blamed the delay on wealthier Western countries that reserved the Pfizer and Moderna jabs in bulk, and has urged the EU to help eastern European countries source vaccines.
His government had originally announced that it would begin its vaccination campaign in mid-February, but the shipment of the first vaccine doses was delayed.
Ukraine is also awaiting delivery of eight million doses promised under the World Health Organization's Covax programme.
Kiev has said it has also secured 17 million doses of vaccines developed by Novavax and AstraZeneca, including the 500,000 that arrived today.
It has also said it signed a contract to receive 1.9 million doses of the Chinese Sinovac vaccine.
Czechs running out of hospital capacity as virus cases soar

The Czech Republic is reaching capacity in intensive care wards as coronavirus infections keep soaring in the EU's worst-hit country, the health ministry said.
The country tops the world in terms of new infections per 100,000 people over the last 14 days and is second after neighbouring Slovakia for deaths, according to an AFP tally.
The government, which tamed the spread during the first wave early last year, has been grappling with recurrent upswings since the summer of 2020 in the country of 10.7 million people.
"We're getting close to running out of intensive care capacity," Deputy Health Minister Vladimir Cerny told reporters, blaming a lack of qualified staff in the first place.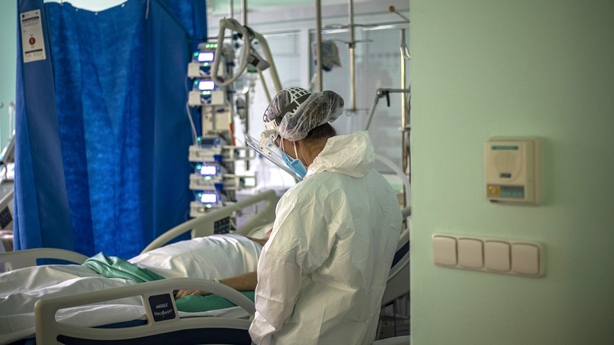 "In no way can we maintain the current standards of health care and there is a slowdown and postponements in non-Covid care. The system as a whole is close to its limit," he added.
The Czech Republic today registered more than 1,300 patients in intensive care, including 660 on ventilators and "a higher number" on life support, said Mr Cerny.
It has registered over 1.16 million cases and more than 19,500 deaths since the pandemic began.
Mr Cerny said the government should now formally ask neighbouring Germany to accept patients mainly from hard-hit western Czech regions.
To step up its measures, the government has ordered people to wear FFP2 face masks or better - or two ordinary face masks - in public buildings, shops and at public transport stops from next Thursday.
Restaurants, cinemas, theatres and most shops remain closed, as do schools, with the exception of pre-schools and the first two years of primary school.