Nearly 1,000 patients over the age of 85 got their first dose of Covid-19 vaccine at the Helix Theatre in DCU today.
The first jab was delivered at the GP-led vaccination centre at 9.30am this morning.
Overall, 960 patients aged over 85 and 104 GP practices are involved in this part of the vaccination roll-out.
They are being given the Pfizer/BioNTech vaccine and will receive their second dose in four weeks.
The Helix at DCU is one of three such vaccination centres. Another at the Munster Technical University in Cork will be operational next weekend while the third at Merlin Park in Galway is still being set up.
A total of six clinics will run at the Helix every second Saturday for patients over 70 from these 104 GP practices in the Dublin region.
The vast majority of people in this cohort will be able to receive their vaccine at their local GP surgery.
"It's been a really emotional day," said Paul Reid, after spending the morning speaking to patients getting their vaccines today.
The HSE chief said it's been a tough year on everybody, but particularly so on the older age groups.
"I found it really emotional talking to everybody, their experience of coming through here today and the strongest word I heard was 'confidence', it's giving people great confidence," he said.
The Minister for Health said the experience at the Helix was "incredible" and that it felt like "raw distilled hope".
Stephen Donnelly said it has been the "most brutal, hard year for people with so much loss and so much suffering" and that today is the light at the end of the tunnel.
He said everyone who got their vaccine today will get their second dose in 28 days' time.
"Just talking to people here and their hopes about how they're going to get on with their lives again is just wonderful."
Mr Donnelly said that the vaccination centre at DCU was a "national effort" between GPs, practice nurses, medical students, the Order of Malta, the HSE, the Department of Health, DCU and even Dublin Airport, which provided wheelchairs.
More than 1000 people over 85 are getting their first dose of vaccine here at @DCU today @rtenews pic.twitter.com/yBlvfsTTvr

— Laura Hogan (@LauraHoganTV) February 20, 2021
---
---
Dr Maitiú O'Faoláin, who is the medical director of the GP-led vaccination clinics, earlier said that 40 patients were coming through every ten minutes.
Dr Ó Faoláin said that he had not met any patient who was hesitant and there was great excitement. He said that they have about ten minutes with each patient to chat.
"We are very aware that many of the patients have been for cocooning for the guts of the last year. They didn't have Christmas with their families, they haven't been out to their social clubs," said Dr Ó Faoláin.
"We recognise that this is both a medical and social interaction, and at least more than one has put on their best tie and put on their makeup."
Dr Ó Faolain said that the joy of the patients this morning was "infectious" and it is a "real privilege" for GPs.
"What this feels like is hope", says Health Minister @DonnellyStephen today as almost 1000 people over 85 get their vaccines today @rtenews pic.twitter.com/EoiaeKBm5U

— Laura Hogan (@LauraHoganTV) February 20, 2021
Head of the vaccine task force, Prof Brian MacCraith, said today brought an air of positivity and euphoria.
He said that for the patients getting vaccinated it is "a liberation from the tyranny of this awful disease".
The clinic also gives people a vision of the future of the roll out as the capacity of the Helix will be able to scale up to 5,000 vaccinations per day, seven days a week in later phases of the roll-out.
He said that by next week, all those residents and staff in long-term care will have gotten their first dose, with second doses done by mid-March.
He said the same was true for healthcare workers. The plan is to have completed two doses in the almost half a million people aged over 70 by mid-May.
---
Over 1m vaccine doses per month expected - MacCraith
---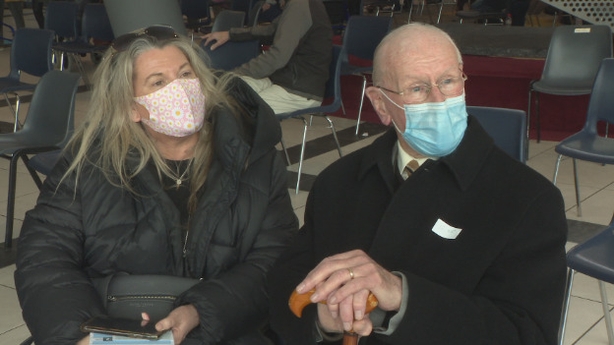 87-year-old Noel Reid from Churchtown in Dublin was dressed in a shirt and tie to get his vaccine this morning.
"I was coming out with my daughter, I wanted to look a bit dapper," he said.
After getting the jab, Noel said: "I feel terrific. I'm delighted I had it, it's marvellous what's happening.
"We've been stuck in for quite a long time in the house, it's great to get out," he said.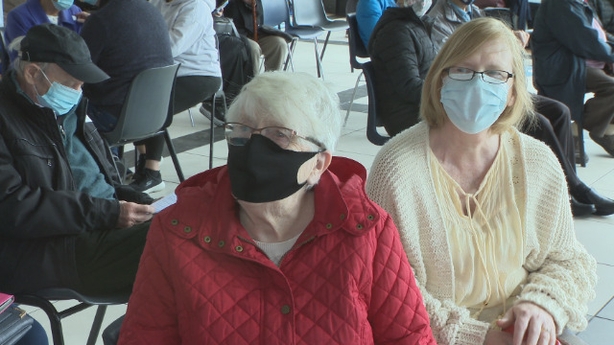 Sarah Mullen contracted Covid-19 last October and spent 14 days in hospital with the virus.
Today, she received her first dose of the vaccine at the Helix in DCU.
"I would say I would feel more comfortable now after getting it. I would recommend anyone to have it," she said.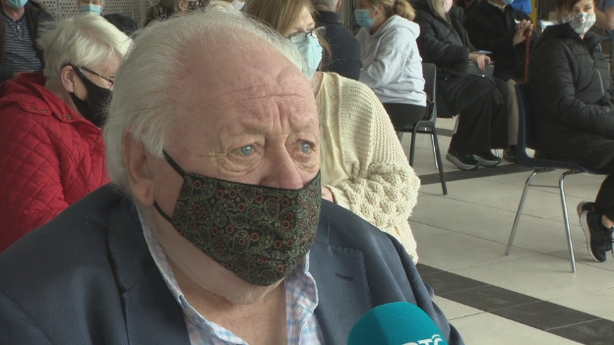 "I'm great. I'm alive, you can't ask for much more than that," exclaimed Gerry Murphy from the observation area of the Helix in Dublin today.
The 87-year-old said: "I came here for a shot, I've had it and I'm perfect.
"The only disturbing thing is someone told me you can't have a drink after that. I may not follow that!"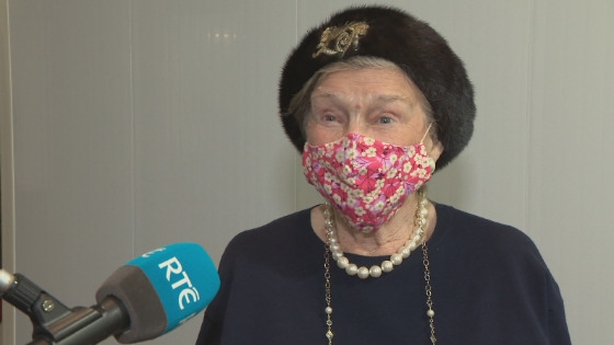 Valerie Sheridan said she had been dreading getting her vaccine this morning, but that it felt like "absolutely nothing".
The 86-year-old is looking forward to going out to dinner again and seeing her friends once it is safe to do so.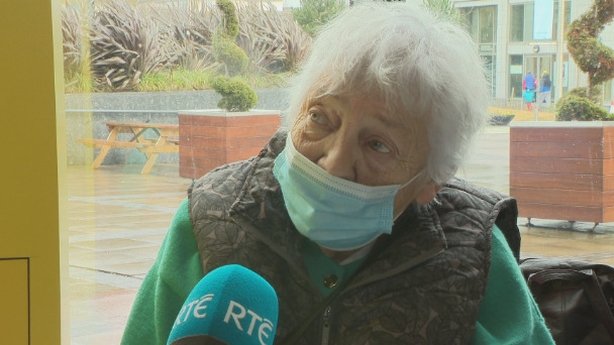 86-year-old Bridget Murphy from Meath said she never felt a thing while getting vaccinated.
"It means an awful lot to me. I feel like a VIP at the moment," she said.