Spain has given a full two-shot course of coronavirus vaccines to almost all its elderly nursing-home residents, the FED care-home association said, restoring some sense of security to the most vulnerable section of the population.
Separately, Prime Minister Pedro Sanchez said the country, which has administered 2.8 million doses and fully inoculated1.14 million people, was on track to vaccinate 20 million people in the first half of 2021 out of a population of 47 million.
Nearly 43,000 care-home residents died of Covid-19 or suspected infection in the devastating March-May first wave, and prosecutors are investigating more than 200 cases of potential criminal negligence at such homes.
But more than 97% of residents have now been vaccinated across Spain's 17 regions, according to the FED, putting nursing homes among the country's safest places.
"They are very positive data that allow us to be optimistic about the future," said FED's president Ignacio Fernandez Cid.
"Immunity will allow us to gradually return to the longed-for lost normality."
---
---
Health Emergency Chief Fernando Simon said earlier this week that for the first time since the start of the pandemic, people over 65 who live in care homes have a lower rate of infection than those who live outside.
Frontline medics and care workers are the only people under 65 to receive a vaccine so far.
Spain will now give shots made by Pfizer-BioNTech and Moderna to people over 80, while AstraZeneca's drug will go to key workers under 55.
With a third wave quickly receding, Spain's two-week infection rate hit 321 cases per 100,000 people yesterday, from almost 900 cases at the end of January, prompting several regions to relax measures.
Madrid has pushed its curfew back an hour lifted travel restrictions on 31 neighbourhoods.
EU to double Covax vaccine funding to €1bn - reports
The European Union will announce it is doubling its contribution to the Covax global Covid-19 vaccination programme to €1 billion at a G7 meeting, a European source said.
EU chiefs Ursula von der Leyen and Charles Michel are set to unveil the increased funding from the bloc's budget and pledge a further €100m in aid to support the fight against the virus in Africa, the source said.
The move comes as world powers look to ramp up support for poorer nations in the face of accusations that rich countries are hoarding vaccines against the coronavirus and leaving other parts of the globe behind.
US President Joe Biden is set to pledge $4 billion in aid to Covax during the virtual meeting with other leaders from the Group of Seven major industrial nations.
Covax is a global project to procure and distribute coronavirus vaccines for at least the most vulnerable 20% in every country, allowing poorer states to catch up with the rush by dozens of wealthy countries to vaccinate.
French President Emmanuel Macron proposed that Western countries transfer 3-5% of their stock of Covid-19 vaccines to Africa, in an interview with the Financial Times published yesterday.
The push to bolster vaccine programmes in developing nations comes despite a slow start to the inoculation roll-out across the EU that has left the bloc lagging behind countries like the United States, Britain and Israel.
G7 leaders urged to agree way to share excess vaccine doses
The UK and other countries with a surplus of coronavirus vaccines have been urged to seize the opportunity to agree a "fast, fair and effective way" to share excess doses at today's meeting of G7 leaders.
The One Campaign, a global movement working to end extreme poverty and preventable disease by 2030, is warning that countries must not stockpile vaccines and that the whole world needs to be inoculated in order to end the pandemic.
The organisation said its analysis has shown the world's richest countries are on course to accumulate one billion more doses than they would need to fully vaccinate all their own citizens.
The group said Australia, Canada, Japan, the UK, the US and the EU have already secured a total of more than three billion doses of approved Covid-19 vaccines, which they said is almost one billion more than the 2.06 billion needed to give their entire populations two doses.
Poland entering third wave of Covid-19 - health ministry
Poland is seeing the beginning of a third wave of coronavirus infections, a health ministry spokesman said, as the country posted a large week-on-week increase in daily cases.
Poland has loosened some restrictions, recently opening ski slopes as well as cinemas, hotels and theatres at up to 50% capacity, but authorities have warned that these measures may have to be rolled back depending on the pandemic situation.
"We are at the beginning of the third wave, it is not as dynamic as in Slovakia or the Czech Republic..., but unfortunately we are observing this upward trend," Wojciech Andrusiewicz told reporters.
"Week-to-week we unfortunately see a 20% growth trend."
He added that around 10% of Covid-19 cases in Poland were now the variant first detected in the UK.
Poland reported 8,777 new cases of the coronavirus today and 241 deaths.
In total, it has reported 1,623,218 cases of the coronavirus and 41,823 deaths.
African Union says Russia offers 300m doses of Sputnik V vaccine
The African Union's vaccine task team said that Russia had offered it 300 million doses of its Sputnik V Covid-19 vaccine and that the offer included a financing package for countries wanting to secure the shots.
It said in a statement that the Sputnik V vaccine would be available for a period of 12 months starting in May.
Only a handful countries in Africa have started to roll out vaccination programmes, lagging some wealthier nations that are well into their immunisation campaigns.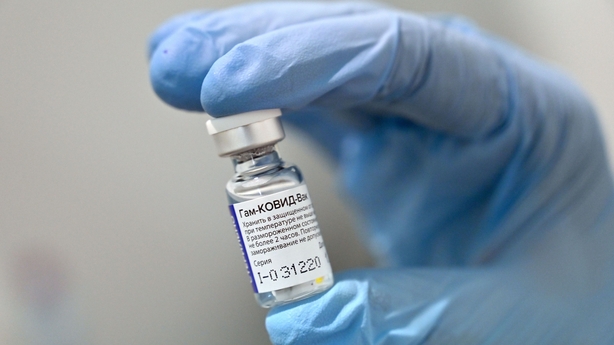 "We are grateful to receive the Sputnik V vaccines from the Russian Federation and tremendously proud to be able to offer them ... for our AU Member States," John Nkengasong, director of the AU's disease control body, was quoted as saying in the statement.
The AU previously said it had secured 270 million doses of vaccine from AstraZeneca, Pfizer and Johnson & Johnson for delivery this year.
The vaccine team said all 270 million doses had been "taken up by the first allocation phase deadline".
Chatty robot Franzi cheers up German patients

Cleaning robot Franzi makes sure floors are spotless at the Munich hospital where she works, and has taken on a new role during the pandemic: cheering up patients and staff.
"Can you move out the way, please? I need to clean," trills the robot in German when people block her pre-programmed cleaning route.
"You need to move! I really want to clean!" she squeaks at those who still don't get out of the way. And if that doesn't work, digital tears begin to stream from her LED-light eyes.
"Visitors are not allowed in the pandemic, so Franzi entertains the patients a bit," says Constance Rettler of Dr Rettler, the company in charge of cleaning the Neuperlach hospital that provided the robot.
Three times a day, Franzi bustles through the clinic's entrance hall, her feet automatically mopping the floors.
Amused patients take photos of her, and some even stop to chat to the metre-high robot.
"Ah, there you are my friend," cries one elderly lady with a drip on her arm upon catching sight of Franzi.
"One of our recent patients came down three times a day to talk to her," smiles Tanja Zacherl, who oversees hospital maintenance.
Created by a company in Singapore, Franzi was originally named Ella and spoke English before coming to Munich early this year.
Yet her German is perfect as she tells her interviewers that she "never wants to grow up" and that cleaning is her passion.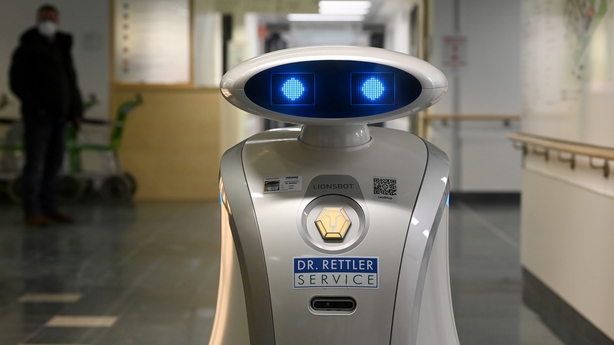 When prompted, she can also sing classic German pop songs and even rap.
Ms Rettler is adamant that the robot is not taking jobs away from real human beings but instead is supposed to "support" her flesh-and-blood colleagues, who have become harder to come by during the coronavirus pandemic.
"With the pandemic, there is lots of extra disinfecting work to be done in hospitals," she said.
"While Franzi is cleaning the floors, our employees can concentrate on doing that."
A robot has its limits however. It is still unable to get into tight corners, and if it hits an obstacle, it bursts into tears and remains stuck until rescued by a human.
Yet Franzi also has a reason to be cheerful. After a test phase of several weeks, she appears to have settled in at the Neuperlach hospital.
The company has therefore decided to keep her there permanently rather than deploy her elsewhere.