The vaccination programme for people aged 85 years and older has begun in some GP practices.
The first doses will take around three weeks to administer.
Mary White, who is 92 and from Waterford, was among the first people aged over 85 to get her Covid-19 vaccine this morning.
"It's lovely to have it done now," she said, after getting her first dose of the vaccine.
Mary was one of up to 300 patients getting the vaccine at the Keogh Practice in Waterford city today.
Her daughter Paula White accompanied her to the centre.
"It's great to see the start of it now. You just feel a bit safer. It's great to get it done today and we'll be back again in four weeks' time," she said.
James Griffin is another patient who received his vaccine today. "I'm marvellous," he said afterwards.
His son told RTÉ News that James has been isolating since the beginning of the pandemic and that he's looking forward to getting out to see his grandchildren again.
Rolling up the sleeve to get his jab, another patient, Noel Lee, said: "Prevention is better than cure, isn't it?"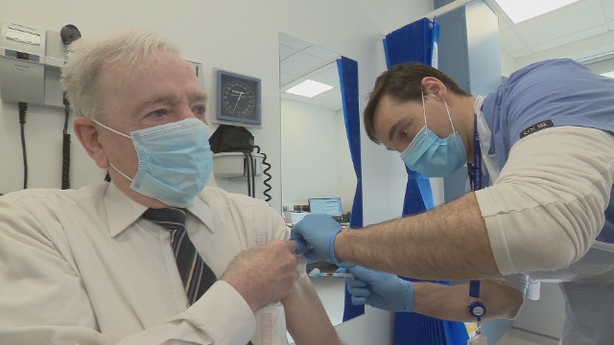 More than 12,000 people in this age group should get their vaccinations this week, extending to other practices nationwide next week.
It is expected the 72,500 people over 85 in Ireland will have had their first jab in the next three weeks.
A GP involved in the roll-out today likened it to "Christmas morning", because of the levels of excitement and relief.
Dr Niall McNamara of the Keogh Practice said it is "a fantastic day" for staff and patients alike.
The Keogh Practice is one of 116 GP practices across the country taking part in this first stage of the vaccine roll-out to over-85s this week.
He said: "The only thing I can liken it to is being like an eight-year-old kid and waking early on Christmas morning.
"I've been awake since three o'clock and couldn't get back to sleep, the only thing that betters that excitement is the excitement of the patients.
"It's been absolutely electrifying here this morning. It's been a fantastic buzz and everybody is so happy to get it.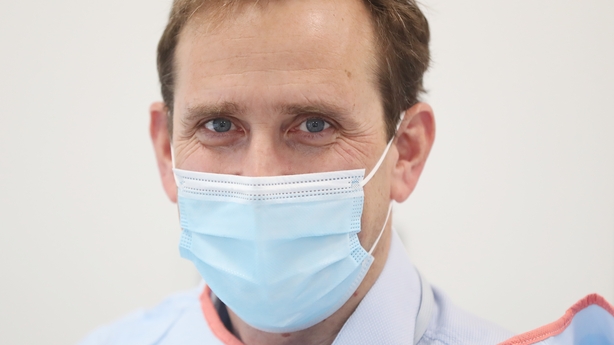 "It's been a really, really difficult time for everyone and everyone in the country has been feeling it.
"But I don't think there's been any group more than the over-85s who have been affected, in terms of the loss of life and then the inability to grieve for their friends in the same age group, and also the curtailments on their liberties, particularly in the first lockdown."
The Keogh Practice is vaccinating 300 people today and another 72 tomorrow.
"If we had more vaccine we'd give it. We'd vaccinate seven days a week if we could," Dr McNamara said.
The only limiting factor is the supply of vaccine, the doctor said, but he added that the HSE and the Government are "trying their level best" to get vaccines in.
"I don't think there's any vaccine sitting in fridges, it's getting to us and we're putting it in people's arms as quickly as we can get it and as they can get it and if that delivery can speed up, we'll match that."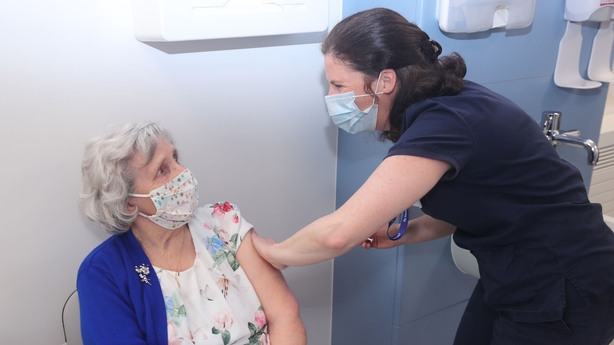 Meanwhile, the chief executive of Rural Link has said there are concerns that many people who will have to travel long distances to get to vaccination centres "simply won't make it" from isolated rural areas.
Speaking on RTÉ's Morning Ireland, Seamus Boland said there are fears that some people will be disadvantaged, particularly elderly people, without a car, who live in remote areas.
Mr Boland said a different strategy for those living in the less densely populated areas is needed and that the Army could play a role in delivering the vaccine.
He added that a lot more clarity is needed around the programme and he said he would welcome a clear communication strategy on local radio and in local newspapers.
Mr Boland said many people in rural areas have experienced isolation and loneliness as a result of the pandemic.
Reporting: Conor Kane & Laura Hogan