The Chief Executive of the Health Service Executive has said the number of vaccines being distributed will almost double in the coming week.
Paul Reid said more than 80,000 doses will be administered across the country between tomorrow and next Sunday.
"We have a very key week ahead of us, where we will be completing over 80,000 vaccinations," he said.
Mr Reid said the figure is "almost double what we have been doing on a weekly basis".
He said it will include "13,500 people who are aged 85 plus, who will be vaccinated in their GP practice or in vaccination centres".
"We will also be doing over 40,000 staff and residents in long-term care facilities, who will be getting their second dose, and thirdly, 25,000 vaccinations of frontline healthcare workers with the AstraZeneca vaccine."
He was speaking at the mass vaccination centre at Sligo IT, where he met with doctors and advanced paramedics administering jabs to GPs and practice nurses today.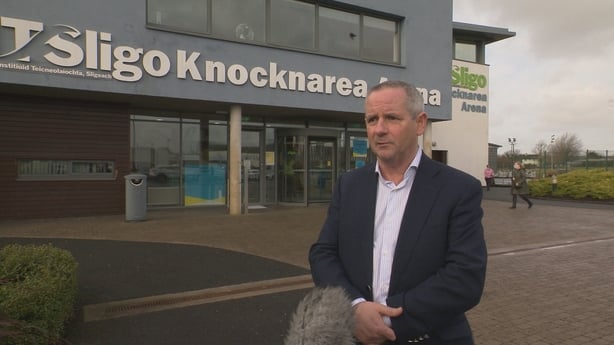 Mr Reid said there are "a very exciting few weeks ahead, as we start to vaccinate people who are living in the community".
Around 12,000 first doses of the Pfizer BioNTech vaccine will be given out at 84 GP practices in 20 counties.
He said people aged over 85 will receive their first vaccine over a three-week period, with all over-70s being administered their first dose by mid-April and their second dose by mid-May.
Around 3,000 GPs and practice nurses received their first Covid-19 vaccine today.
The doctors and nurses were being administered the Oxford-AstraZeneca jab at vaccination centres around the country.
About 1,200 first doses were due to be given at St Mary's Hospital in Dublin, with 600 at the Park Hotel in Portlaoise, 600 at Merlin Park Hospital in Galway and a further 600 at the Sligo Institute of Technology.
Yesterday, 1,800 GPs and practice nurses received their second dose of the Moderna vaccine.
Meanwhile, the latest figures show that as of last Thursday, 261,073 vaccines had been administered in Ireland.
Some 171,239 of the vaccinations were first doses, while 89,834 people have also received their second dose.
Mr Reid said people who are aged 85 or older should not be too concerned if they have not heard anything from their GP about getting a vaccine.
Paul Reid told RTÉ News that people will hear "very shortly" from their doctor about arranging an appointment.
HSE CEO Paul Reid says that if people over the age of 85 have not heard anything about getting a Covd-19 vaccine, then they will hear from their GP "very shortly" about arranging an appointment | https://t.co/DoL1d2mesS pic.twitter.com/s1arvqJmx2

— RTÉ News (@rtenews) February 14, 2021
"They should rest at ease," he said.
"Their GP will be in contact and making arrangements for them, whether it's in the GP practice itself, or whether it's in another GP practice as buddying up, or whether it's in one of the vaccination centres across the country."
1,200 AstraZeneca doses are being given at the centre in Dublin, 600 in Portlaoise, 600 in Galway and 600 in Sligo #Covid19Ireland @RTENews pic.twitter.com/BFmaYq2AMc

— Fergal O'Brien (@Fergal_O_Brien) February 14, 2021
The Keogh Practice in Waterford city will be among the first GP surgeries in the country to administer vaccines to over-85s this coming week.
A batch of Pfizer-BioNTech doses is due to be delivered to the practice tomorrow.
One of the GPs, Dr Niall MacNamara, said they hope to then begin administering the vaccines on Tuesday and Wednesday.
Dr MacNamara said he has been working for 20 years in general practice and he said he is "not sure there has ever been a more important or indeed more exciting week ahead".
"The excitement is shared not just by the doctors, nurses and admin staff in our practice, but it's shared by all our patients, and patients who we have been contacting over the last couple of days booking them in for appointments."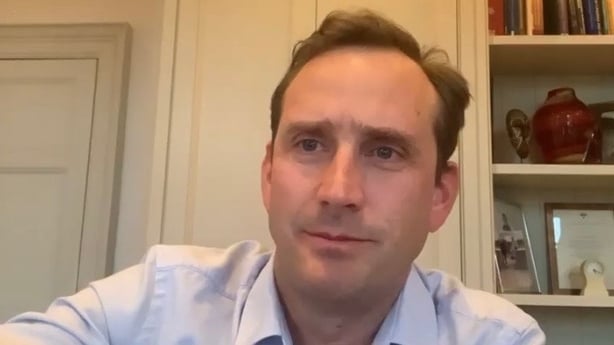 "To everyone in the over-85 category, it has been an incredibly difficult time over the last 12 months, but thankfully this is the first really great sign of hope, and we look forward to sharing that with our patients on Tuesday," he said.
Active Retirement Ireland has described the start of the vaccination of over-85s as positive and a glimmer of hope.
Peter Kavanagh, the Head of Communications and Public Affairs with the representative body, said: "This is quite a positive week for older people, certainly for our members."
"While we know there are massive supply-side issues and that this initial roll-out to the over-85s represents only a small cohort of older people, for those who have been cocooning for so long and have been locked away from friends and loved ones since just about a year ago, it certainly provides a glimmer of hope," he said.
Mr Kavanagh said Active Retirement Ireland welcome the assurances from the Minister for Health Stephen Donnelly and the Minister for Older People Mary Butler that nobody is going to be left behind.
"To anyone who is yet to receive the vaccine, it is very important that they know that they won't be left behind, but it's no harm to check-in with your GP to make sure that you are still active on their records and they will contact you when it is time for the vaccine," he added.
Concerns over international travel situation
It comes as some public health experts have expressed concern that the country runs the risk of undoing all of its vaccination progress, if the current travel situation is not addressed.
Infectious Disease Consultant Dr Cliona Ní Cheallaigh said this morning that Ireland cannot afford to have people travelling in and out of the country at the current rate.
Speaking on RTÉ's Brendan O'Connor programme, she warned that with the global prevalence of the virus and new variants, the progress made so far could unravel.
Dr Ní Cheallaigh said investment was needed in public health teams in areas such as contact tracing, who she said needed to become "like SWAT teams".
As of 8am this morning, there were 899 patients with Covid-19 in Irish hospitals.
Dr Ní Cheallaigh's comments come as Minister for Health Stephen Donnelly said it is too early to say when Level 5 restrictions might be lifted.