The Dutch government is to extend a night-time curfew intended to slow the spread of Covid-19 until 3 March, the country's justice minister said today.
The curfew, the first in the Netherlands since World War Two, sparked several days of riots from anti-lockdown protesters when it was initially introduced on 23 January.
The Netherlands was already under its toughest measures since the start of the pandemic, with bars and restaurants having closed in October, and schools and non-essential shops shut since December.
The team of medical experts advising the government "has told us that it's turning out worse than we feared after all with the number of infections, hospitalisations and such," Justice Minister Ferd Grapperhaus said.
"It also warned us stringently about the ever-higher rise of the much more infectious British variant, and advised us urgently to go ahead and continue with the curfew," he told reporters as he announced the decision after a Cabinet meeting.
New coronavirus cases in the Netherlands have been declining since the end of December but the government said that trend is about to reverse due to the growth in infections of new Covid-19 strains.
National elections are scheduled in the country for 17 March.
'We're confident our vaccines prevent death' - Johnson
British Prime Minister Boris Johnson has said he is confident that both the AstraZeneca and Pfizer Covid-19 vaccines helped prevent death and grave illness, and that medicine was slowly gaining theu pper hand over the novel coronavirus.
"We think that both the vaccines that we're currently using are effective in, as I say, in stopping serious disease and death," Mr Johnson told reporters.
"We also think in particular in the case of the Oxford-AstraZeneca vaccine that there's good evidence that it is stopping transmission, as well, I think 67% reduction in transmission."
"They remain a massive benefit to our country and the population," he said when asked about AstraZeneca's vaccine.
"I've no doubt that vaccines generally are going to offer away out. And with every day that goes by, you can see that medicine is slowly getting the upper hand over the disease."
---
---
AstraZeneca vaccine has major role to play, South Africa trial lead says
The lead investigator on the South African trial of AstraZeneca's vaccine said he believed it had a major role to play in Africa and globally, despite data showing the vaccine offered minimal protection against mild-to-moderate Covid-19 disease caused by the country's dominant virus variant.
Shabir Madhi from the University of the Witwatersrand in Johannesburg said he would begin rolling out the one million AstraZeneca doses already in the country immediately, since they expire in April and it would be reckless to waste them.
"It doesn't make any sense to have one million doses of vaccine available to us which are known to be safe and to not start distributing it, at least for high-risk groups," Professor Madhi said in an interview.
South African health officials said yesterday they were putting AstraZeneca vaccinations on hold temporarily while they sought scientific advice on how to proceed. Vaccinations had been due to start soon, after the first vaccine doses arrived by plane from India last week.
The country, which has recorded the most coronavirus infections on the African continent and over 46,000 deaths, aims to vaccinate 40 million people, or two-thirds of its population to reach some level of herd immunity.
Prof Madhi said it was likely the AstraZeneca shot would protect against severe Covid-19, since it was developed using a similar technology to the Johnson & Johnson vaccine, which has been shown to be effective in preventing severe Covid-19.
South Africa needed to recalibrate its expectations about vaccines this week after the trial showed reduced efficacy against mild-to-moderate illness caused by the more contagious 501Y.V2 variant, as well as to decide which groups to target and to start rolling out doses next week, he said.
"To start turning your back on a vaccine that could potentially save lives, I couldn't understand the logic behind it," Prof Madhi said.
He said he would use the AstraZeneca vaccine to start protecting South Africa's elderly and those with co-morbidities.
The country's initial vaccination plan was meant to start with health workers, but Prof Madhi said the majority of the illness that was likely to occur among that group was mild-to-moderate infection and so the AstraZeneca jab would be better deployed on those at greater risk of severe illness.
Denmark's primary school children return to classes
Nearly 300,000 primary school pupils in Denmark returned to their classes after five weeks at home, a first step in relaxing the country's strict virus curb measures.
This particular start of the new school year however comes with some sanitary caveats, such as no mixing of different classes to limit transmission.
Meals must be eaten in the classroom, but masks are not compulsory for students and teachers.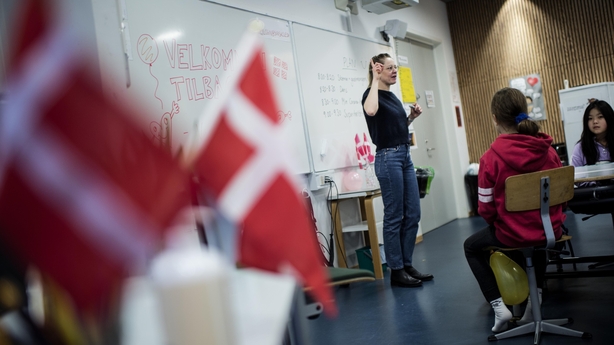 Denmark's 5.8 million people have been under a strict partial lockdown regime since Christmas.
Non-essential shops, bars and restaurants, cultural venues, colleges, high schools and universities are closed and gatherings of more than five people are banned.
The country has seen a reduction in new cases recently, but many of the current restrictions will remain in place for the time being.
"Older students will be able to return to school when we have complete control of the epidemic," Prime Minister Mette Frederiksen said during a visit to a school, without giving any details about the potential timetable.
Denmark recorded 435 new cases of Covid-19 on Sunday, bringing the total number to 202,306 since the start of the pandemic, with more than 2,200 deaths.