South Korean authorities moved to rein in coronavirus outbreaks centred on Christian schools as the country reported a jump in infections, dampening hopes of a speedy exit from a third wave of the pandemic.
At least 323 Covid-19 cases had been traced to churches and mission schools run by a Christian organisation in two cities, according to the Korea Disease Control and Prevention Agency (KDCA) data.
More than 100 cases were confirmed overnight among people linked to churches and its mission schools in Gwangju, about 270kms south of Seoul, officials said.
Another 176 cases had been linked to an affiliated school in the city of Daejeon since 17 January.
The health authorities said the Daejeon mission school outbreak appeared to have been spreading for some time before it was detected.
The Christian organisation responsible for the facilities, International Mission, was ordered to test everyone linked to 32 of its 40 schools and churches around the country.
The group apologised for not taking early measures to prevent the outbreak.
It said that while some infected students may have been asymptomatic it had also failed to require students with cold-like symptoms to get tested.

---
---
Prime Minister Chung Sye-kyun called on people affiliated with the affected facilities to get tested.
"The key is speed. I call on the authorities and local governments to make all-out efforts to identify related facilities and prevent further transmission," Mr Chung told a government briefing.
The KDCA reported 559 new cases as of midnight last night, up from 354 a day before, bringing the national tally to 76,429 infections with 1,378 deaths.
South Korea had managed to keep the virus under control thanks to aggressive testing and contact-tracing, but a third wave that broke out late last year has proven more difficult to contain.
The KDCA has said 45.4% of infections in the country over the past year were caused by cluster infections emerging from specific close-knit groups. Religious facilities were the main source of such clusters.
Wisconsin pharmacist to plead guilty to trying to spoil Covid-19 vaccine doses
A Wisconsin pharmacist has agreed to plead guilty to purposely trying to spoil hundreds of doses of Moderna's Covid-19 vaccine in a bid to render them ineffective, the US Justice Department said.
Steven Brandenburg, 46, is charged with two counts of attempting to tamper with consumer products and with reckless disregard for the risk that another person will be placed in danger of death or bodily injury, according to the statement by the Justice Department.
It said he believed in various "conspiracy theories" and was sceptical of vaccines in general and specifically the vaccine by Moderna.
The US Food and Drug Administration has deemed Moderna's vaccine safe and effective.
Brandenburg has signed a plea agreement to plead guilty to the charges, which each carry a maximum sentence of ten years 'imprisonment, the statement added.
In late December, he intentionally removed a box of Covid-19 vaccine on two successive night shifts from a fridge in Aurora Medical Center in Grafton, Wisconsin, so that he could ruin its effectiveness, according to the statement.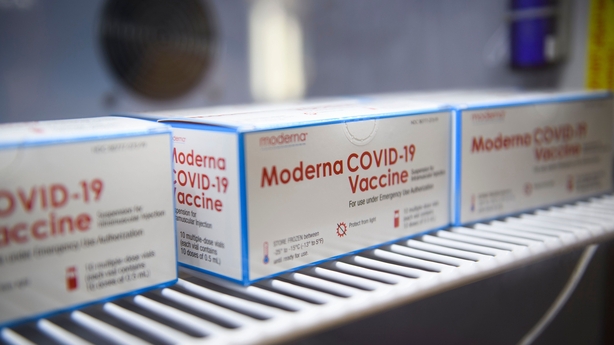 He left them out for several hours before placing them back in the fridge to be used by the clinic the next day, the statement said, adding that 57 people had already received doses of the vaccine from those vials before his conduct was discovered.
Moderna's vaccine has to be stored and shipped frozen, but does not require ultra-cold temperatures and can be stored for 30 days in standard-temperature fridges.
Sweeping Covid-19 lockdown in Peru as virus cases soar
Sixteen million Peruvians will enter entered a two-week coronavirus lockdown covering a third of the country at the end of the month.
Peru's healthcare system has been overwhelmed by the Covid-19 pandemic - with only 500 intensive care beds for a population of 32 million - with authorities reporting a spike in deaths as infections increase.
The country's lockdown will run from 31 January to 14 February, interim president Francisco Sagasti said in a televised address, blaming the soaring Covid infections on end-of-year gatherings.
The mandatory lockdown will affect 16.4 million people - half of Peru's population - and include the capital Lima.
Only essential services such as markets, pharmacies and banks can remain open. Churches were ordered closed.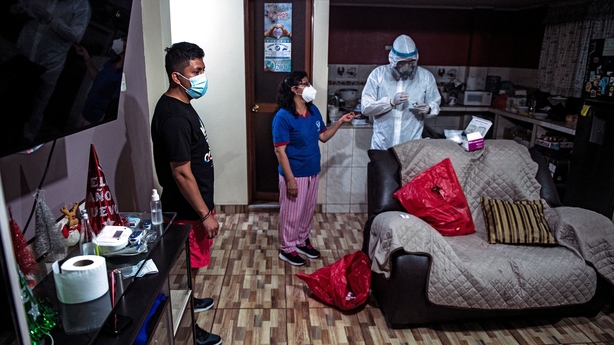 In areas not affected by the strict lockdown restrictions remain in place, such as curfews and bans on social gatherings.
Mr Sagasti also announced a halt on flights from Brazil - the country with the world's second highest coronavirus death toll after the US.
Peru's average daily caseload has risen from around 1,000 to more than 5,000, figures not seen since the height of the pandemic last year.
The death rate has jumped from an average of 40 a day to more than 100, according to government figures, and as of yesterday 40,107 Peruvians have died of Covid-19.