Medical-grade FFP2 face masks are now mandatory in Austria for people aged over 14 on public transport, shops and businesses, pharmacies, as well as hospitals or medical practices.
Austria is among the first European countries to make FFP2 masks mandatory.
The measure has largely been accepted without complaint, despite controversy over other measures, such as the closing of schools while ski lifts remain open.
Though often sold for more than €5 each just a few weeks ago, the masks, which block 94% of aerosols, can now be found at all grocery stores for 59 cent each.
Elderly residents and low-income households received packs of free FFP2 masks last week.
The measure also applies to supermarkets and to service providers, such as garage owners and health professionals, while teachers, warehouse workers and people in the public service must also comply at their workplace, unless a minimum distance of two metres can be ensured.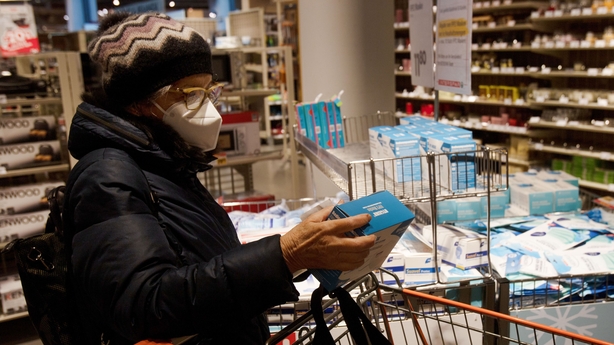 Pregnant women and people with medical conditions that make it harder for them to breathe are exempt.
Following a second lockdown that ended in early December and allowed stores to open for Christmas shopping, daily infection rates quickly increased, leading the government to impose a third lockdown just a few weeks later, on 26 December.
Though it was meant to be lifted today, this third lockdown failed to significantly contain new infections in the nation of 8.9 million, leading to an extension until 8 February and stricter regulations, including the mandatory FFP2 masks.
Currently, around 130 new infections are registered per 100,000 residents each day, well above the maximum of 50 infections the government aims for.
Schools, museums, sports halls, cinemas and non-essential shops are currently closed and the government is urging Austrians to limit social contacts and to work from home wherever possible.
Outdoor sports, however, are permitted, and photos of crowds queuing at lifts or huddling with drinks at ice skating rinks have sparked outrage.
---
---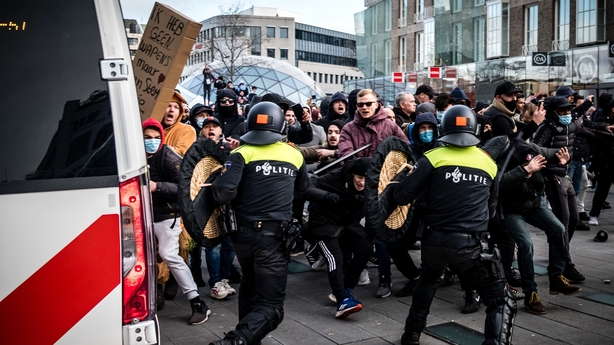 Meanwhile, border restrictions are being tightened around the world and comes after a weekend in which anger at social distancing rules bubbled over into fiery clashes in the Netherlands.
Dutch Prime Minister Mark Rutte condemned what he described as "criminal violence" after around 250 people were arrested during demonstrations in Amsterdam, Eindhoven and other towns yesterday.
Shops were looted, cars burned and a coronavirus testing station was set on fire after the country's first curfew since World War II took effect late Saturday.
"It's unacceptable. All normal people will regard this with horror," Mr Rutte told reporters.
"What motivated these people has nothing to do with protesting, it's criminal violence and we will treat it as such."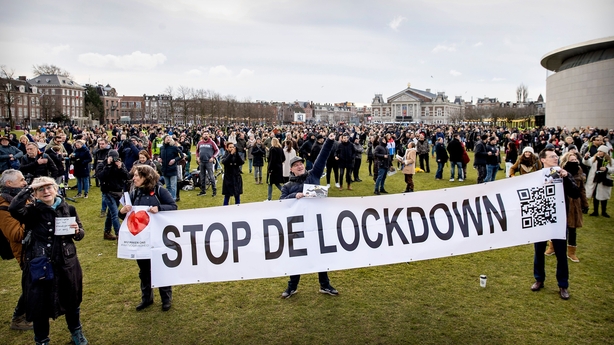 Violators of the 9pm to 4.30am curfew, which is set to last until at least 10 February, face a €95 fine.
Border restrictions enhanced
The US is set to join France, Israel and Sweden in pulling up the drawbridge to certain arrivals, with special concern about new strains of the pathogen first detected in Britain and South Africa.
The stipulations came as Mexico's President Andres Manuel Lopez Obrador became the latest public figure to test positive for the disease, and New Zealand reported its first community case for more than two months.
President Joe Biden will reimpose a ban on most non-US citizens who have been in Britain, Brazil, Ireland and much of Europe, as well as adding South Africa to the list, a senior White House official said.
Mr Biden last week tightened mask-wearing rules and ordered quarantine for people flying into the country, where there have been more than 25 million cases up to yesterday.
The US Centers for Disease Control and Prevention is also stepping up efforts to track coronavirus mutations and keep vaccines and treatments effective against new variants until collective immunity is reached.
CDC chief Dr Rochelle Walensky said the greatest immediate culprit for sluggish vaccine distribution was a supply crunch worsened by inventory confusion inherited from the Trump administration.
"The fact that we don't know today, five days into this administration, and weeks into planning, how much vaccine we have just gives you a sense of the challenges we've been left with," she told Fox News yesterday.
Since it emerged in late 2019, Covid-19 has killed more than 2.1 million people, with almost 99 million cases registered worldwide, according to an AFP tally from official figures.
Yesterday, France started demanding a negative PCR test for arrivals by sea and air from European Union neighbours.
Sweden said it would prohibit entry from neighbouring Norway for three weeks, after cases of the more infectious strain first discovered in the UK were detected in Oslo.
Israeli Prime Minister Benjamin Netanyahu said the country was "closing the skies hermetically, except for rare exceptions" to both arrivals and departures for a week.
In New Zealand, officials confirmed the first case of Covid-19 in the community for more than two months, in a 56-year-old woman who recently returned from Europe, prompting Australia to suspend quarantine-free travel from the neighbouring country for at least 72 hours.
Scientists say the only way out of the pandemic is large scale vaccinations, but the roll-out has stuttered in many places.
Egypt began its programme, with a doctor and a nurse getting the Chinese-made Sinopharm jab.
Health Minister Hala Zayed said Cairo had signed deals for vaccine shipments from British, Chinese and Russian firms, for a total of around 100 million doses, enough for about half Egypt's population.
In India, around one-third of people are not turning up for vaccine appointments, with fear of side effects high after reports of a few cases of severe reactions spread widely through the media and messaging services.
Australia's medical regulator formally approved the Pfizer vaccine, with the first doses expected to be administered in late February, Prime Minister Scott Morrison said.
On the long-term economic impacts of the pandemic, anti-poverty group Oxfam said the emergency was aggravating inequality.
"The 1,000 richest people on the planet recouped their Covid-19 losses within just nine months, but it could take more than a decade for the world's poorest to recover," the group said.