Northern Ireland's coronavirus lockdown restrictions have been extended to 5 March.
Stormont Health Minister Robin Swann proposed the step to help drive down case numbers, saying this was "not the time to open any floodgates".
Ministerial colleagues at the Executive agreed the move following a meeting in Dungannon, Co Tyrone.
The measures will be reviewed next month, but there are suggestions the restrictions could ultimately continue until Easter in early April.
An extended lockdown began after Christmas with the closure of non-essential retailers, schools were shut to most pupils and employees were encouraged to work from home.
Family gatherings are prohibited and police enforcement has been stepped up.
It comes as hospitals struggle to deal with a surge of coronavirus patients.
The latest figures show a further 21 people who tested positive for Covid-19 in Northern Ireland have died.
Another 732 new cases of the virus have been detected. There are 806 Covid-positive patients in hospitals, with 70 in intensive care.
First Minister Arlene Foster said the reproductive number for cases is now down to between 0.6-0.8, a halving of the rate of cases in two weeks.
Speaking in Dungannon, Mrs Foster said they had received a detailed briefing from health officials about the situation in hospitals.
She said this week the health service is facing a peak of Covid demand and is struggling to cope.
"The Executive today has reviewed the current restrictions and agreed that they remain an appropriate and necessary response to the serious and imminent threat posed by Covid-19," she said.
We need your consent to load this rte-player contentWe use rte-player to manage extra content that can set cookies on your device and collect data about your activity. Please review their details and accept them to load the content.Manage Preferences
"Following a detailed outline from health highlighting the continuing pressures on our hospitals and ICU departments and the emergency of the highly transmissible variants, the Executive has agreed that the current restrictions will be extended for a further four weeks until 5 March.
"The restrictions will be reviewed on or before 18 February."
Mrs Foster said Education Minister Peter Weir and Mr Swann will be meeting over the next couple of days to look at the issue of schools, the majority of which remain in remote learning mode.
---
---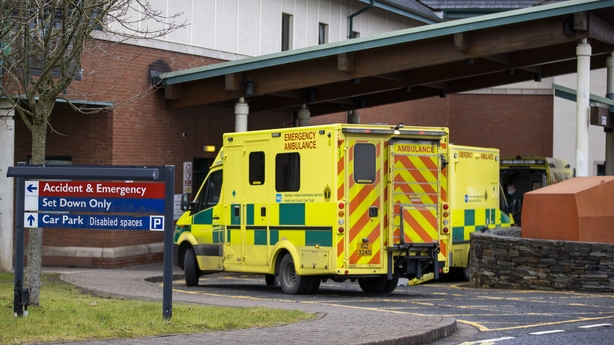 Mrs Foster said she appreciated today's announcement would be disappointing to many, particularly those feeling the "pain of separation".
"This is undoubtedly the most difficult of times and we know the sacrifice that you're all making to save lives and as an Executive we are committed to taking every possible step to move us forward out of this pandemic," she said.
Deputy First Minister Michelle O'Neill said while progress had been made in driving down Covid-19 transmission rates, they are decreasing slowly.
"However, it will take some time for the restrictions to have maximum impact on the course of the epidemic," she said.
"The consequences of the very high number of cases over recent weeks is still making its way through our hospitals where the health service situation at this moment in time is extremely challenging, in fact I believe the health service is facing into its toughest week yet throughout the course of the pandemic."
Ms O'Neill said the Executive agreed that the current restrictions need to remain and are "absolutely necessary at this point in time".
"Based on the advice of our health professionals, we have also taken the difficult decision to extend those restrictions by four weeks until March 5," she said.
Our NHS is facing the peak of Covid demand - recognised by the request for military assistance.

The Executive has agreed that current restrictions will be extend for a further 4 weeks until 5th March. pic.twitter.com/1ptaoT3Uao

— Arlene Foster #WeWillMeetAgain (@DUPleader) January 21, 2021
Asked if it was likely that lockdown would be extended to Easter, Mrs Foster said: "We have to be proportionate and we have to only do what is necessary.
"Whilst we have announced today that these restrictions are rolling over until March 5, we will review that on 18 February because it would be very wrong to keep restrictions in place for any longer than is absolutely necessary."
Ms O'Neill added: "To be very honest with the public, we don't know what will come after that. We did discuss as an Executive today the fact that there may well need to be further restrictions, but it will depend on what we all do now.
"It's within our control in terms of our own behaviours around what we do in the next number of weeks to try and prevent that being the case."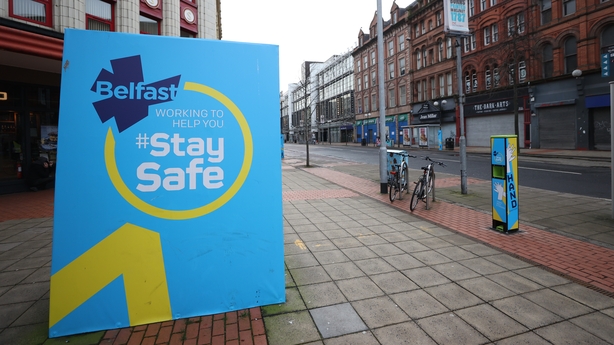 Belfast Chamber of Commerce chief Simon Hamilton said: "This extension will come as little surprise to most businesses.
"There is though huge ongoing frustration that financial support for closed businesses needed to save jobs is still slow to materialise and many, including lots in Belfast city centre, are falling through the cracks."
Meanwhile, military staff will support work at Northern Ireland's regional Nightingale facility, a health trust chief has said.
Mr Swann announced yesterday that more than 100 medically-trained military personnel will be deployed in Northern Ireland.
While the use of the military has sparked rows in the Stormont Executive in the past, Sinn Fein said it would not rule out any measures that can help save lives.
Dr Cathy Jack, chief executive of the Belfast Health Trust, told a Stormont committee the military staff will work under trust management.
"Throughout this pandemic, retirees, students and volunteers have all come in to help us and we have welcomed them," she said.
"This is another group of highly trained individuals that will support my staff to support the patients and deliver the care they need and I welcome this.
"They are band four equivalent staff, they are medically trained technicians able to take blood, and they will be working under our normal management structures.
"For me in Belfast, they will be focusing on helping to support the regional Nightingale."
TRAVEL REMINDER

??You MUST self-isolate for 10 days when you arrive into Northern Ireland, no matter where you come from.

??You MUST complete a UK passenger locator form even if you arrive into Northern Ireland via Dublin.

??Travel advice and guidance https://t.co/j8bkWol7ch pic.twitter.com/MO5OvrA1jz

— Department of Health (@healthdpt) January 21, 2021
Dr Jack said Belfast Trust continues to operate under significant pressure.
She said staff absence is over 12% with many having to self isolate after being contacted by the track and trace team.
Dr Jack said there were 210 Covid-19 positive inpatients within 14 days, and an additional 50 that have remained in hospital beyond 14 days due to more complex needs.
"I have 30 Covid positive patients in ICU," she said. "I have a very small number of children who have been admitted with illnesses who also have Covid in the children's hospital."
The latest figures show that 166,538 vaccine doses have been administered in Northern Ireland, of which 144,212 were first doses and 22,326 were second doses.