The Chief Medical Officer Dr Tony Holohan has said that people of all ages are being admitted to hospital with Covid-19 and that "the situation in our hospitals is stark".
Dr Holohan's comments come as the Department of Health announced 13 more Covid-related deaths.
It brings the total number of Covid-related deaths to 2,608.
The median age of those who died was 83 years, and the age range was 66 to 97 years.
A further 2,944 cases of the coronavirus have been confirmed, bringing the total number of cases in Ireland to 172,726.
"The situation in our hospitals is stark. We are seeing people of all ages being admitted to hospital and being taken into intensive care units," said Dr Holohan.
"The levels of infection are such that your chances of transmitting or getting Covid-19 are very high, and we know that a proportion of those cases will lead to serious illness and mortality.
"There is no group who should feel the public health advice does not apply to them. It is only if we act together that we can keep ourselves, our loved ones, and health and social care facilities safe," added Dr Holohan.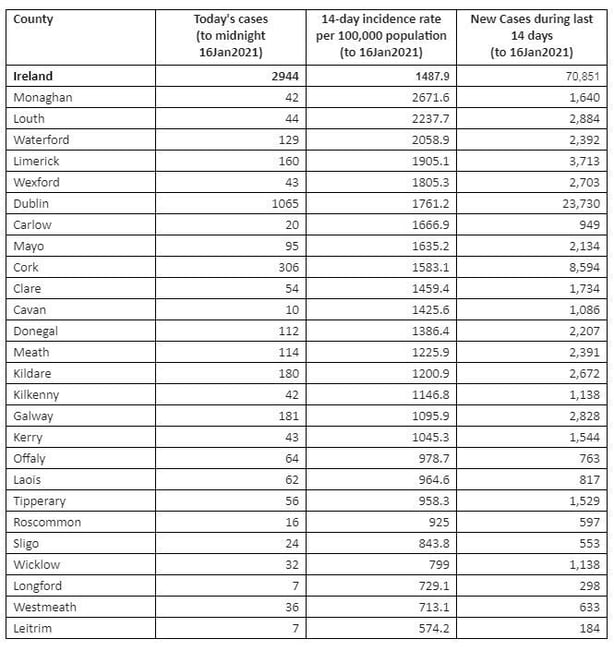 Of the new cases notified today, 1,336 are men and 1,578 are women, with 57% under 45 years of age and the median age is 40 years old.
The breakdown of cases is: 1,065 cases in Dublin, 306 in Cork, 181 in Galway, 180 in Kildare, 160 in Limerick and the remaining 1,052 cases are spread across all other counties.
As of 2pm today, 1,928 patients were in hospital with Covid-19, of which 195 are in ICU.
There has been 68 additional hospitalisations in the past 24 hours.
In Northern Ireland, a further 25 coronavirus deaths have been recorded, 21 of them occurring during the past 24 hours.
It is the second highest daily figure since the outbreak of the pandemic and takes the official Department of Health death toll to 1,606.
There are 822 new cases of the virus, it takes the cumulative total of people who have tested positive to 95,361.
Hospital situation to 'get worse before it gets better' - Donnelly
The Minister for Health said the number of patients in ICU will peak in "the next week or two" and the situation in hospitals will get worse before it gets better.
Speaking to RTÉ's This Week programme, Stephen Donnelly said there were currently 195 patients in intensive care, which is up from 191 last night.
He said: "Most importantly we have the staff. There has been a lot of work done since the first wave.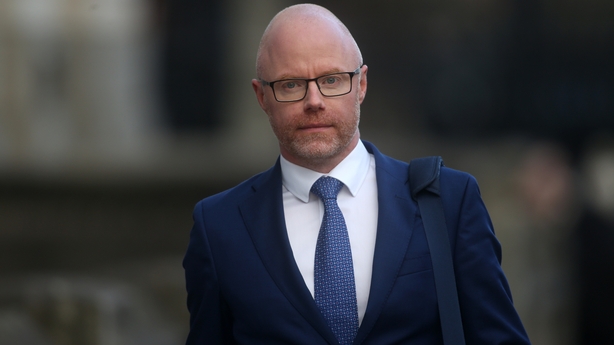 "PPE is fine. The number of ventilators - if you remember back in March that was a serious concern, oxygen is fine, a lot of work has been done.
"Nonetheless, the system is and will continue to be under very serious pressure for the next few weeks."
The minister said the decision to suspend the placements for first, second and third year student nurses will "free up several hundred experienced and qualified nurses who are needed on the frontline for patients right now".
Following criticism from SIPTU over the move, the minister said it was an operational request from the HSE.
"The view supported by the chief nurse and the higher education institutes, and the regulator, is that it is the right thing to do now," he said.
Green Party leader Eamon Ryan has said that in hindsight the Government should not have eased restrictions over the Christmas period.
"Given what has happened since, clearly we would look back and say we should have been more restrictive, and not had any opening up," he said.
The Minister for Transport said the coalition at the time was trying to balance other concerns, including around mental health.
"There was a lot of evidence showing we had been through some of the strictest lockdown conditions in Europe," he said.
---
---
Sinn Féin health spokesperson David Cullinane said he was very concerned about the situation in acute hospitals.
"Last summer, we called on the Government to increase capacity in ICU and it did not happen. I have spoken to hundreds of frontline staff and they are very worried and afraid.
"They are also exhausted, many are doing 12-hour shifts without a break. They are telling me they do not feel valued or appreciated."
Mr Cullinane said the hospital system was only coping "on the back of sacrifices made by healthcare workers".
Meanwhile, gardaí have reported widespread compliance with Covid-19 restrictions this weekend.
Wicklow was the exception to the rule, with gardaí there revealing yesterday that they had to turn back over 200 vehicles after issuing a caution to drivers.
They also issued over 100 fixed charge notices.