Around 1,800 frontline medical workers are receiving a Covid-19 vaccine as part of a targeted vaccination programme this weekend.
GPs and GP practice nurses are being administered their first dose of the Moderna vaccine. It is the first time it has been used in Ireland.
Vaccination centres have been established in counties Dublin, Laois and Galway.
About 800 doctors and nurses from across Leinster are being inoculated at a facility in St Mary's Hospital in the Phoenix Park in Dublin.
The facility is being operated by the National Ambulance Service.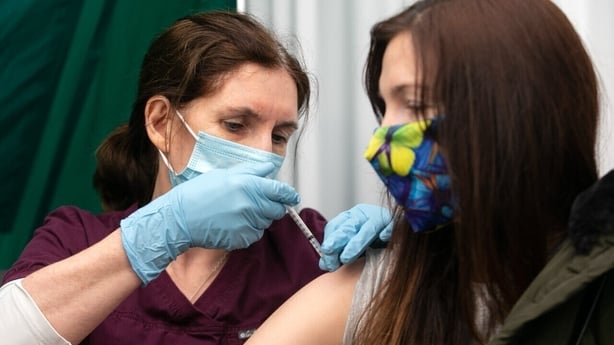 Another 500 will be given the vaccine in Portlaoise, while a further 500 medical workers are getting vaccinated in Galway.
"It is going extremely well so far," HSE Chief Paul Reid told RTÉ's Saturday with Katie Hannon.
"There are ten bays in each site, vaccinating between 40 and 60 people per hour." 
He said looking forward to the first quarter of 2021, the primary cohorts to receive the vaccine were nursing home staff and residents.
Mr Reid said next would be around 150,000 healthcare workers and then the 500,000 older people not living in long-term care facilities.
Richard Quinlan, the North Leinster Chief Ambulance Officer of the National Ambulance Service, said a team of advanced paramedics and GPs are carrying out the vaccinations.
He said there are 10 doses in each vial and the vaccine was administered to 80 people every 45 minutes.
"There are 800 doses on site today and we expect to use all 800 doses," he added.
Mr Quinlan also said the pop-up clinic at St Mary's Hospital was set-up in three hours and he said it "could be replicated anywhere in Ireland".
Moderna vaccine being administered today at the @AmbulanceNAS HQ. The vaccine is administered by HSE peer vaccinators. The vaccination of GPs in underway in mass vaccination clinics around the country, in Dublin, Galway and Portlaoise. #CovidVaccine #HoldFirm pic.twitter.com/rpXqBNZ9f1

— HSE Ireland (@HSELive) January 16, 2021
Dr Philip Crowley, a GP and the HSE's National Director of Quality Improvement, said the mass vaccination clinic was conducted as part of the efforts to vaccinate all primary care staff.
He said the doctors and nurses inoculated this weekend will in turn be helping to vaccinate the rest of the population.
Dr Crowley described it as "a really big day" and he said those receiving the vaccine today were delighted.
HSE Chief Clinical Officer Dr Colm Henry has paid tribute to the "special meitheal spirit" in rolling out the vaccine.
Dr Henry said they would be applying that learning to the application of roll-out centres in the next few months.
He said there was "a considerable task" in rolling out the vaccine over the next few months.
Dr Henry said they were happy there were so many volunteers for locations for roll-out centres, especially in the private sector.
He said the vaccine was good news, but it would take some time before a critical proportion of the population was afforded protection through vaccination programmes.
He pointed to commentary from the WHO, which said that herd immunity would not be achieved in 2021.
Dr Henry said all nursing home residents and staff would receive the first dose by the end of next week.
Elsewhere, the number of people in the UK to have been given a first dose of a Covid-19 vaccine is 3,559,179.
That marks a rise of 324,233 from yesterday's figures.
Some 117,906 first doses have been given in Northern Ireland, on top of the 3,090,058 in England, 126,375 in Wales and 224,840 in Scotland.
So far, 447,261 second doses have been administered in the UK, including 424,327 in England, 129 in Wales, 19,474 in Northern Ireland and 3,331 in Scotland.
The total number of jabs administered in the UK, including both first and second doses, is 4,006,440.
Gardaí issue over 100 fines in Co Wicklow 
Gardaí have said they issued over 100 fixed charge notices and turned back more than 200 vehicles in Co Wicklow today as part of their enforcement of public health restrictions.
In a post on Twitter, An Garda Síochána said while the vast majority are compliant there still appears to be people who do not want to take their advice.
Gardaí in the Wicklow uplands are encountering people travelling outside their 5km & have turned many people around. 10 people have been issued with Fixed Charge Notices so far.#COVID19 remains a significant threat to our society. We all need to stay the course. #StayHome pic.twitter.com/hI7R9dAHil

— Garda Info (@gardainfo) January 16, 2021
It said that it has repeatedly appealed to people not to travel beyond 5km of their homes or to park illegally at public amenities as it could hinder access by emergency services.