The Chief Executive of the HSE has said the hospital system is tightening up as the numbers being treated for Covid-19 increases.
Speaking on Saturday with Katie Hannon, Paul Reid said: "We have formally gone into surge capacity.
"We are seeing families and young people being treated. This virus affects everybody.
"In terms of beds, we now have 313 available beds, up from 285 before surge capacity."
The Department of Health announced 60 more Covid-related deaths and 3,231 new cases of the virus today. 
Mr Reid said: "We have now stood up our national critical care surge group.
"Individual hospitals are scaling up for surge capacity, where they cannot operate beyond that, we would mobilise ambulance transfer between hospitals, but that has not happened yet."
He said there are around 250 people who are not in ICU, but still needed "significant supports such as oxygen".
Mr Reid added: "In total, across the hospital system and community services we have close to 6,500 staff off work for Covid related reasons, with about 4,000 of those from hospitals, so it is a significant pressure.
"We have redeployed some teams to support ICU. I want to reassure people we are coping, if they need urgent care, we are there for you."
Mr Reid said the HSE has had to suspend non-urgent care in hospitals.
"We have triggered the private hospital agreement and have about 125 beds supported in private hospitals for non-Covid care such as for heart or cancer patients," he said.
Mr Reid said that nursing homes were under "significant pressure" and said that "about 25% of them would have outbreaks".
He said: "The first ten days of the vaccination programme we took guidance from the National Immunisation Advisory Committee ... that was a balance between healthcare staff and starting the programme in nursing homes.
"Our programme now for nursing homes is being accelerated this week and next week, by the middle of February, everyone should have had their second dose of the vaccine."
Asked about of the forthcoming shortage of supply from Pfizer, Mr Reid said they "were not happy whatsoever" when the announcement was first made yesterday.
He said the Taoiseach made calls across Europe on it and "thankfully, it appears we are in a better place than we thought, it will have a much smaller impact".
Sinn Féin's Kathleen Funchion said they had a year to plan for the vaccine roll-out and capacity issues and "that clearly wasn't done".
Speaking on the same programme, she added: "About 1,400 staff who responded to Ireland's Call last April were never contacted. Why aren't they being drafted in to help with staffing issues?"
People Before Profit TD for Dublin South Central, Bríd Smith, said the fact it took a "long time" to record the data for administering vaccines had been flagged to the Government by public health doctors.
"We need to argue at the WHO and UN that these vaccines should be made patent free. We need to do this urgently on a global scale," she said.
Minister of State Hildegarde Naughton said that back in December "none of the modelling was pointing to the scenario we now have".
She added: "If we could make a decision now and look back through today's lens of course we'd make different decisions."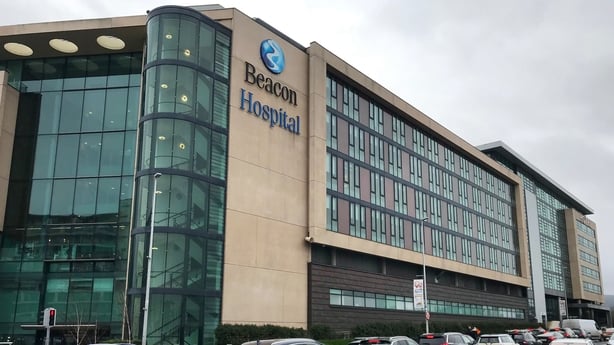 Mr Reid also expressed his frustration that the Beacon Hospital had not signed to the agreement to provide extra capacity to the public health system.
He said: "Our public health system is facing the biggest crisis probably in the history of the State for our health service. We are racing to save people's lives here.
"It is beyond belief and comprehension and I would be urging their board to sign up for the agreement."
However, in a statement released this afternoon, the Beacon Hospital said it is "treating more public patients than any of the 17 other private hospitals".
"Public patients currently occupy over 55% of our Intensive Care Unit (ICU) and approximately 15%-20% of all surgery for the last four months has been done on behalf of public hospitals such as the Mater Public, St James' Hospital, Tallaght, Children's Health Ireland (Crumlin), Tullamore and University Hospital Limerick under existing arrangements."
The Beacon Hospital said it "has declined to sign an additional centralised agreement because it is not willing to give clinical governance to the HSE".
The statement said that the last HSE agreement, which the Beacon signed up to in April to June last year, allowing the HSE take clinical control, "led to the hospital being 70% empty for three months".
"As Beacon Hospital is at full capacity now, treating both private and public patients, we cannot take the risk of allowing HSE direct clinical governance lead to under-utilisation," said the statement.
The Beacon added that it has also "made a vaccination centre available to the HSE this week and has vaccinated more than 1,000 HSE frontline workers to date".