People have been urged to continue to keep their close contacts to a minimum in order to prevent spread of Covid-19.
The Deputy Chief Medical Officer, Dr Ronan Glynn, has said the number of close contacts per confirmed case of Covid-19 has fallen from six at the end of December to 2.3 now.
"This enormous effort is the reason we are seeing case numbers beginning to fall," he said.
"We know that it is extremely difficult to keep our close contacts to a minimum, particularly over an extended period of time but this is the main way we can protect ourselves and our loved ones from Covid-19."
Last night the Chair of the Irish Epidemiological Modelling Advisory Group, Professor Philip Nolan, said the average number of contacts is closer to 1 when you take out household contacts.
The plea comes as the Department of Health has announced fifty more Covid-related deaths.
The youngest of the 50 people who have died was 45 years old, while the oldest person was 96. The median age was 82 and all fifty of the deaths occurred this month.
The Department has also reported 3,498 more cases of the coronavirus.
Overall there have been 2,536 Covid-related deaths since the outbreak began, and 166,548 cases.
The latest figures show there are 1,850 people who have tested positive for the virus in hospitals, with 184 of these receiving treatment in intensive care units.
There have been 118 hospitalisations in the last 24 hours.
54% of the cases announced today involve people under the age of 45.
1,182 of the cases are in Dublin, with 421 in Cork, 258 in Limerick, 187 in Galway and 164 in Waterford. The remaining 1,286 cases are spread across all other counties.
The Chief Medical Officer, Dr Tony Holohan, has said new variants of Covid-19 have been identified in Brazil recently, and in travellers to Japan from Brazil.
He said there is no evidence of these variants in Ireland, but anyone who has travelled from Brazil in the last 14 days is advised to self-isolate for 14 days, from the date of their arrival in Ireland, and identify themselves, through a GP, for testing.
"It is essential that anyone arriving from Brazil self-isolate for 14 days from the date of arrival before entering/re-entering the workplace, " Dr Holohan said.
"We are particularly appealing to employers to enable their employees to protect each other by staying at home for the full 14 days."
We need your consent to load this rte-player contentWe use rte-player to manage extra content that can set cookies on your device and collect data about your activity. Please review their details and accept them to load the content.Manage Preferences
---
---
Meanwhile data from the Health Protection Surveillance Centre shows the majority of Covid-19 patients in intensive care units are over 65.
The figures from the HPSC were recorded from 118 of the people being treated in intensive care units with Covid-19 on Wednesday 13 January.
Of these 118, 42 were between 65-74 (35.6%) and 21 patients are 75 or older (17.8%).
Sixteen ICU patients were aged between 45-55 (13.6%) and 29 were aged between 55-64 (24.6%).
The number of patients under the age of 44 in ICU was 10 (8.5%).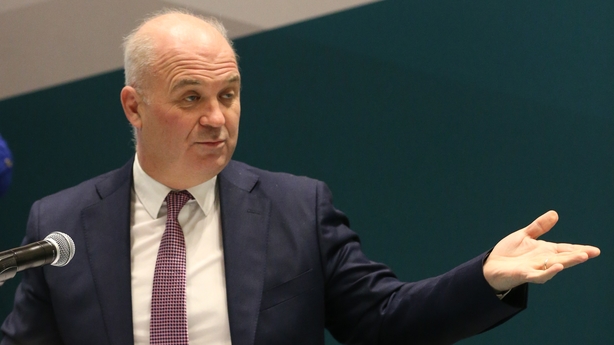 Joint CMO appeal to people to stay home
Earlier, Dr Holohan issued a joint statement with Northern Ireland's Chief Medical Officer, Dr Michael McBride, urging people to stay at home.
In the statement, Dr Holohan and Dr McBride voiced concerns about the high levels of Covid-19 on the island of Ireland.
"As CMOs, we are gravely concerned about the unsustainably high-level of COVID-19 infection we are experiencing on the island of Ireland. This is having a significant impact on the health of our population and the safe functioning of our healthcare systems."
They note that as a result of the surge of infections north and south of the border, there has been an increase in the number of Covid-19 related deaths.
"We are likely to see ongoing increases in hospitalisations, ICU admissions and mortality in the weeks ahead."
They are urging everyone to stay at home except for essential reasons, and to avoid all unnecessary journeys, including cross-border travel.
"We will continue to work together to protect public health across the island, as we have done throughout this pandemic, but we need everyone to play their part by staying at home and protecting themselves and their communities."
Unfortunately, our #COVID19 hospital cases continue to rise, 1,846 this morning & 171 in ICU. People are extremely sick with this virus. Despite some hopeful trends on transmission levels, it's still hugely prevalent in your area. Please stick with us. @HSELive

— Paul Reid (@paulreiddublin) January 15, 2021
A consultant in emergency medicine at Cork University Hospital said they are treating 159 people with the virus, with 18 in ICU.
Speaking on RTÉ's Morning Ireland, Professor Conor Deasy said the hospital has seen a "step up this week in the criticality" of patients in terms of their lung function.
Nine of the patients in ICU with Covid-19 are on ventilators, a rise from three earlier this week, and 38 patients are receiving "advanced oxygen", he said.
The Chief Executive of the UL Hospitals Group said 579 staff are out of work, including 200 nurses, due to Covid-19.
Colette Cowan said they are moving into the second part of their surge plan today as there is only one empty bed in ICU and the high dependency unit is full.
University Hospital Limerick currently has 162 Covid positive patients, an increase of ten from yesterday and 47 patients are in isolation in the emergency department awaiting admission.
Regarding the staff shortages, Ms Cowan said they are assessing bringing staff in who are at home because of Covid-19, but only those who are on day 10 of isolation.
She said they have asked six staff to come back following assessment this week.
Our Lady of Lourdes Hospital in Drogheda had the highest number of Covid-19 admissions in the country yesterday, with 25 patients admitted as of 8pm yesterday. There are 117 Covid-19 patients now being treated at the hospital.
Ten patients are in ICU and the hospital has two beds available in its critical care unit.
The incidence of Covid-19 in Co Louth and in particular Dundalk and Ardee is among the highest in the country.
In Cavan General Hospital, 67 patients are being treated at the hospital with ten admissions yesterday and four people are in ICU.
The hospital has two beds available in the critical care unit.
In Navan, 23 patients with Covid-19 are being treated at Our Lady's Hospita.
As part of HSE measures in response to Covid-19, a community assessment hub has been re-established in Cootehill in Co Cavan.
It will be open seven days a week for people in Cavan and Monaghan where rates of Covid-19 are still very high.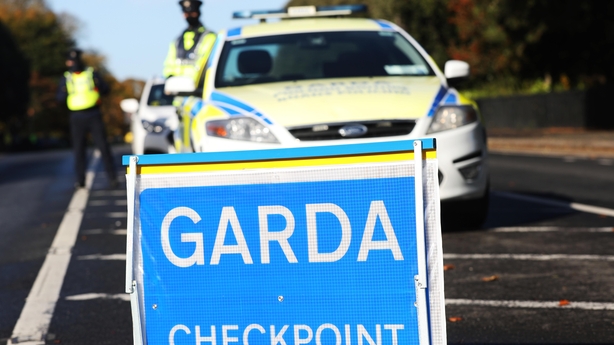 Gardaí urge people to 'stay the course'
Meanwhile, gardaí have said that the vast majority of people continue to comply with public health guidance but "we all need to stay the course".
In a statement, An Garda Síochána said that "unfortunately, there is also a minority who are not complying.
"These people put everybody's health at risk, which impacts on individuals and our society.
Deputy Commissioner John Twomey, Policing and Security said: "as we all know, Covid-19 doesn't relax. It doesn't take weekends off. We are asking people to remember this as they plan their weekend so they can enjoy it while protecting themselves and others.
"Exercise within 5km of your home. If you are doing this in a place that is getting crowded then leave. Minimise your contacts. Only take essential journeys. Maintain social distancing. Wash your hands.
"When visiting amenities within 5km of your home park legally. Illegal parking can hinder access by emergency services and could put lives at risk.
"As we saw last weekend, people who illegally park are at risk of having their cars towed and impounded."
Additional reporting Sinead Hussey