A full lockdown started in Lebanon today, with residents barred even from grocery shopping and dependent on food deliveries, in a bid to slow a surge in novel coronavirus cases.
The new restrictions were only loosely respected in some areas of the country, however, after mass protests in recent years against a political elite held responsible for a deepening economic crisis.
The lockdown, ordered after some hospitals started to run out of intensive care beds, includes a 24-hour curfew until 25 January.
Non-essential workers are barred from leaving their homes, and supermarkets are supposed to operate delivery services only.
Those wishing to request an emergency exemption - to see a doctor for example - can do so by sending a mobile phone text message or by filling in a form online.
In the capital, roads were quieter than usual, while non-essential shops remained shuttered. Security forces stopped drivers at several checkpoints in the centre of the city.
Security forces said compliance with the new measures stood at 94%. But in some areas, some people ventured out to buy groceries from local shops.

Recent days have seen Lebanon register record daily Covid-19 caseloads in one of the steepest increases in transmission worldwide.
In Geitawi Hospital in Beirut, director Pierre Yared said the emergencies department was brimming with more than 30 people suffering from Covid-19 the previous day.
"The ER was filled with corona patients, there were no other patients," he said.
Firass Abiad, the director of the main state hospital treating Covid patients, warned the lockdown must not fail.
"In the last 24 hours alone, four Covid positive patients presented in cardiac arrest to our emergency room," he wrote on Twitter. "One of them was a 19 years old patient. This is serious."
The strict lockdown - complete with the ban on grocery shopping - came into effect after caretaker health minister Hamad Hasan was admitted to hospital with Covid-19 late yesterday, state media said.
Its announcement on Monday raised fears of food shortages in impoverished and remote regions where deliveries are not readily available.
For several days, Lebanese have flooded supermarkets and chemists in a desperate bid to stock up.
Some are worried the new restrictions will pile additional suffering on the country's poorest.
Lebanon, a country of more than six million, was already grappling with its worst economic downturn in decades when the pandemic hit.
Previous lockdowns have forced businesses to close and deprived some - including many who earned money casually from day to day - of an income in a country where around half the population lives in poverty.

A partial lockdown in place since January 7 has failed to halt the spread of the virus. Parliament is expected to convene tomorrow to examine a bill to allow the import and use of Covid-19 vaccines, which authorities have previously said will arrive in Lebanon by February.
A caretaker administration is overseeing the country's Covid-19 response.
The government resigned after a massive explosion of ammonium nitrate fertiliser at Beirut port last summer killed 200 people, wounded thousands and ravaged large parts of the capital.
But a deeply divided political class has been unable to agree on a new cabinet to launch urgently needed reforms.
---
---
China reports first coronavirus death in eight months
China has recorded its first Covid-19 death in eight months, as experts gathered to discuss worrying new strains of the coronavirus that are spreading rapidly around the globe. 
The meeting in Geneva of the World Health Organization's emergency committee comes as their colleagues landed in Wuhan for a long-delayed mission to find the origins of the virus. 
More than 91 million people have been infected, with almost two million of them dying, according to figures widely thought to be an underestimate.
China - where the virus first emerged - has again locked down millions of people as it fights to control a fresh outbreak.
The death comes as a politically sensitive investigation into the origins of the Covid-19 pandemic finally got under way with the arrival of a 13-strong team in Wuhan, where the virus emerged in late 2019.
Mission leader Peter Ben Embarek said the group would start with a two-week quarantine at a hotel before the probe begins in earnest.
But, he warned, it "could be a very long journey before we get a full understanding of what happened".
Beijing has argued Wuhan might not be where the virus originated, only where it was first identified.
"I don't think we will have clear answers after this initial mission, but we will be on the way," Mr Embarek added.
The Wall Street Journal has reported that China denied entry to two members of the WHO team after both tested positive for Covid-19 antibodies.
Chinese officials blocked the pair from boarding their plane to Wuhan after they tested positive for the antibodies in blood-based serology tests during transit in Singapore, the report said, citing people familiar with matter.
"Relevant epidemic prevention control requirements will be strictly enforced," Chinese foreign ministry spokesman Zhao Lijian told a regular news briefing, when asked about the report.
The WHO said that all of the team's members had multiple negative PCR and antibody tests for Covid-19 in their home countries before travelling to China.
The international team of 13 scientists examining the origins of the virus that causes #COVID19 arrived in Wuhan, #China, today.

The experts will begin their work immediately during the 2 weeks quarantine protocol for international travelers.

— World Health Organization (WHO) (@WHO) January 14, 2021
It said they were tested again in Singapore and were all negative for PCR, but two members tested positive for IGM antibodies and they stayed in Singapore.
Regardless of the virus's origins, scientists say large-scale vaccination is the only way to escape its ravages. 
Programmes have begun in a number of countries, although progress is slower than many are hoping.
In the United States, where more than 4,000 people are dying every day from the disease, around 10 million have received a first shot.
California's Disneyland threw open its doors yesterday as a vaccination site, with 81-year-old Gary Dohman near the front of the queue.
Disneyland is usually a big attraction for families with young children - but it's senior citizens flocking there now. The theme park property will host what Orange County calls a POD, or large Point-Of-Dispensing site for COVID-19 vaccine distribution. pic.twitter.com/k1gN6iTQrQ

— RTÉ News (@rtenews) January 14, 2021
"Easy - piece of cake, nothing to it. Didn't even feel it go in," he said after getting his injection.
"I've been cooped up in a house for 10 months, can't go anywhere. I want to get my second shot and do a little travelling."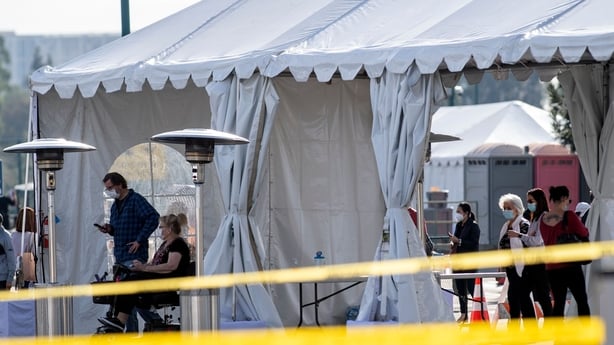 There was some good news for those who have already had Covid-19, with one British study suggesting that recovery confers immunity for at least five months for most people.
The research will be welcomed by Britain's under-pressure healthcare workers struggling to cope with surging caseloads caused in part by a new, more infectious strain of the virus.
That strain, and another identified in South Africa, was going under the microscope in Geneva today as the WHO's emergency committee gathers.
The newly identified variants have been logged in dozens of countries.
The committee normally gathers every three months, but the WHO said the director-general pulled the meeting forward "to consider issues that need urgent discussion".
Pope Francis and ex Pope Benedict have received the first dose of a vaccine against coronavirus, the Vatican said.
The 84-year-old Pontiff and 93-year-old Benedict, got their jabs as part of a Vatican vaccination programme that began yesterday.
Meanwhile, the raging pandemic was largely being shrugged off by Hindu pilgrims gathered on the banks of the Ganges river in India.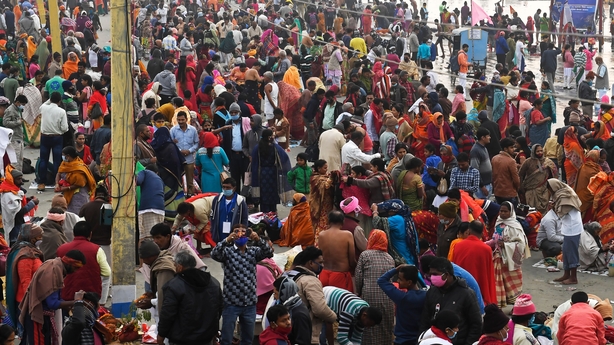 Up to a million people were expected to show up today alone for the Kumbh Mela in Haridwar.
Thousands of Hindu pilgrims gather on the river Ganges in India for Kumbh Mela, a religious festival that attracts millions each time it is held. The country has the second largest number of coronavirus infections in the world, but devout Hindus still made the pilgrimage. pic.twitter.com/dupTnavOdS

— RTÉ News (@rtenews) January 14, 2021
"The pandemic is a bit of a worry, but we are taking all precautions," said organiser Siddharth Chakrapani, but added that he was not too worried for the faithful.
"I'm sure Maa Ganga will take care of their safety," he said, referring to the sacred river.