The Netherlands is extending coronavirus restrictions until 9 February as infections are still high and the government is "very concerned" about the new variant of the disease first detected in the UK, Prime Minister Mark Rutte said today.
Mr Rutte said images from hospitals in Ireland and the UK had influenced his decision to extend his country's lockdown until early February.
He described the situation in British and Irish hospitals as "alarming".
"Because the numbers are not going down fast enough and because we now also face the threat of the British Corona-variant. We are very worried about this variant. The pictures from London and now Ireland as well are alarming. To put it mildly."
Mr Rutte said the proportion of the new Covid variant in Ireland could not be allowed to happen in the Netherlands.
"My fear is that we will see a similar situation like we did at the beginning of March in the north of Italy, in Bergamo. We see the figures now from Ireland, the explosion. 25 to 50% of all cases there is cause by the new variant. We simply cannot allow the introduction of such a dangerous virus when figures are already as high as they are now. That is why we are looking at additional measures."
The Dutch government is also considering imposing an evening curfew and has asked public health authorities for their advice on the matter, Mr Rutte said.
Under the current restrictions, the toughest yet in the Netherlands, schools have been closed, all but essential shops are closed, and people are banned from having more than two people in their homes.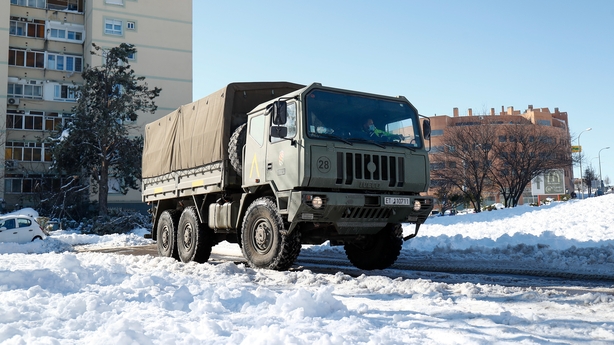 Spain pushes on with vaccine plan
Spain aims for all its nursing home residents to have received a first dose of Covid-19 vaccine by the end of the week, Health Minister Salvador Illa said today after a cabinet meeting.
Since kicking off its vaccination campaign at the end of December and with new infections on the rise, Spain has focused its efforts on inoculating elderly nursing home residents who are particularly vulnerable to Covid-19.
During the first wave of infection from March-May, the virus devastated the care-home population, killing some 20,000 people, according to preliminary data reported by El Pais newspaper and broadcaster RTVE. The total official death toll from the virus now stands at 52,275.
From 18 January, health authorities will begin administering the second round of the double-dose Pfizer-BioNTech jab to the earliest recipients of the first shot.
"We believe this week Spain will reach cruising speed in its vaccination plan," Mr Illa said, adding the inoculation drive continued in many places despite the chaos caused by snow Storm Filomena.
Spain took delivery of 35,700 doses of US pharmaceutical company Moderna's recently approved vaccine this morning, and expects to receive 600,000 doses by the third week of February, Mr Illa said.
Health ministry data showed some 406,000 doses of the Pfizer vaccine had been administered by yesterday, about 55% of total stocks.
The inoculation campaign is all the more important given a sharp rise in contagion since the Christmas holidays.
The northern Castile and Leon region urged citizens to adhere to a voluntary confinement, though it lacks the power to legally enforce a lockdown.
Nationwide, Spain reported 25,438 new infections today, bringing the cumulative total up to 2,137,220, while the death toll climbed by 408 to 52,683.
Japan working to isolate, analyse new virus variant
Japan is working to isolate and analyse a new variant of the coronavirus detected in four people who arrived from Brazil, a health ministry official said.
Japan announced the detection of the new variant on Sunday, but officials have been at pains to emphasise there is no evidence yet that it is any more transmissible or dangerous than others.
"In order to further analyse the variant, we need to isolate it first," a health ministry official said.
"It's hard to say right now when we can release the details," he said, adding the process could take weeks or months.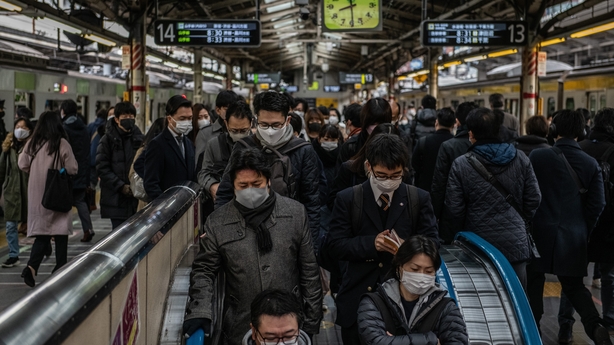 The variant was found in two adults and two children who arrived in Japan on 2 January from Brazil.
The health ministry said one of the four, a man in his 40s, has been hospitalised with breathing difficulties, while a woman and male child developed mild symptoms and a female child was asymptomatic.
The World Health Organization said it has been notified by Japan about the new variant, warning "the more the virus spreads, the higher the chance of new changes to the virus".
Experts note that viruses mutate regularly and not all mutations make the disease easier to catch or more serious.
But the discovery of a variant in the UK that is significantly more transmissible, and a second strain in South Africa, has raised concerns about whether a vaccine-resistant version could eventually develop.
Japan's National Institute of Infectious Diseases has said there are some similarities between the newly detected strain and the ones found in the UK and South Africa.
---
---
Meanwhile, scientists at the WHO warned that mass vaccinations would not bring about herd immunity to the coronavirus this year, even as one leading producer boosted its production forecast.
Infections numbers are surging around the world, especially in Europe where nations have been forced to ramp up virus restrictions even as vaccines are rolled out.
WHO chief scientist Soumya Swaminathan warned that it would take time to produce and give enough shots to halt the spread of the virus, which has infected more than 90 million people worldwide with deaths approaching two million.
"We are not going to achieve any levels of population immunity or herd immunity in 2021," she said, stressing the need to maintain physical distancing, hand-washing and mask-wearing.
Experts are also concerned about the rapid spread of new variants of the virus, such as the one first detected in Britain which is feared to be significantly more transmissible.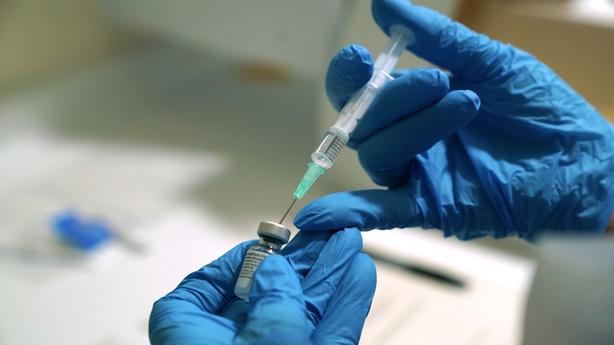 German company BioNTech, which partnered with Pfizer to produce the first vaccine approved in the West, said it could produce millions more doses than originally expected this year, boosting the production forecast from 1.3 to two billion.
The announcement was a boost to countries struggling to deliver the shots, but the company also warned that Covid-19 would "likely become an endemic disease", with vaccines needed to fight new variants and a "naturally waning immune response".
Officials in Russia said they would trial a one-dose version of country's Sputnik V vaccine as part of efforts to provide a stopgap solution for badly hit countries.
India, with the world's second-highest number of infections, is set to begin giving shots to its 1.3 billion people from Saturday in a colossal and complex undertaking.
US President-elect Joe Biden, who has pledged to devote all available resources to fight the pandemic, received his second vaccine dose on Monday.
Another Chinese city in lockdown over new infections
Chinese authorities introduced new Covid-19 curbs in areas surrounding Beijing onTuesday, putting 4.9 million residents under lockdown as new infections raised worries about a second wave in a nation that has mostly contained the disease.
The number of new cases in mainland China reported today almost halved from a day earlier and remained a small fraction of what it saw at the height of the outbreak early last year.
However, local authorities are implementing strict curbs whenever new cases emerge to prevent the kind of economic paralysis seen a year ago.
The National Health Commission reported 55 new Covid-19 cases, down from 103 a day earlier. Hebei province, which surrounds Beijing, accounted for 40 of the 42 locally transmitted infections, with the capital and northeastern Heilongjiang province reporting one local case each.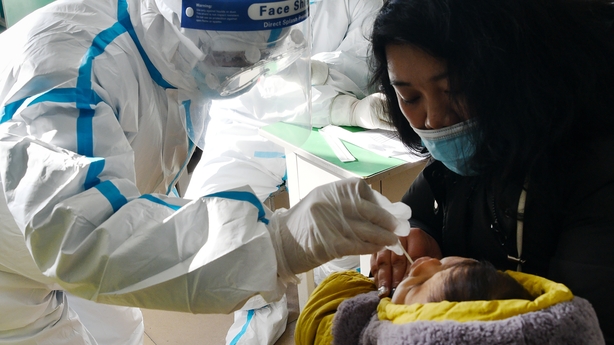 The city of Langfang in Hebei said its 4.9 million residents will be put under home quarantine for seven days and be subject to mass Covid-19 testing.
Shijiazhuang, Hebei's capital, has been hardest hit in the latest surge in infections and has already placed its 11 million people under lockdown. The province has shut off certain sections of highways and is ordering vehicles registered to Shijiazhuang to turn back.
Other provinces in China are reporting new confirmed or asymptomatic cases. Heilongjiang province reported 36 new asymptomatic cases in Wangkui county, which also went into lockdown yesterday.
Authorities do not classify asymptomatic cases as confirmed Covid-19 infections. 
Authorities in Wuhan, where Covid-19 was first detected in late 2019, has launched contact tracing work after two infected people from Hebei visited the city.
Israel may start vaccinating children by March
Israel may include children over the age of 12 in groups receiving Covid-19 vaccines within the next two months if research shows this is safe, a top health official said.
Israel says it aims to have administered one or both shots to 5 million of its 9 million citizens, and reopen the economy, by mid-March.
Elderly Israelis and adults with medical conditions or jobs in critical high-risk sectors have been given priority.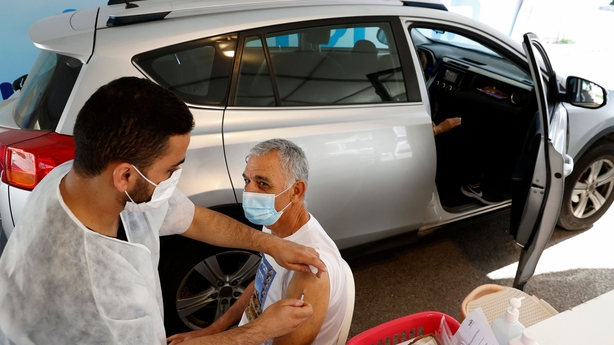 But with Israeli officials anticipating more regular vaccine shipments, the eligibility categories have been expanded.
Nachman Ash, national coordinator on the pandemic, predicted that pharmacological research would establish that the minimum age threshold for the vaccines could be safely lowered from 16 to 12, and FDA approval for such use secured, by March.
"The fact that children under the age of 16 are not currently getting vaccinated is certainly troubling, in terms of the ability to achieve herd immunity," he told 103 FM radio.
"I reckon that, in another month or two, there will be another cohort - the aged-12 and higher - that we can vaccinate."
Around 7.75% of Israel's population are between the ages of 12 and 16, according to Central Bureau of Statistics data.
Additional reporting Reuters/AFP